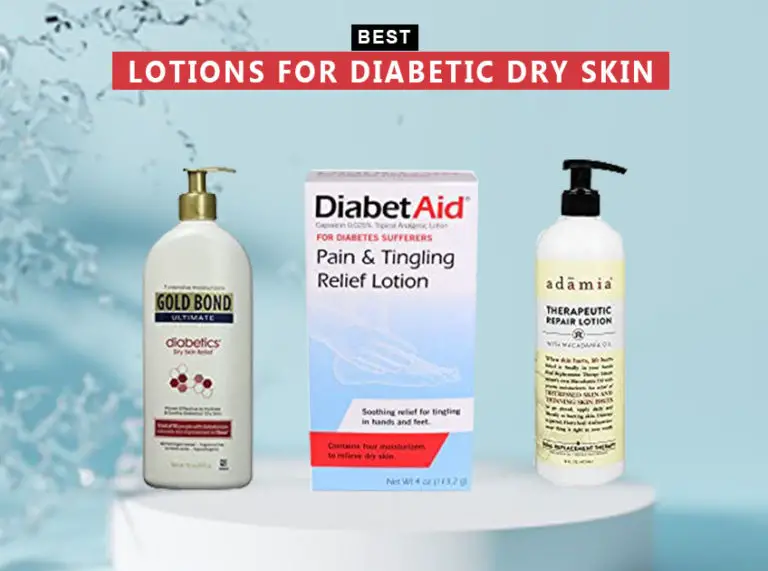 Dry skin due to diabetes can take a toll on your health. While on the one hand, managing diabetes and keeping it under control is tough, dry, and itchy skin doubles the concern.
Luckily, we have certain lotions that work effectively against dry diabetic skin and provide instant relief. The best lotion for diabetic skin should contain gentle, mild, and skin-hydrating ingredients that can help provide immediate relief from cracking and flaky skin.
Diabetic Dry Skin
We have carefully curated a detailed list of the 7 best lotions for diabetic dry skin that are infused with natural ingredients like oat extracts, aloe vera, and important vitamins to hydrate and nurture dry skin. All these products are tried, tested, and found to be highly effective for diabetic dry skin.
Check them out!
7 Best Lotions For Diabetic Dry Skin
1. Clinically Proven Formula: Adamia Therapeutic Repair Lotion
Infused with macadamia nut oil and omega-7 fatty acid
It reduces the appearance of crepey skin, fine lines, and wrinkles, giving smooth and soft textured skin
The non-greasy formula makes it suitable for oily skin
Free of paraben and other added artificial fragrances
It is clinically proven, and dermatologist approved
Also, it is hypoallergenic and suitable for sensitive skin
What We Don't Like: It is pricey. Also, it may leave behind a white residue on the skin.
[ Read: 5 Best Tanning Lotions For Sensitive Skin ]
2. Dermatologist Tested and Approved: Aveeno Diabetics' Dry Skin Relief Lotion
Infused with skin-loving ingredients like triple oat complex and natural shea butter to provide intense moisturization
It strengthens the skin's barriers and moisturizes, giving a youthful glow
Also, it treats several other skin conditions like psoriasis and eczema
The powerful antioxidant and anti-inflammatory properties help in overall skin nourishment
It is steroid-free and doesn't contain artificial fragrance
What We Don't Like: It may not be hypoallergenic
3. Long Lasting Result: GOICOECHEA Diabet TX Skin Lotion
It contains a powerful and potent blend of ingredients that moisturizes and conditions the skin.
It helps eradicate the signs of dryness on diabetic skin.
The infusion of ingredients like corn oil, vitamin E, aloe vera leaf juice, dimethicone, and colloidal oatmeal nourish and soothe the skin.
It also helps to minimize the appearance of bruises and varicose veins.
It stays longer on the skin and gives lasting results.
What We Don't Like: It may feel slightly heavy on the skin.
[ Read: 7 Best Toners For Dry Skin ]
4. Intense Hydration: Gold Bond Ultimate Diabetics' Dry Skin Relief
It is made with oats, ginger, shea butter, and Matricaria flower extracts
It helps hydrate the skin intensely and deeply, giving a healthy glow to the skin
Also, it provides huge relief from itchy skin
Regular application of the lotions reduces the signs of inflamed skin
It gives instant relief from itchy skin
It also has anti-gaining benefits as it preserves skin's collagen and fights early signs of aging
What We Don't Like: It may not suit sensitive skin.
5. Moisturizing Formula: Cortizone-10 Anti-Itch Lotion For Diabetics' Skin
Formulated with skin-loving ingredients that deliver vitamins C and E, and hydrocortisone to the skin
It treats multiple skin conditions, such as itching, swelling, and redness
It is highly effective in soothing inflammation caused by acne
It calms the skin with its deep moisturizing formula
It comes at an affordable price
What We Don't Like: The consistency of the lotion is too thick.
[ Read: 7 Best Body Lotions for Acne Prone Skin ]
6. Strong Anti-Inflammatory Properties: DiabetAid Pain & Tingling Relief Lotion
It helps combat skin irritation, tingling, and pain, with just a simple application.
The infusion of aloe vera gel, green tea extract, capsaicin, and lactic acid soothe the intolerable and painful bursts caused by dry skin.
It consists of green tea that has strong anti-inflammatory properties, suitable for reducing skin swelling.
It also contains lactic acid that firms the skin.
What We Don't Like: It is pricey.
7. Ultra Hydrating: Diabetics' Hydrating Lotion Dry Skin Relief
It offers instant relief and rejuvenates the skin's overall health
Enriched with vitamins and active ingredients that efficiently target multiple skin concerns such as dryness, itchy and irritated skin
It has a non-greasy and fragrance-free formula.
It is refreshing and calming with its soothing and anti-inflammatory properties.
What We Don't Like: It didn't give instant results.
[ Read: 8 Effective Home Remedies for Itchy Skin ]
Conclusion
If dry skin concerns you, it's high time you shift from normal moisturizers to those made specifically for dry diabetic skin to get instant relief from dry, itchy, and flaky skin. Get any of these and manage your dry skin condition.
You Might Also Like: