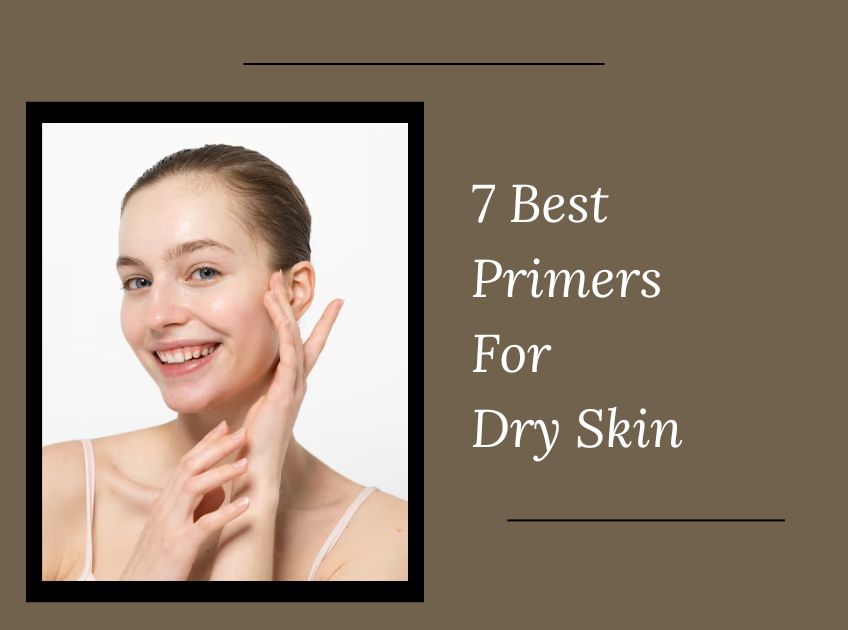 The best primer for dry skin should have ultra-hydrating ingredients that keep skin soft and supple. Since dry skin lacks moisture, your makeup products must have hydrating and moisturizing properties.
The function of primers is to fill in large pores and creases, giving smooth and even skin. It helps the foundation glide effortlessly for the best makeup look. At the same time, primers should blur the skin discolorations and hyper pigmentations.
Dry Skin
If you have dry skin and are looking for a primer with all these properties, check the shared list. After carefully selecting the 7 best primers for dry skin, we have curated this list with their potential features and drawbacks. These primers are high in quality and performance and work well for dry skin due to their hydrating ingredients.
Check them out!
7 Best Primers For Dry Skin
1. Best for Dry Skin: Too Faced Plump & Prime Luxury Face Plumping Primer Serum
Infused with Peptides, St John's wort, hydrolyzed rice extract, and vitamin
Also infused with hydrating ingredients like hyaluronic acid and glycerin.
Suitable for Balanced, oily, dry, and combination
Delivers a plumping effect and creates an ultra-smooth canvas
Lightweight with a milky consistency
Absorbs quickly and gives a flawless finish
It tackles dryness and improves skin texture.
Comes in an airtight container
What We Don't Like: It contains artificial fragrance, which is not liked by everyone.
[ Read: 5 Best Home Remedies for Dry Skin on Face ]
2. Extended Wear: Laura Mercier Pure Canvas Primer Hydrating
The key ingredients are Olive extract, marine hydra botanicals, glycerine
It is made specifically for dry skin; therefore, infused with skin-hydrating ingredients
Infused with hyaluronic acid and glycerine
Offers anti-aging benefits by filling fine lines
Makes the skin feel comfortable for several hours
Plumps the skin and stays comfortable throughout
Offers long-lasting effect
What We Don't Like: It may pill on some complexions
3. Effective and Affordable: Catrice Cosmetics Prime and Fine Aqua Fresh Moisturizing Hydro Primer
The key ingredient is bamboo water
The lightweight formula stays gentle on the skin
Comfortable to wear all through the day
It is fragrance-free and doesn't contain any harsh chemicals
Makes skin feel fresh and hydrated
Also, it helps to brighten the skin complexion and make it soft and supple
What We Don't Like: It contains a dye that may trigger an allergic reaction on sensitive skin.
4. Best Drugstore: NYX Professional Makeup Bare With Me Hydrating Jelly Primer
The key ingredients are Aloe vera and cucumber extract
It is a water-based primer suitable for all skin types
The hydrating properties of aloe vera make it suitable for dry skin
It is lightweight and sets into the skin perfectly
Offers a sublime, glass-like finish
Grips effortlessly to your makeup
Comes at an affordable price
Offers a dewy finish, and the result lasts for over eight hours
What We Don't Like: it comes in an unhygienic container.
[ Read: NYX Professional Makeup Pore Filler Makeup Primer Review ]
5. Stick Primer: Beauty Bakerie The Butter HydraSilk Primer
The key ingredient is Goji berry extract
Hydrates the skin perfectly and makes it supple
It is easy to apply and has a creamy texture
Comes in stick form and is therefore travel friendly
What We Don't Like: You get only a small amount.
[ Read: 7 Best Primers For Textured Skin ]
6. Best Hydrating: Jane Iredale Smooth Affair Brightening Face Primer
The active ingredients are Apple extract, coconut alkanes, royal jelly, algae extract
It works well on all skin types, especially dry skin, due to its ultra-hydrating ingredients
It offers a dewy finish that stays for long hours
It helps makeup stay all-day
Also, it ensures the ski hold onto its moisture
Adds radiance and glow to the skin
What We Don't Like: It is expensive.
7. Blurring Effect: Smashbox Photo Finish Smooth and Blur Oil Free Foundation Primer
The key ingredients are Vitamin A and vitamin E
A pea-sized amount is enough to give a flawless finish
Suits all skin types and blurs the skin
Formulated to minimize the appearance of fine lines and large pores
Combats uneven texture and helps lock in makeup for long hours
It has silky consistency, making it easy to apply
What We Don't Like: The hydrating effects don't last for longer.
[ Read: 10 Best Drugstore Foundation For Dry Skin ]
Conclusion
If you have been using normal primers and end up getting dry and dull skin, it's time to start splurging on the products we have listed. They are the best primer for dry skin, with hydrating and nourishing properties. Get any of them and enjoy soft and supple skin.
You Might Also Like: