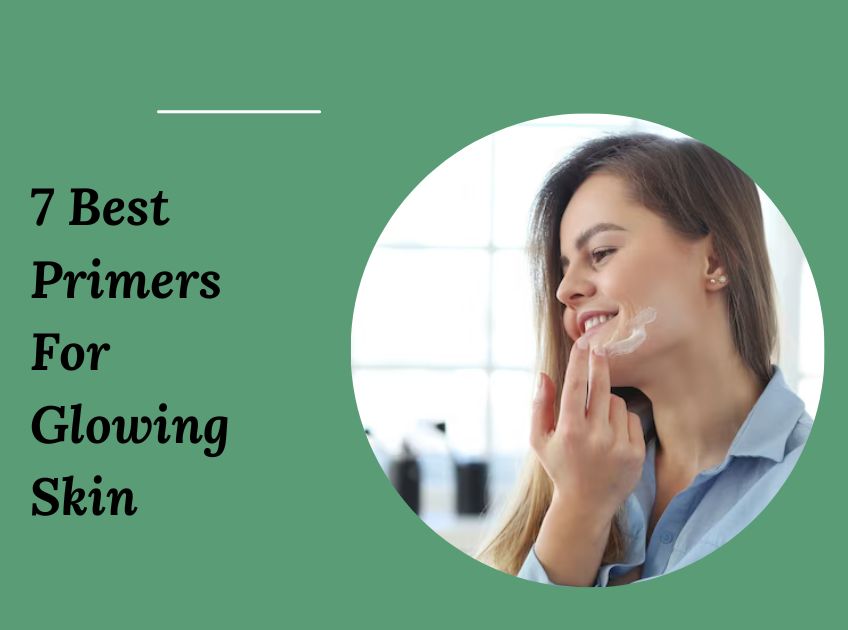 Primer plays a huge role in any makeup. It helps conceal enlarged pores and hide other skin imperfections to give you a glowing radiance. It preps the skin for further makeup application.
These days you can also find primers infused with antioxidants and hydrating ingredients. Since they are applied before the application of other makeup products, a primer must be of high quality and deliver stunning results.
Glowing Skin
If your skin looks dull and lifeless even after applying makeup, you need to try these primers for glowing skin. Here, we have carefully selected the 7 best primers for glowing skin, completely based on their quality, ingredients, and performance. We have also taken users' reviews into account.
Check them out!
7 Best Primers For Glowing Skin
1. Anti-Aging Benefits: NYX Professional Makeup Honey Dew Me Up Primer
It helps achieve a luminous glow
The primer stays intact all through the day
Infused with ingredients like rose, lavender, and jasmine extracts
It also contains the antiseptic benefits of honeydew
It consists of hyaluronic acid, which keeps the skin hydrated at all times, suitable for people with sensitive skin
It comes with light-reflective gold specks
Filled with anti-aging benefits
What We Don't Like: the consistency of the primer is too runny. Also, it feels oily on the skin.
2. Lightweight and Effective: L'oreal Pari Magic Lumi Light Infusing Primer
Helps give flawless makeup and an illuminating glow to the face
Brightens the complexion and evens out the skin tone
Minimizes the appearance of large pores
Reduces blemishes, dark spots, and other skin issues
Blends seamlessly and suits all skin tone
Can be used as a basic primer, under the foundation, and as a highlighter
Enhances features, giving a fresh and dewy look
What We Don't Like: It has parabens and sulfates.
3. Corrects Color: Physicians Formula Spotlight Illuminating Primer
The presence of 5 unique filtering pearls gives a glowing radiance
Improves skin tone
Infused with antioxidants to heal the skin
It gives a youthful glow
Contains Optical Blurring Agents
Minimizes the appearance of pores and spots
It makes the skin surface smooth
Clinically tested and approved by a dermatologist
It suits all skin tones, including sensitive skin
What We Don't Like: It is not a lightweight primer and feels heavy on certain skin types. Also, some users do not like its overwhelming smell.
[ Read: 7 Best Primers For Sensitive Skin ]
4. Natural Ingredients: Jane Iredale Facial Primer & Brightener
It helps skin retain the natural moisture of the skin
It contains plant-based ingredients like apple, white tea leaf, grapefruit, and radish root extracts
It helps makeup settle better for long periods
Minimizes the appearance of wrinkles and pores
Brings an illuminating glow to the face
What We Don't Like: It is pricey.
5. Best Matte Finish: Benefit Cosmetics The POREfessional Pearl Primer
It gives subtle and natural-looking radiance
Conceals large and clogged-up pores
It makes skin even and smooth
Blends flawlessly due to the creamy texture
Velvety smooth formula
It gives blemish-free and glowing radiance
Do not feel greasy on the skin
What We Don't Like: It is expensive and appears cakey with the improper application.
[ Read: Get Rid of Open Pores Naturally at Home ]
6. Lightweight and Creamy: Dr. Brandt Skin-Changing Science No More Pores Luminizer Primer
The infusion of lentil seed extracts makes it exclusive
Reduces the visibility of large pores
It also consists of white tea tree oil
Deeply cleanses the skin
Formulated with Soft-Focus technology
Blur pores and blemishes
It is free of artificial fragrance
What We Don't Like: If you have oily skin, it may appear slightly greasy.
7. Organic Ingredients: Juice Beauty The Organic Solution Phyto-Pigments Illuminating Primer
Formulated with natural ingredients
It is a lightweight primer.
Glides effortlessly on the skin
Infused with ingredients such as aloe leaf juice, grape seed oil, coconut alkanes, sunflower seed oil, witch hazel extract
Blurs fine lines and wrinkles.
Suitable for all skin types
Free of parabens and sulfates
What We Don't Like: It may not conceal the pores.
[ Read: 7 Best Essential Oils For Glowing Skin ]
Conclusion
If you are a makeup freak looking for some of the most effective primers to get illuminating skin, you need to check out these amazing primers for glowing skin. Since they are formulated with advanced technology and infused with skin-brightening and illuminating ingredients, it's high time you should check them once and see the amazing results yourself.
You Might Also Like: