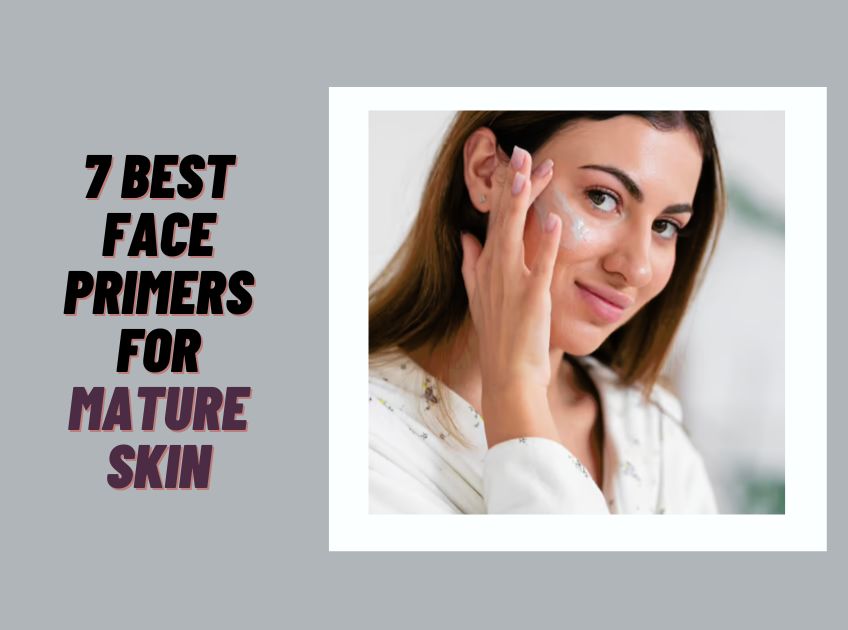 As the skin starts aging, fine lines and aging spots become prominent. Once the signs of aging become noticeable, using primers made for mature skin help tremendously. As you reach over 40, your skin needs special care and attention. It is the right time to shift from your normal makeup products to those made specifically for mature skin.
Face Primers
Primers are essential to give a flawless and smooth canvas to the skin. Here we have listed the 7 best face primers for mature skin that can bring a youthful glow. Check them out!
7 Best Face Primers For Mature Skin
1. Dermatologist Tested and Approved: Jane Iredale Smooth Affair Facial Primer And Brightener
It contains natural brightening ingredients that help improve the skin's overall texture and tone
Besides working as a primer, it also adds a radiant glow to the skin, masking fine lines, wrinkles, and other aging spots
It makes the skin firm and youthful with the help of its anti-aging ingredients
Subtle fragrance adds to its USP, making it more pleasing.
It is lightweight and has a smooth texture
What We Don't Like: The primer takes some time to absorb into the skin. Also, it is more expensive than many other primers for mature skin.
[ Read: 7 Best Essential Oils For Glowing Skin ]
2. Lightweight and Non-greasy: Estee Lauder The Illuminator Radiant Perfecting Primer + Finisher
It contains natural ingredients that deliver Vitamin E to the skin, making it youthful and younger
Also consists of rice bran and shea butter that leaves skin revitalized and refreshed
It is lightweight and non-greasy, adding a pale pink glow to the skin and covering all the aging signs like fine lines and wrinkles
It is oil-free, thus suitable for oily skin too
What We Don't Like: Although highly effective, it comes with a hefty price tag. Also, it doesn't hydrate the skin for long.
[ Read: Vitamin E Oil For Skin ]
3. Effective and Affordable: Covergirl Simply Ageless Anti-Aging Foundation Primer
It is a highly effective face primer that helps keep the liquid foundation on for a long on the skin
The texture is creamy and penetrates easily into the skin, keeping it well-nourished and deeply hydrated
Besides using as a primer, it can also be used as a moisturizer due to its hydrating properties
It gives a radiant, dewy, and youthful look to the mature skin
The anti-aging properties are the added benefit
What We Don't Like: If you have deep fine lines and wrinkles, you won't be able to conceal them with perfection.
[ Read: How to Get Rid of Wrinkles Naturally at Home ]
4. Complete Protection: Chantecaille Broad Spectrum SPF 45 Primer
It is a mattifying primer that also provides sun protection with its SPF 45
The active ingredients include cherry blossom, lemon balm, and white tea extract, which offers a soothing effect on the skin
Also contains Carnosine, a protein building block that firms and tightens the skin and softens the fine lines and wrinkles
It is lightweight and has an oil-free formulation with no parabens, phthalates, and sulfate
What We Don't Like: The skin may get white residue when this primer is used in excess.
[ Read: Home Remedies for Skin Tightening ]
5. Multi-Purpose Primer: It Cosmetics No.50 Serum Collagen Veil Anti-Aging Primer
It is an anti-aging primer, thus highly suitable for women over 40
Offers 2-in-1 functions where it can be used as a makeup base and for skin hydration
The presence of over 50 anti-aging ingredients, along with lipid-rich oils, vitamins, extracts, and botanicals, the primer addresses multiple issues and gives a radiant glow to the skin
It reduces the appearance of wrinkles and enlarged pores
What We Don't Like: It is pricey compared to other primers for mature skin.
[ Read: 7 Best Lip Liners For Mature Skin ]
6. Best for All Skin Types: Benefit Cosmetics The Porefessional Pore Primer
The no-oil formula makes it easy for all skin types and gives you a radiant glow without making your skin excessively oily
It helps hide enlarged pores and gives soft and smooth skin for further makeup application
The lightweight and translucent formula helps vanish fine lines and wrinkles in a jiffy
Also contains Vitamin E, which helps manage aging skin issues
What We Don't Like: The texture of this primer is runny.
[ Read: How To Get Rid of Open Pores Naturally at Home ]
7. Effective Anti-aging Formula: Urban Decay Anti-Aging Eyeshadow Primer Potion
It contains dermaxyl that helps even the skin's texture
Works great for mature skin as it helps reduce the signs like fine lines and wrinkles
It also consists of kalpariane that helps make skin firmer and plumper and offers better hydration for dehydrated skin
Adds elasticity and suppleness to the skin
The presence of optical blurring pigments reduces the appearance of red and puffy eyes
What We Don't Like: A patch test is recommended.
Conclusion
Now that you know some of the most effective face primers for women over 40, it's time to give them a shot and see what stunning difference they create in making you look younger than your age.
You Might Also Like: