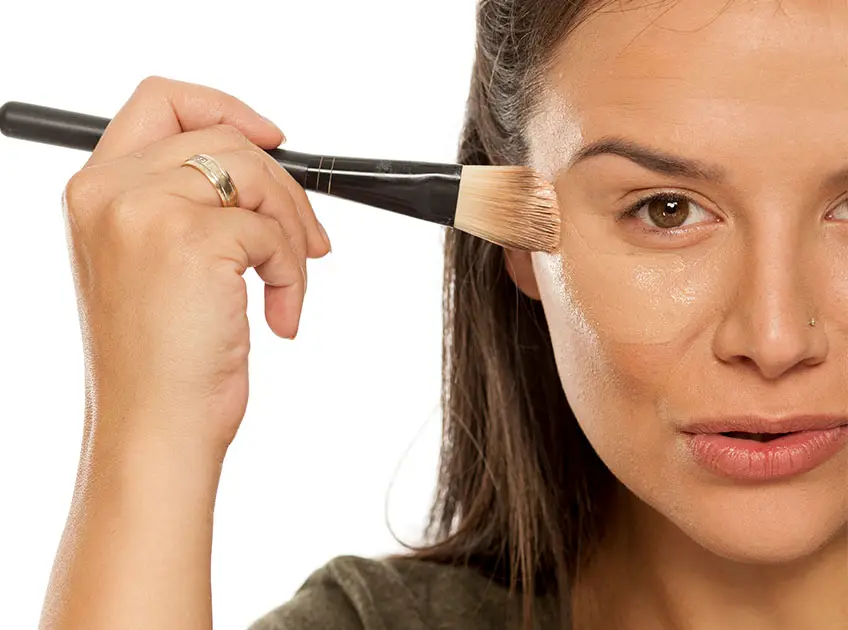 The makeup of the right kind can help enhance your features; with the aging process, our skin often appears dull and drab. With the right foundation, blush and other makeup essentials, you can brighten and add the much-needed glow to your face.
Best Look Younger with Makeup
1. Brighten Inner Corners of Eyes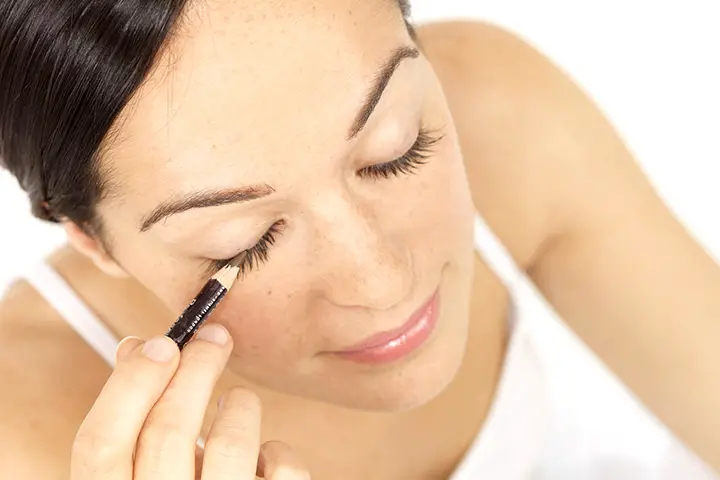 This helps reduce signs of tiredness around the eyes and to give you a bright-eyed, natural look.
Try drawing a triangle shape, upside down around the corners of the eyes. This will also help to push forward the cheeks.
Opt for a radiant cream finish concealer. Apply it with the right makeup brush for desired effects. Choose the concealer depending on your skin tone.
[ Read: How to Apply Makeup for Beginners ]
2. Use Sheer to Even Out Skin Tone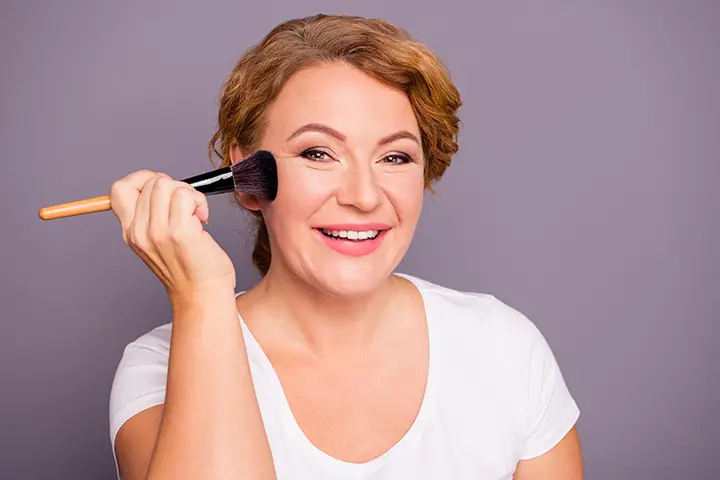 This is one of the essential steps towards a smooth makeup without making it look apparent. you  will need a good quality serum or liquid foundation and full cover concealer.
This is akin to applying foundation but keeping it light. Use it only to even out flaws, areas where the skin tone or color is uneven.
Do not apply too heavily since it can make your skin heavy and rob it of the natural radiance.
Apply on the center area and even out towards the edges. If there are any spots or blemishes simply apply concealer directly on them with a tiny brush.
[ Read: Makeup For Teens ]
3. Use the Right Face Powder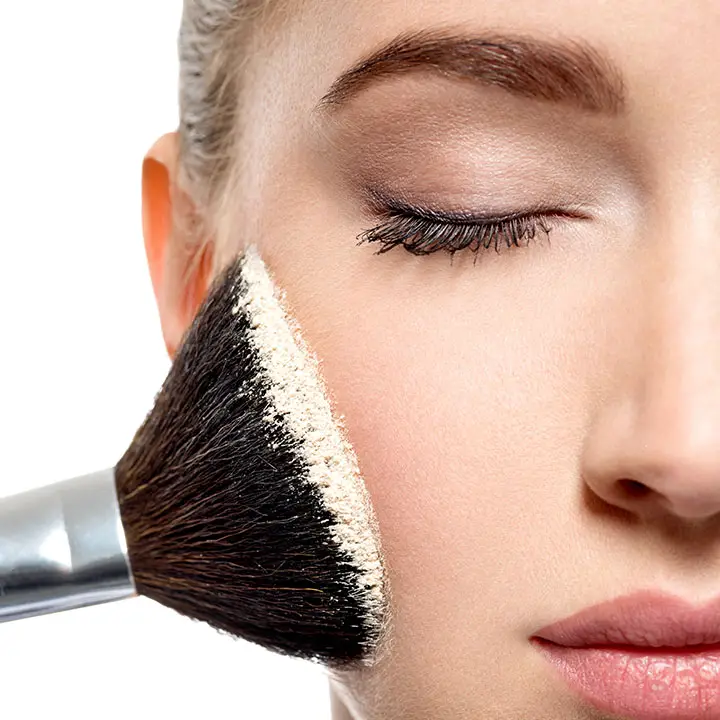 The powder is the best option to keep the oiliness away as well as to add the perfect finish to a creamy foundation. It is advised to go in for microfinish powder
It is a myth that more powder can make your skin look fair and young. It can make your skin dry and hence, should be lightly used as a finishing layer on top of your foundation or cover the T-zone, even without applying foundation.
Face powder helps to mattify oily areas; opt for products that comprise of pure silica translucent formula that is natural-looking and weightless. Use it after you have put the foundation on your face.
[ Read: How to Hide Wrinkles with Makeup ]
4. Try a Peach Shade Blush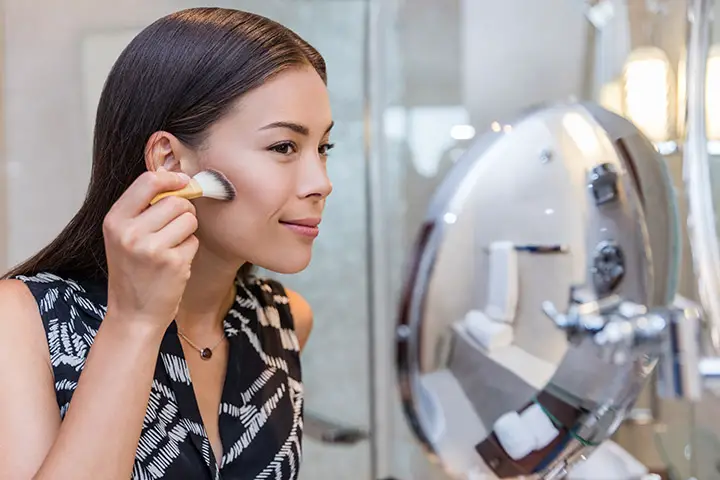 The right touch of colors to your cheeks can do wonders. Do get an apricot or petal colored powder blush or cream-based blush to apply on your cheeks and make it look striking.
Use a blush brush and pick up a small amount to begin. Paint a faint shade across the fleshy part of the cheeks, brushing upward and outward.
It can help add a youthful color to your skin, especially towards the end of the day or after a long day's work when you need to go out.
[ Read: How To Apply Blush Correctly ]
5. Apply Highlights Right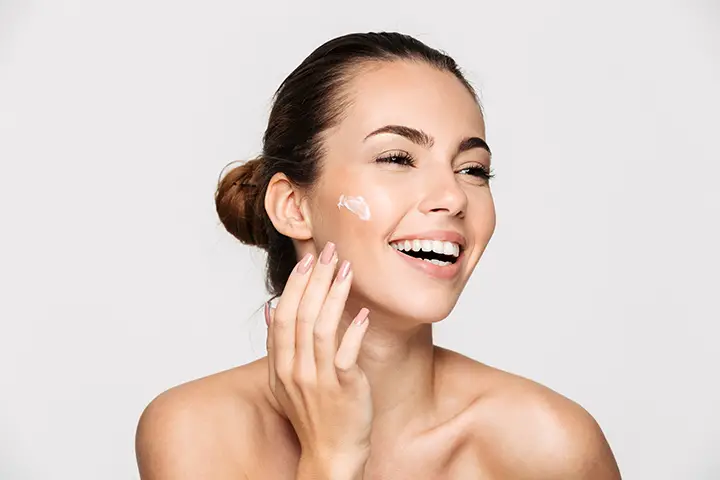 Subtle highlights help to bring out your best facial features, even if you do not go the whole haul on facial makeup.
This is the best makeup tool you have at your disposal that can easily fool the people to think you have a young and healthy complexion.
You can try out both powder or cream highlighters and see what sits perfectly on your face to enhance your looks.
Highlights help add a youthful appeal to your skin. Cream formats are more natural.
To apply the same, use fingers and dab a little amount across cheekbones, across the nose bridge, around the inner corners of eyes and above the eyebrow.It is preferably used over a foundation finish.
[ Read: How to Apply Makeup Primer ]
6. Accentuate the Eyebrows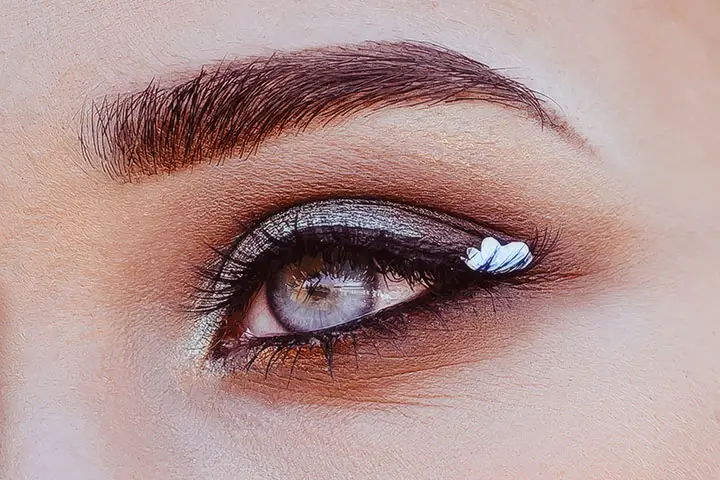 If you have light, thin eyebrows, accentuating them on special occasions will enhance your eye makeup.
You can either go for Brow style or brow defining wax. Apply it only when you are applying evening makeup and when you want to define your eyes.
If you have full eyebrows, simply use a brow wax or a mascara to hold or define the same in a well-formed arch.
If there are gaps then you can use a fine-tipped brow styler pencil. For those who wish to define or bulk up the hairs, there are tinted brow mascaras that help add an artistic effect.
[ Read: How To Shape Your Eyebrows Perfectly ]
7. Define the Eye Lashes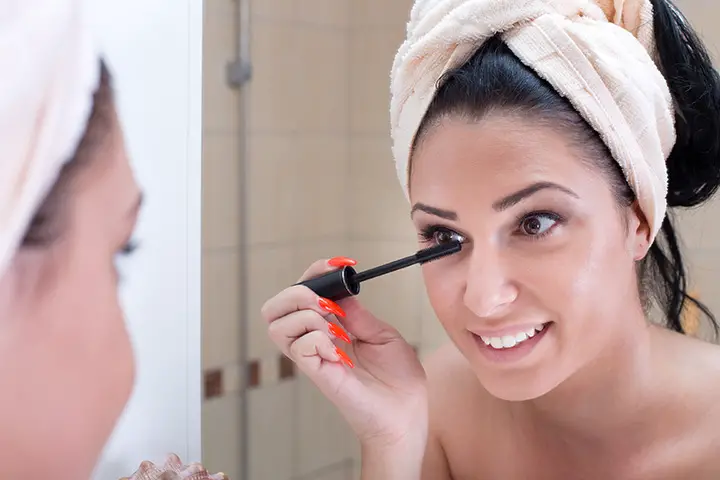 This helps to highlight your eyes besides applying eyeliner. It is better to avoid dark colored eyeshadows and the eyeliner as they can easily make you look older. Instead you can look  to use eye lash lengthening mascara.
First, you try to give the eyelashes a good curl. Then, apply several coats of the product by coating each lash hair from root to tip.
Press brush to the roots and clean off any excess with a wet cotton swab. It is best to apply mascara on top lashes to avoid smudging effects below the eyes.
Ensure that the previous application is taken off completely before putting a new one.
8. Enhance Your Lips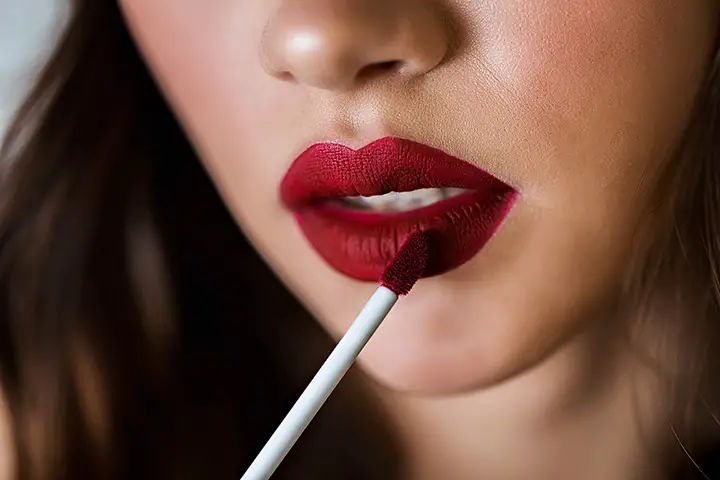 Even if you have applied lipstick you can add a glossy or creamy finish to the same with a balm or a lip gloss.
For those who simply wish to keep the look simple, opt for a rosy-tinted balm or one that comes with a glossy finish. The latter will help to make your lips appear hydrated.
Make sure to avoid dark-colored lipsticks as it will make you look older. A good idea is to use the fingertips to apply the lipstick to make the edges look soft.
It is better to use a clear lip liner on the lips and over drawing it on the lips will make it younger and plumper.
Skincare is also essential so that your natural beauty is at its best. Ensure that you pay attention to lifestyle habits and diet which in turn will help maintain hormonal balance and ensure good health and skin.
You Might Also Like: