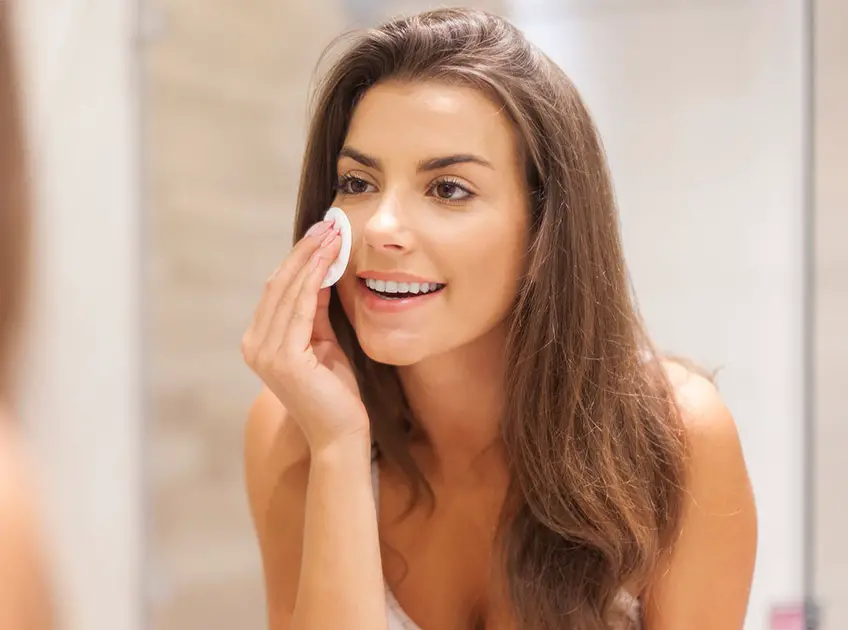 Whether you've come back from a party or a wedding, you shouldn't skip removing your makeup. Taking off eye makeup and lipstick is the most difficult part of the makeup removal process. If you don't have a makeup remover handy, don't worry! The products you have at home can be used to clean your face.
Yes, it's true. Don't you believe it? To remove makeup without a makeup remover, we have listed some hacks. For more information, read on.
How to Remove Makeup Without Makeup Remover?
When it comes to removing makeup, it can be an absolute nightmare! However, to maintain healthy and glowing skin, it is essential to remove your makeup. Because too much makeup on the skin can cause acne, blemishes, and pimples by clogging the pores. Hence, we've listed some of the best methods to remove your makeup without a remover. Here we go with them.
[ Read: 7 Best Makeup Removers For Acne-prone Skin ]
1. Coconut Oil

Coconut oil is one of the most effective ingredients that everyone should include in their skincare routine. But do you know it acts as a cleaning agent to remove your makeup? Yes. Since the consistency of the coconut oil is light, it can be used to remove your makeup. Further, applying coconut oil to your skin can easily absorb and nourish your skin.
How do we use coconut oil to remove the makeup? Take some amount of coconut oil and pat your face. Wipe it with a cotton cloth until it gets cleaned.
[ Read: How To Use Coconut Oil To Remove Makeup ]
2. Mixture of Aloe Vera and Olive oil
We all know Aloe Vera is a natural cleanser. But do you know olive oil has anti-inflammatory properties? A mixture of aloe vera & olive oil can be used to clean the makeup without any effort. Guess how?
Take some fresh aloe vera gel and add a spoonful of olive oil.
Let the mixture set for a few moments.
Apply the mixture on your face and try wiping the makeup with a cotton ball.
[ Read: Epielle Aloe Vera Makeup Remover Cleansing Tissues Review ]
3. Milk Therapy
Milk is one of the excellent skincare ingredients. Applying it on your face may help remove the makeup and hydrate and moisturize your skin. But how to use milk to remove makeup healthily?
Take some almond oil and mix it with milk.
Now, wipe your face with the milk mixture.
Wash off with water. That's it.
[ Read: 12 Impressive Benefits & Uses Of Raw Milk For Skin And Hair ]
4. Honey and Baking Soda
A mixture of honey and baking soda is another best ingredient that eases your makeup removal process. Baking soda is a natural cleanser that cleans out your skin completely without dirt. Honey contains a natural humectant. Hence, the mixture of both acts as the best cleanser to remove your makeup. How?
Take two spoons of baking soda and two spoons of honey.
Mix them well
Now apply it on your face like a mask.
Wash off with warm or cold water.
[ Read: Benefits of Baking Soda for Face: How To Use ]
5. Olive oil

As we said earlier, olive oil is one of the great sources to clean your face. Especially when it comes to removing the makeup. So, take some olive oil and pat it on your face. Once it is done, use a cotton cloth and wipe your face. Wash your face with some cold or warm water. That's it.
[ Read: How to Remove Makeup Naturally at Home for Healthy Skin ]
6. Baby lotion

Baby lotion is one of the great remedies that helps to pamper your skin. Hence, it can be used to remove your makeup instantly. Using baby lotion won't leave your skin dry. But, ensure to use chemical-free baby lotion.
7. Steaming
Steaming is a cheap and effective way to remove makeup without remover. Steaming helps in unclogging the pores. Hence, steam your face if you wish to wash off the dirt and impurities. How?
Take some water and boil it for a few minutes.
Steam your face for 5 to 10 minutes.
This will not only clean your face but also moisturizes your skin and helps to stay hydrated.
[ Read: What Should You Do Before Applying Makeup ]
8. Baby Shampoo

Another easy way to remove your makeup without a remover is by using gentle baby shampoo. Baby shampoo will always be mild. Hence, you can apply it to your skin. So, take some amount of baby shampoo with water, and rub your face with it. Then, wash your face with water.
9. Petroleum jelly

Many of us use more makeup tools near the eye to look pleasant. But how to clean it without a remover?
Wash your hands before you clean your eyes. This will help you stay away from dirt and germs that may enter your eyes.
Place some petroleum jelly on your palm.
Dip some on your finger and rub it near your eyelashes.
Allow the jelly to get soaked on your eyelashes for at least 5 to 6 minutes.
Now, clean the eyelash with a cotton ball soaked in warm water.
[ Read: Benefits Of Vaseline Petroleum Jelly for Skin, Hair ]
10. Honey And Brown Sugar Mask
Take some amount of honey and mix it with brown sugar.
Rub the mixture over your lip for 20 to 30 seconds. This will help you remove the lipstick that sticks tight on your lips.
Try the above mentioned tips if you want to remove your makeup with natural ingredients.
You Might Also Like: