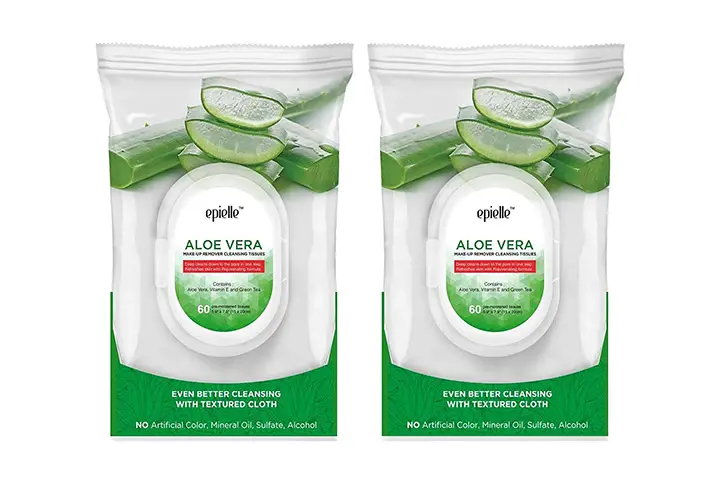 Refresh your dense skin with Epielle facial cleansing wipes. Sweep your skin with these and regain the moisture of your face. These wipes contain refreshing ingredients such as aloe vera, vitamin E and green tea.
It effectively removes stubborn makeup, dirt and oil while moisturizing skin. They remove impurities and refresh your skin and also help to eliminate makeup.
Epielle Aloe Vera Makeup Remover Cleansing Tissues
How it Works:
The key ingredients of this product will refresh and rejuvenate your skin.The refreshing components of this product like aloe vera.
Leaf extracts will help to soothe and vitamin E can moisturize and soothe dry, flaky skin.
It deeply cleanses and moisturizes your skin in one step.
These ultra soft facial cleansing wipes effectively wipe away bacteria and stubborn makeup.
These wipes work gently on your face and keep your skin nourished and healthy.
Pros:
Quick and easy makeup removal.
Removes dirt and makeup effectively.
Works gently on the skin.
Do not irritate sensitive skin.
Removes stubborn eye makeup with ease.
Cons:
Cleansing cloth is not very soft.
Rating: 4.4 out of 5
Epielle cleansing wipes work well to save the dull and tired looking skin. If you want a cleansing wipe that should be gentle on your skin though on dirt you can try this product.
Frequently Asked Questions ( FAQ's )
Q. Are these wipes paraben free?
Ans: I cannot answer with certainty but the package states no harsh chemicals are used in the product.
Q. Are these wipes good for your pet?
Ans: They are gentle wipes with Aloe Vera. I don't think they would hurt your pets, but they are only slightly scented. Try finding a wipe that is for pets; they will cover-up unpleasant odors better than these makeup wipes.
Alternate Products:
You Might Also Like: