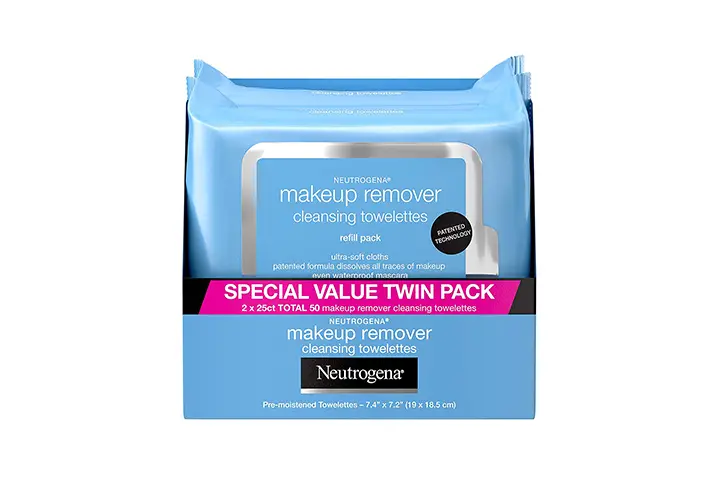 A quick and easy alternative to cleanse your face effectively is to use Neutrogena makeup remover cleansing facial wipes. These wipes remove makeup and successfully cleanse skin in one easy step.
They dissolve dirt, oil and debris and impurities and give you a clean and nourished skin. These facial wipes combat acne, pimples and redness.
Neutrogena Makeup Remover Cleansing Face Wipes
How it Works:
Neutrogena facial cleansing wipes remove all traces of makeup up to 99.3%.
These wipes are specially designed to remove eye makeup and they are formulated to work gently on the eyes and safe for contact lens weavers.
The wipes also clean stubborn makeup without irritation.
Use these wipes to remove your makeup gently and keep your skin clean and fresh everyday.
The patented formula of these wipes cleanse your skin rigorously with no heavy residue.
So there is no need to rinse your face . Best for quick makeup changes,at home and on the go moments.
Pros:
Works gently on your face and harshly on the dirt.
Ophthalmologist, dermatologist tested.
Affordable.
Alcohol free.
Portable and comfortable.
Cons:
Not suitable for all skin types.
Rating: 4.8 out of 5
The best wipes can be used to clean your face whenever you need as it is portable. These wipes are suitable for contact lens weavers. These you use as your daily routine.
Frequently Asked Questions (FAQ's)
Q. Can it be used by men?
Ans: Yes it can be used by men also.
Q. Do they remove matte lipstick effectively?
Ans: Yes, you need to scrub a bit,but it takes it off.
Q. Can it be used to clean eyelash extensions?
Ans: Probably not only because it's not oil free. You shouldn't use any type of oil based cleansers on or around eyelash extensions.
Alternate Products:
You Might Also Like: