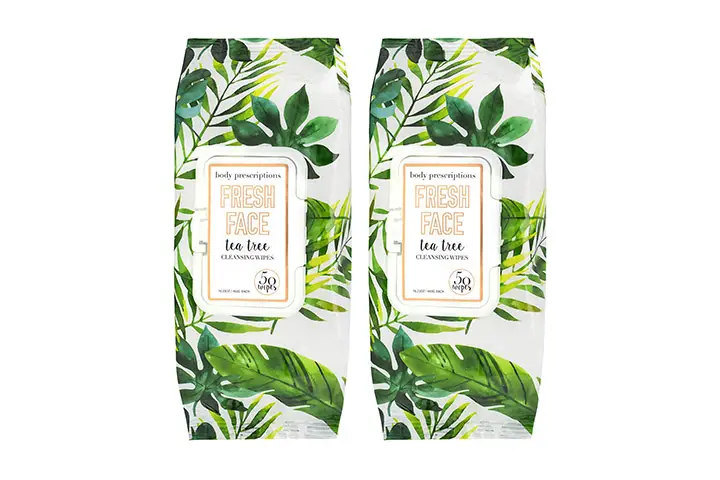 If you don't remove your makeup from your face, the dirt, impurities and dead cells are also not removed. They stay on our skin and create skin problems.
To put an end to such problems remove your makeup with Body prescriptions makeup removing wipes.
With a proper sweep these wipes effectively remove the stubborn facial and eye makeup like mascara, eye liner etc.
These wipes successfully remove dirt, oil and refreshes and nourishes your skin.
Body Prescriptions Makeup Remover
How it Works:
These wipes are formulated with the natural and main ingredient is tea tree.
The anti inflammatory effect of tea tree oil helps to soothe and reduce irritation.
Adding tea trees to your beauty routine will help calm down redness and have your skin feeling its best.
The bulk pack contains 100 gentle towelettes keeping you well stocked for all your facial cleansing needs.
The reusable flip top of this product is designed to be portable and to maintain the tissues fresh.
Pros:
These wipes will leave your skin clean and toned.
Hydrates and nourishes all skin types.
No need to rinse and no need to rub harshly.
These wipes are gentle and soft and can eliminate oil and dirt.
Makes your skin glow all day.
Cons:
Take time to remove tough eye makeup.
Rating: 4.5 out of 5
A swift swipe which softly removes makeup, oil and dirt. These thick and soft wipes lift away all dirt, excess oil . Pick this product for best and awesome results.
Frequently Asked Questions (FAQ's)
Q. Do these wipes have fragrance?
Ans: No, there is no fragrance.
Q. Are they compostable?
Ans: Yes, they are compostable.
Q. Do these wipes leave any sticky feel after use?
Ans: No sticky feeling. They are awesome. Useful for getting rid of Demodex in skin as tea tree oil kills demodex.
Alternate Products:
You Might Also Like: