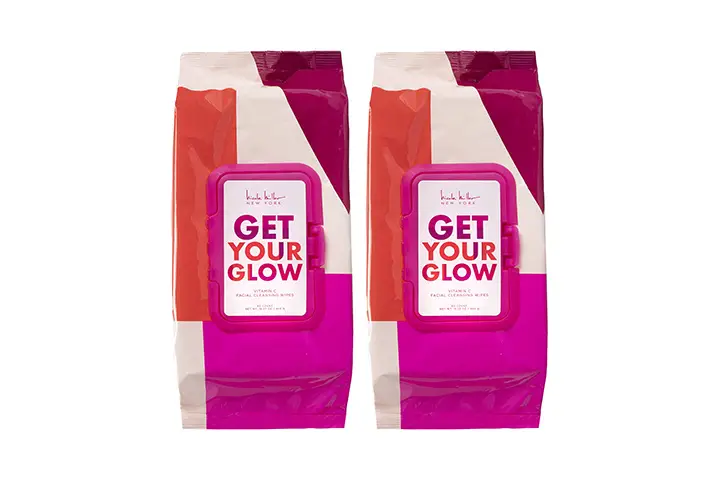 Nicole miller facial cleansing wipes effectively remove the makeup. These wipes clean and freshen up your face instantly. They dissolve makeup and lift away dirt, oil and debris from your skin and leave soft and smooth skin.
They are perfect for gym, travelling, camping or quick makeup changes. Just give a wipe to clear the tough makeup and sleep with a cleansed face.
Nicole Miller Facial Cleansing Wipes and Makeup Remover Wipes
How it Works:
Get your glow wipes are infused with vitamin C which help to heal the damaged skin and reduce the appearance of wrinkles.
Use these wipes to eliminate the daily build up on your skin caused by pollution.
This product contains 2 packs each with 60 moist towelettes.
The main advantage of these wipes will take care of your skin and reduce the anti aging benefits of vitamin C and get you glow.
Pros:
It is travel friendly.
Reusable flip -top packages help to keep the wipes fresh and clean .
Cruelty free.
Ideal for daily use.
Affordable.
Cons:
Not suitable for all skin types.
Rating: 4.4 out of 5
These wipes are deep clean and provide essential hydration by leaving your skin glowing.they sweeps away all the dirt, oil, makeup and all the build up on your skin. Use these wipes and get refreshed.
Frequently Asked Questions (FAQ's)
Q. Is this vegan?
Ans: Yes it's vegan and cruelty free.
Q. Can this product be used for baby's?
Ans: No. This is not for pediatric use.
Alternate Products:
You Might Also Like: