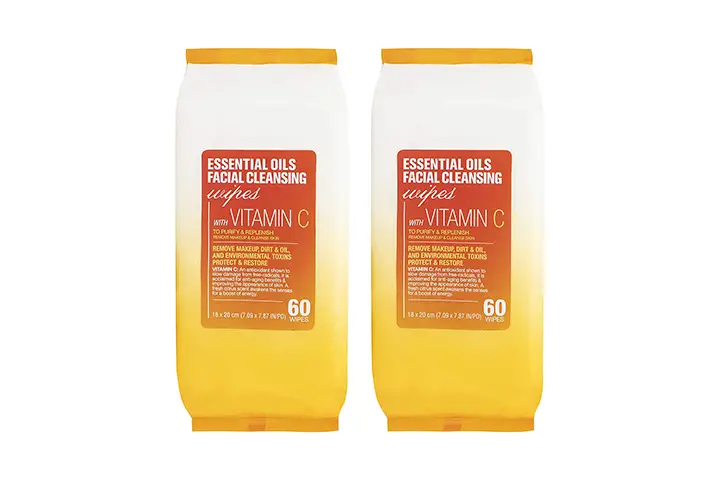 Essential oil's Vitamin C infused facial cleansing wipes remove all types of makeup easily and effectively. These wipes cleanse your face without over drying.
They remove dirt, grime and daily buildup caused by pollutants and leave your skin soft and smooth.
These gentle wipes hydrates your skin and nourishes by removing all traces of makeup, oil and extra stubborn makeup.
Essential Oils Vitamin C Facial Cleansing Wipes
How it Works:
These wipes are enriched with vitamin C, which is an antioxidant and helps to brighten and balance the appearance of your skin tone while hyaluronic acid binds moisture for a smooth and radiant feel.
These wipes not only cleanse but also detoxify and keep away all signs of free radicals and tone your skin.
The pack of this product is designed to be portable and they come with a resealable closure to keep the wipes clean, fresh and moist.
Pros:
Suitable for daily use.
Works gently on the skin.
No greasy residue.
Affordable.
Cruelty free.
Cons:
May irritate eyes.
Takes time to remove stubborn makeup.
Rating: 4.2 out of 5
Recharge your skin by using these vitamin C infused wipes instantly whenever you want. they are more convenient as you no need to wash your face after using. Best product value for your money.
Frequently Asked Questions (FAQ's)
Q. Does it help to brighten your face like vitamin C serum?
Ans: No. It will not help.
Q. Is it vegan?
Ans: Yes it is vegan and cruelty free.
Alternate Products:
You Might Also Like: