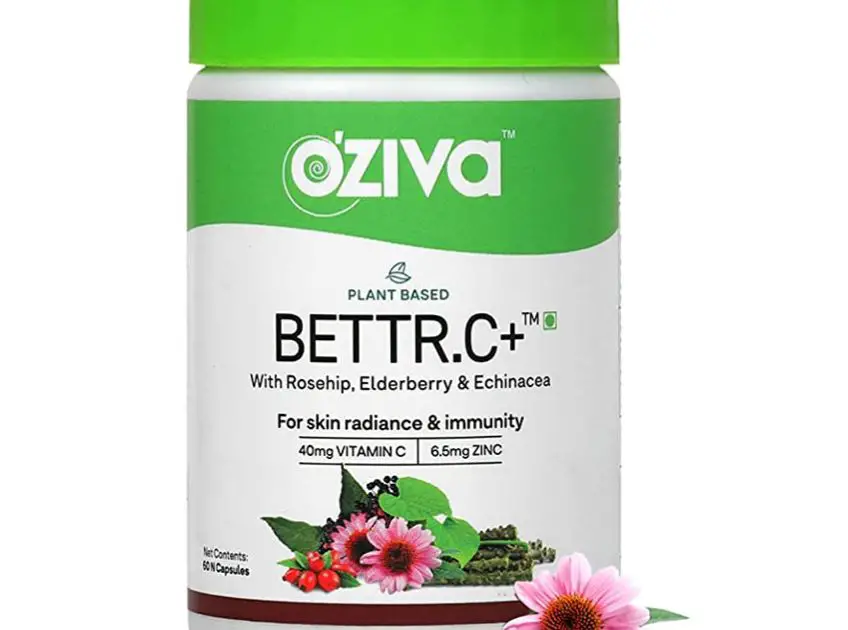 Vitamin C is a water-soluble vitamin and is extremely important for the normal growth and development of the body. Even though the body flushes out leftover vitamins from the body through urine, it keeps a reserve. Still, to prevent shortage, a regular intake of vitamin C is essential because many activities depend upon the presence of Vitamin C.
The body utilizes this vitamin to grow and repair the tissues. It helps to make skin, tendons, blood vessels, and ligaments. Also, it helps to heal wounds and scar tissues faster. If the body is deprived of vitamin C, a shortage of iron is also seen. It is because vitamin C helps in easy absorption of iron.
Apart from these functions, Vitamin C is also one of the antioxidants that combat free radicals and keep many dreadful diseases like cancer, arthritis, and heart diseases at bay. At the same time, it also reverses the signs of aging, giving a younger and youthful skin.
With so many benefits, one can't escape taking Vitamin C supplements to ensure that body does not lack them. Out of multiple brands that sell Vitamin C supplements, we are reviewing Oziva Plant-based Bettr C+ and checking out effective it is.
Product Review
Oziva plant-based Bettr. C+, as the name indicates, consists of plant-based ingredients. The special formulation of this product furnishes the need for Vitamin C in the body that helps to boost immunity. The blend of Vitamin C and Zinc is a super combination that works wonders for the overall health and immunity of the body.
40 mg of plant-based vitamin C comes from RAAZen-C, a standardized plant extract for Vitamin C.
6.5 mg plant-based Zinc derived from GZen-Zinc, a standardized plant extract for Zinc.
Since all the components are plant-based, intake of this product seems fruitful. It can be taken daily or as per the direction of a physician without fearing the side effects.
Product Description
Oziva plant-based Bettr. C+ comprises the goodness of rosehip, amla, and acerola cherry. Each one of them is a rich source of Vitamin C. Also, it consists of elderberry, a powerhouse of antioxidants. Together all these components work wonders for health, immunity, and skin.
It improves the body's capability to fight off pathogens by boosting immunity. The properties of Guduchi and Echinacea also help to replenish nutritional deficiencies and make the body healthier and fitter.
Since it is certified vegan by the Vegan Society of the UK, you can have it without any second thought. It is advised to take two capsules of Oziva plant-based Bettr.+ Vitamin C on an empty stomach early in the morning. You can also take it 30 minutes before the meal.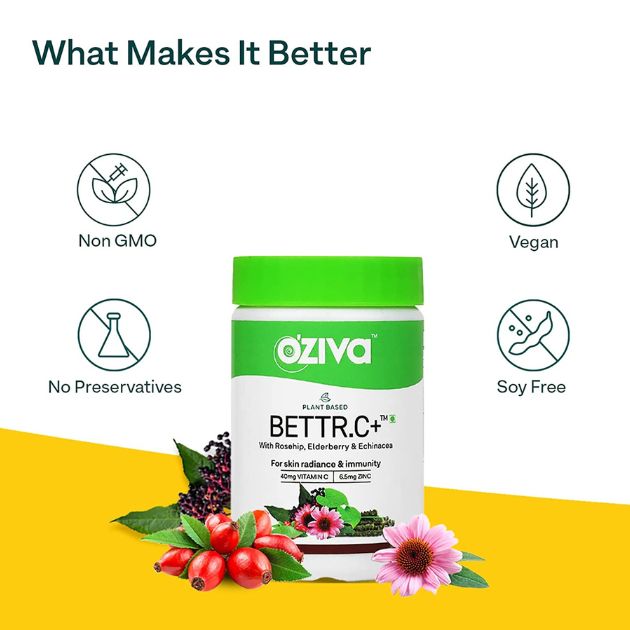 Nutrition Facts
The three major ingredients of Oziva Vitamin C formulation include the following-
RAAZen-C – It is a standardized plant extract for vitamin C that promotes skin glow and makes the skin healthier and radiant.
GZen-Zinc – It is a standardized plant extract for zinc that strengthens the immune system and boosts immunity.
Elderberry – It is loaded with antioxidants that help to keep the skin away from aging signs like fine lines, wrinkles, blemishes, and aging spots.
[ Read: 10 Healthy Foods To Boost Immune System ]
What We Like
It is soy-free and does not contain artificial sweeteners or preservatives.
It is certified vegan by the Vegan Society of the UK.
Since every extract came from nature, there are no side effects.

What We Don't Like
It is essential to take Oziva Vitamin C capsules for at least three to four months regularly to see the difference in immunity. The results come slowly, but they are worthwhile.
How Much Does Oziva Vitmain C Cost?
The regular price of Oziva plant-based Bettr C+ is Check Here. Make sure you buy it from trusted sources like its official website or Amazon to avail the offers and discounts.
Alternative Products
Conclusion
Vitamin C is one of the essential vitamins for a healthy life. It strengthens the immunity and keeps you, fitter. Since Oziva products are plant-based, there are no chances of side effects. We suggest you try Oziva Vitamin C as the results definitely will be promising.
Read More