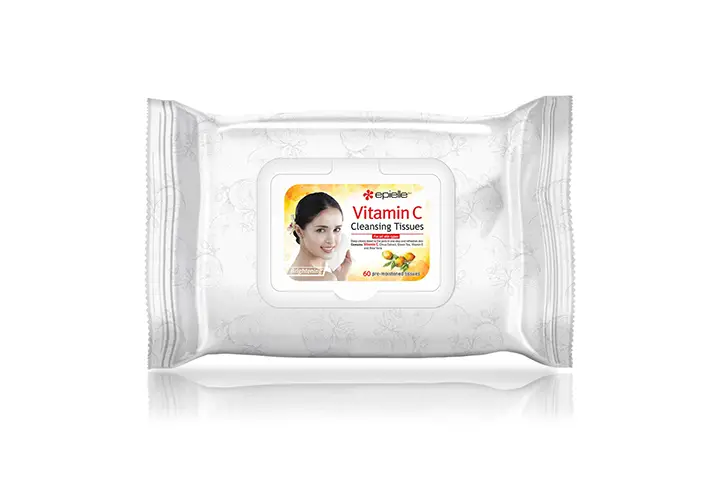 Wherever you go, just drop these Epielle Facial Cleansing Tissues in your bag. You can just swipe off the makeup, dirt and impurities from your skin. These value size pre-moistened cleansing wipes gently cleanses your skin and leaves skin feeling fresh, smooth and clean.
Vitamin C facial wipes effectively remove stubborn makeup, dirt and oil while moisturizing skin.These wipes contain natural ingredients that help your skin to be healthy and hydrate.
Epielle Vitamin C Facial Cleansing Facial Tissues Wipes Towelettes
How it Works:
Epielle Facial Cleansing Tissues have special dirt trapping fibers that gently cleanse away even the tough makeup like water proof mascara.
With the convenience of pre-moistened clothes, they work in seconds to leave you feeling smooth, fresh and clean.
These wipes are enriched with vitamin C where vitamin C provides long lasting moisture to the skin and also helps to remove makeup conveniently.
It deep cleanse down to the pore in one step and refreshes skin.
Pros:
No artificial color, mineral oil and alcohol.
It will not leave any oily residue.
Won't clog pores and moisturize skin deeply.
Safe for contact lens wearers.
Oil free and hypoallergenic.
It cleanses the inside of pores.
Cons:
Cleansing cloth is not very soft.
Rating: 4.6 out of 5
Just one swipe with Epielle vitamin C facial tissues gives you a soothing and conditioned effect. Get this product for a bright, healthy and youthful complexion.
Frequently Asked Questions (FAQ's)
Q. How long will they stay moistened if not opened?
Ans: I have had these for over a year and I'm on my last package and it's still moist. Maybe almost two years. Love them for camping, traveling, lazy late nights when I don't feel like soap and water.
Alternate Products:
You Might Also Like: