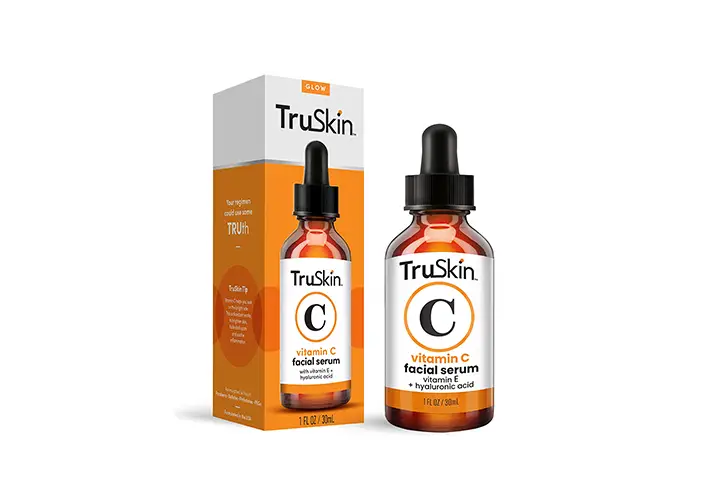 Truskin vitamin C serum is a skin care product with vitamin C. It instantly brightens up your skin tone and makes your skin free from wrinkles and dark spots. It is an essential thing to lessen fine lines and give youthful skin. It also protects your skin from the damage of free radicals caused by UV rays.
The serum helps to boost the natural collagen process that improves your skin's elasticity, texture, quality and make your skin light and young. It lightens the dark spots without disturbing your normal skin's pigmentation.
TruSkin Vitamin C Serum
How it Works:
Tru skin facial serum is powered with vitamin C, organic aloe vera, hyaluronic acid and vitamin E.
Vitamin C is a powerful antioxidant known for even skin tone, boosting collagen and neutralizing free radicals.
Organic aloe vera helps in hydrating skin and it is a bunch of vitamin A,C and E.
Hyaluronic acid has the ability to attract and retain moisture for intense hydration.
Vitamin E helps to prevent damage from UV rays and other environmental stressors.
It also acts as an anti-aging face serum as it contains a blend of vitamin C, Botanical Hyaluronic acid, Vitamin E, witch Hazel and Jojoba oil.
This product can be used day or at night.
Pros:
Boosts skin radiance, collagen and free radical defense.
No added synthetic colors.
Parabens, phthalates and sulfates free.
Reduces dark spots and hyperpigmentation.
Help to heal blemishes.
Cons:
It may cause irritation for some people.
Rating: 4.3 out of 5
An excellent serum that helps to hydrate and brighten your skin by avoiding the wrinkles, fine lines and dark spots. Use this product on a cleansed face for best results.You can use this as your daily skin care routine for healthy and glowing skin.
Frequently Asked Questions (FAQ's)
Q. How much % hyaluronic acid does it contain?
Ans: Vitamin C Serum contains 5%.
Q. How to prevent the serum from spoiling?
Ans: Just keep it tightly sealed and keep it in a cool dry place away from direct light and heat
Q. Does this contain retinol?
Ans: No, this product does not contain retinol.
Alternate Products:
You Might Also Like: