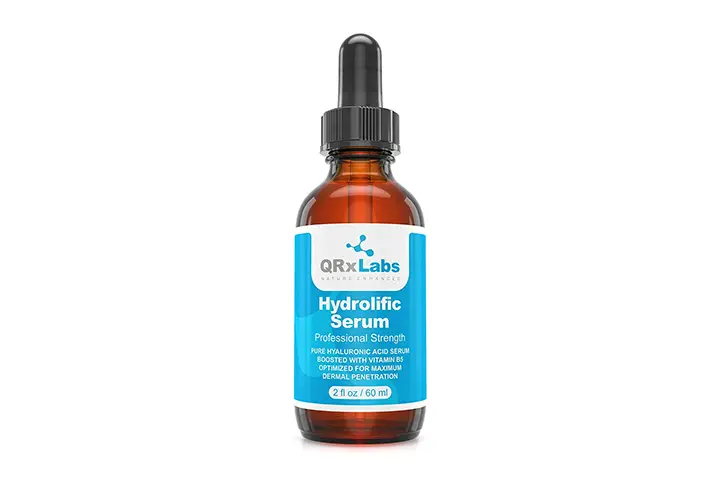 QRxLabs Hydrologic serum formulation is optimized for maximum dermal penetration. This product helps to maintain skin plump and hydrate for hours. It locks moisture and makes it glow with a healthy look.
This product is made with professional grade ingredients and never has silicone or parabens. You can get plumper skin and a reduction in the appearance of fine lines with only a week of daily use.
QRxLabs Hydrolific Serum
How it Works:
Hydrilific serum is a highly concentrated hyaluronic acid serum boosted with pro vitamin B5.
Hyaluronic acid is one of the best skin repairing ingredients which has more skin benefits like reducing the appearance of fine lines and wrinkles.
It also helps to speed up wound healing.
The advanced formulation of this product helps to maintain the skin plump and hydrates skin for hours and leaves it glowing with a healthy look.
It is specially formulated to maximize dermal penetration of active ingredients.
Pros:
Alleviate dry skin.
Soothe and moisturize the skin.
Reduce the appearance of fine lines.
Ideal for smooth and moist skin.
Hydrate the skin and keep it plump.
Cons:
May not be suitable for all skin types.
Rating: 4.4 out of 5
The main aim of this serum is to hydrate and moisture your skin. Deep and long lasting hydration makes your skin look younger and radiant.
Frequently Asked Questions (FAQ's)
Q. Can this serum be used with dermapen?
Ans: Yes, this serum can be used with a dermapen or dermaroller.
Q. At what time is it good to use in the morning or evening?
Ans: Use it morning & night! It really plumps up your skin!!
Q. Do these plump hands and arms?
Ans: No it will not.
Alternate Products:
You Might Also Like: