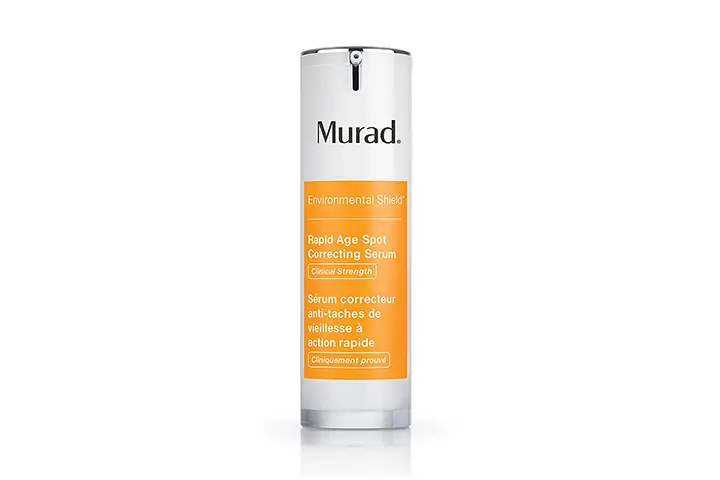 Dark spots are caused by many reasons, but only one solution is Murad Environmental Shield serum. It is clinically proven that the serum will effectively remove dark spots.
It helps to lighten the spots and makes your skin healthy, hydrated and glowing within weeks.
Murad serum lightens the spots and even skin tone and also targets the aging signs while enhancing skin's radiance over time.
Murad Environmental Shield Rapid Age Spot Correcting Serum
How it Works:
This product practically proves that it reduces the appearance of dark spots, age spots and hyperpigmentation.
You can observe a major change after using.
It contains Niacinamide complex, it targets the dark spots to lessen and help to diminish the signs of aging like wrinkles and fine lines.
Vitamin C, oligopeptides and subtle light-reflecting pearls enhance skin's radiance and help to brighten tone instantly and overtime.
This product is formulated without mineral oil, parabens,sulfates and gluten.
It visibly reduces the dark spots and signs of aging.
Pros:
It revitalizes skin's natural tone.
73% saw lessing of dark spots in 6 weeks.
Works effectively without hydroquinone.
Suitable for all skin types.
It brightens skin and improves radiance.
Cons:
Rating: 4.1 out of 5
This product is formulated to reduce the age spots, dark spots and for lightening the signs of aging. You can notice brightening skin tone and improving of radiance. It is lightweight and quickly absorbed without leaving any residue. Try Murad anti aging serum for best results.
Frequently Asked Questions (FAQ's)
Q. Is it working for white spots how it is working for dark spots?
Ans: Dark spots/ scars have faded but not the light ones.
Q. Can this be used for dark circles?
Ans: Not really. It's primary use is for acne marks and hyper pigmentation from sun damage.
Alternate Products:
Related Articles: