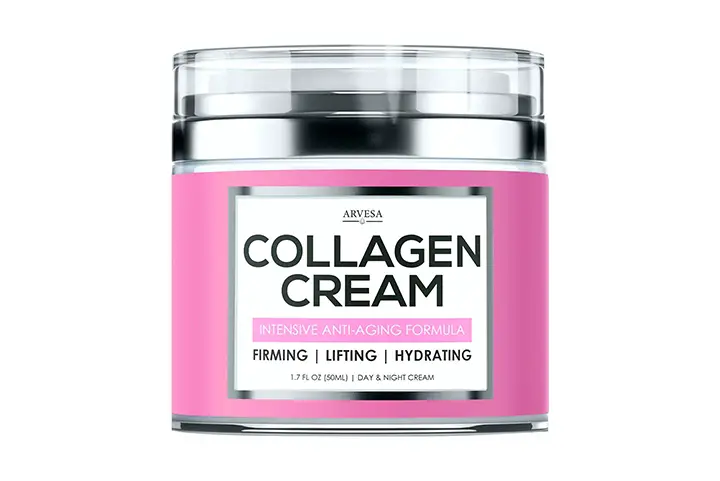 Stop the signs of age by using Arvesa collagen cream. It is a natural solution to fight with the appearance of wrinkles, fine lines and under eye puffiness. It hydrates the skin effectively to reduce the age signs.
The moisturizer helps to fight with age spots, hydrates and nourishes to maintain your skin healthy and happy.
It quickly absorbs into skin and combats aging signs like wrinkles, fine lines and spots.
Arvesa Collagen Anti Aging Cream
How it Works:
The key ingredients of this product are Avocado oil, hyaluronic acid and collagen.
Avocado oil helps to hydrate and moisturize your skin by avoiding UV radiation.
By applying aloe vera lighten dark spots, wrinkles and dryness issues.
Collagen is a protein which is present in this moisturizer, which helps to improve skin elasticity, reduce visible wrinkles and increase blood flow to the skin. Hyaluronic acid helps to hydrate our skin and keep it smooth and soft.
It also fights with the aging signs and protects our skin by reducing the visibility of wrinkles and fine lines by retaining moisture to the skin.
Pros:
Lightweight and non greasy.
Stimulates collagen production.
Boosts elasticity and skin radiance.
Nourishes and hydrates.
Restores youthfulness.
Cons:
May take time to show results.
Rating: 4.5 out of 5.
Buy this product to maintain your skin to look young. Arvesa collagen cream deeply moisturizes and nourishes the skin for a fresh and radiant look.
Frequently Asked Questions (FAQ's)
Q. Is it paraben free?
Ans: Yes it is paraben free.
Q. Does this product contain SPF?
Ans: No SPF in this product. You can use this cream at night.
Q. Will it help to reduce dark spots and hyperpigmentation?
Ans: Yes you can observe the visible results within 3 to 4 weeks.
Alternate Products:
You Might Also Like: