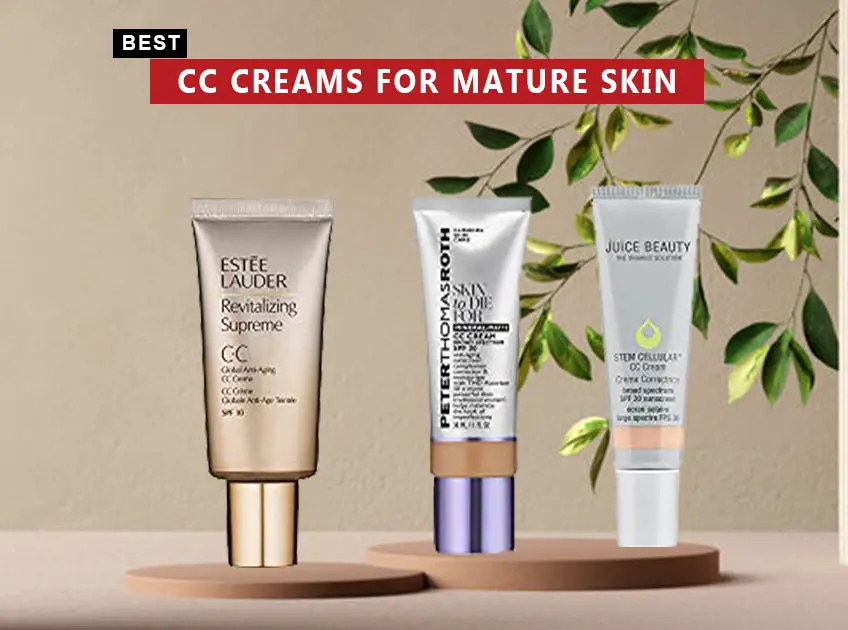 CC stands for color correcting. So, the function of CC cream is to improve skin tone and fade major skin discoloration, marks, and blemishes. Sometimes CC cream is confused with foundation as the foundation's work is also almost the same. However, CC creams are more like tinted moisturizers and are more lightweight than foundations.
If you are looking for the best CC Cream for mature skin, ensure it has anti-aging properties. It will help fight off fine lines and wrinkles while giving you a color correction. At the same time, since mature skin is prone to dryness, ensure your CC cream features some hydrating properties. It should also cover the brown spots and skin discoloration over time.
CC Creams
Finding the perfect CC cream takes some hits and trials as it needs to meet your specific requirements and, at the same time, match your skin tone and skin type. Here we have listed the best CC Cream for mature skin that will work amazingly in giving a younger-looking youthful glow.
7 Best CC Creams for Mature Skin
1. Full-coverage CC Cream: IT Cosmetics Your Skin But Better CC+ Cream
Loaded with skin-loving ingredients like peptides, hydrolyzed collagen, hyaluronic acid, and niacin to minimize aging signs like fine lines, pores, wrinkles, and acne scarring
Contains powerful antioxidants and vitamins
Offer a flawless finish like a full-coverage foundation.
Provides sun protection with SPF 50
What we don't like: The cream may leave behind shiny residue when used too much in quantity.
[ Read: How to Use Shea Butter for Acne? ]
2. Best CC Cream for Mature Skin: Olay Total Effects Tone Correcting Face Moisturizer
It is a non-greasy formula with a fast-absorbing feature.
Packed with multiple antioxidants and vitamins such as niacin and vitamin B3
It provides intense nourishment to the skin and instantly brightens it to give a radiant glow
Ensures fresh, even-toned, rejuvenated, and poreless skin
Offers sun protection to protect the skin from harmful UV rays
What we don't like: Some may find the color of this product to be a bit unpleasant
[ Read: What UV Index Is Good For Tanning ]
3. Medium Coverage CC Cream: Lumene Color Correcting CC Cream
It is a lightweight CC cream with the power to reduce redness
It perfects skin and is best for an even, naturally glowing complexion
Available in two shades- light and medium
Spreads out evenly and smooth out any discolorations and redness to give glowing skin in a jiffy
Vegan and made with a wild-crafted ingredient
What we don't like: It may contain sulfate, which is considered unhealthy for the skin.
[ Read: 10 Essential Tips to Get Glowing ]
4. Best Skin Protection: Juice Beauty Stem Cellular CC Cream
Infused with organic ingredients like apple juice, coconut oil, and white grape. Also consists of vitamins C and E.
Helps to even the skin tone and reduces aging signs like wrinkles and fine lines
Helps achieve a glowing complexion with improved skin texture. Protect skin from the sun's damage due to SPA 30 sun protection
What we don't like: It may contain sulfate.
5. Hydrating Properties: Estee Lauder Revitalizing Supreme Global Anti-Aging CC Creme
It is enriched with skin-loving ingredients like shea butter, jojoba extracts, and citric acid.
Improves skin texture and tone while masking every skin imperfection and aging sign, such as dark spots, discoloration, fine lines, and wrinkles
Provides intense hydration with hyaluronic acid and glycerine
Helps improve skin elasticity to make the skin look younger and healthier
What we don't like: It has a synthetic fragrance added that may not suit everyone.
[ Read: Vitamin C Serum with Hyaluronic Acid for Face and Eye Review ]

6. Potent Ingredients: Peter Thomas Roth Skin To Die For Mineral Matte Cc Cream
Infused with a powerful skin-friendly ingredient, THD ascorbate, which is multiple times more effective than hyaluronic acid and vitamin C
Helps conceal major blemishes to make the skin look younger and radiant
Vitamin E and Kaolin clay are present that help absorbs excess oil and combat dullness.
Lightweight and offers five times more hydration than other CC Creams
What we don't like: It may not suit all skin types; therefore, a patch test is recommended.
[ Read: Vitamin C Serum with Hyaluronic Acid for Face and Eye Review ]
7. Best Hypoallergenic: Marcelle CC Concealer + Corrector
It is a fragrance-free CC cream consisting of gentle and nourishing ingredients.
The smooth and creamy formula helps nourish and hydrate skin and reduce signs of wrinkles, age spots, and other aging signs.
It is free of parabens, ensuring brighter, younger-looking skin.
Dermatologist-tested and approved
What we don't like: It may seem over dry skin, so not suitable for dry and sensitive skin. Also, it contains alcohol.
[ Read: 10 Best Concealers For Mature Skin ]
Conclusion
Packed with powerful ingredients, these CC Creams are perfect for mature and aging skin. Pick any of them and look younger than ever.
You Might Also Like: