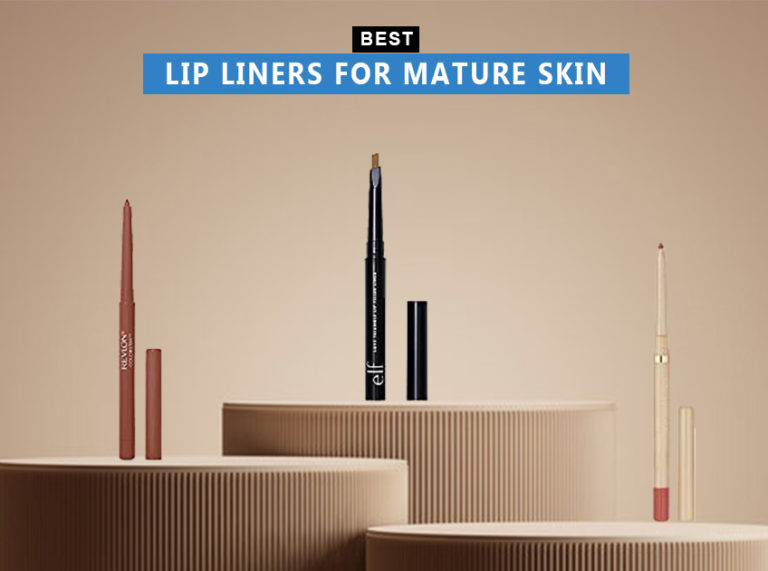 Mature skin needs TLC, and when it comes to lips, the thinnest skin on the face, the use of only gentle ingredients can help. Whether applying lipstick or lip liner, it is essential to check the product's labels and ensure it has skin-loving ingredients.
Since mature skin is prone to drying, using lip liners with ultra-hydrating and nourishing ingredients will help. Here we have selected the 7 best lip liners for mature skin to keep the sanity of their lips intact while helping them look more stunning than ever.
Whether we talk about color, pigment, or ingredients, everything about these lip liners is the best. Check them out and find your pick.
7 Best Lip Liner For Mature Skin
1. High Pigment: Maybelline Color Sensational Shaping Lip Liner in Rich Chocolate
Retractable lip pencil offering intense color payoff in a single swipe
It is highly pigmented and features a creamy formula
It doesn't allow feathering or bleeding of the color
The retractable feature makes it easy to use
It is affordable and fits everyone's beauty budget.
What We Don't Like: It feels slightly heavy on the lips.
[ Read: How To Apply Lip Liner Perfectly ]
2. Effective and Affordable: e.l.f. Love Triangle Lip Filler Liner
It is a versatile triangle-shaped lip liner in a deep brown shade
It helps sculpt, define, and add dimension to the lips in just one swipe.
It helps to make lips look sculpted and fuller and suits all skin tones.
Creates flawless slim lines for ultimate contouring
The unique wider side fills in the lips with high-pigmented color
It features a creamy formula that smoothly glides across your lips for a long-wear, intense look.
What We Don't Like: Reapplication is necessary.
3. Long-lasting Results: Gerard Cosmetics HydraMatte Liquid Lipstick
It offers a matte finish by drying after a few minutes
It lasts all through the day, so there is no need for touch-ups.
The comfortable formula makes it easy to wear alone or with any other lipstick or gloss on top.
The results are long-lasting, and it does not dehydrate the lips.
No cracking, flaking, or creating a white film around the lips.
What We Don't Like: According to some users, it felt slightly heavy on the lips.
[ Read: How to Choose the Best Lipstick for Your Skin Tone ]
4. Waterproof: Urban Decay 24/7 Glide-On Lip Pencil
It is a long-lasting, waterproof lip pencil
The smooth and creamy texture glides smoothly on the lips
It stays creamy and help defines the lips with the intense color payoff
The infusion of Creamy and Moisturizing Formula with Vitamin E prevents lipstick from feathering
It also contains jojoba oil and cottonseed oil for deep nourishment of lips
Available in multiple shades that are useful for different occasions.
What We Don't Like: You need to prepare your lips before its application.
5. Lightweight and Nourishing: Premium Long Lasting Matte Lip Liner Pencil
It is a matte lip liner that offers a nourished and supple look to the lips
Lightweight in texture and is neither dry nor sticky
It gives a perfect look to the lips that makes you feel good all day long.
It can be sharpened with any lip liner sharpener.
It is vegan and gluten-free, perfect to be used by anyone without being worried about its ingredients.
What We Don't Like: It has an artificial fragrance.
6. Long Staying Power: Lip Liner by Revlon, Colorstay Face Makeup
It provides lasting color and ensures lips would look fuller.
It can stay for up to 8 hours without the need for reapplication
Long wear color with a smooth and lush finish
Ensures no bleeding or feathering
It comes with a built-in sharpener
Available in beautiful shades to get a rich and lush lip look
What We Don't Like: According to some users, it feels slightly heavy on the lips.
7. Deeply Nourishing: L'Oreal Paris Colour Riche Lip Line
The special formula helps to create bold lips
It also helps define lips and to design full lips
The infusion of Omega 3 and Vitamin E helps nourish lips and keep with well-moisturized
It is a long wearer and stays for over 8 hours without the need for reapplication
Due to its creamy and smooth texture, it can be worn with lipstick and lip gloss or alone
What We Don't Like: You need to prepare the lips.
Conclusion
These are the best lip liners for mature skin that do not make the lips dry or chapped. In fact, they help in providing deep nourishment to the lips. So, get any of them and beautify your lips more than ever.
You Might Also Like: