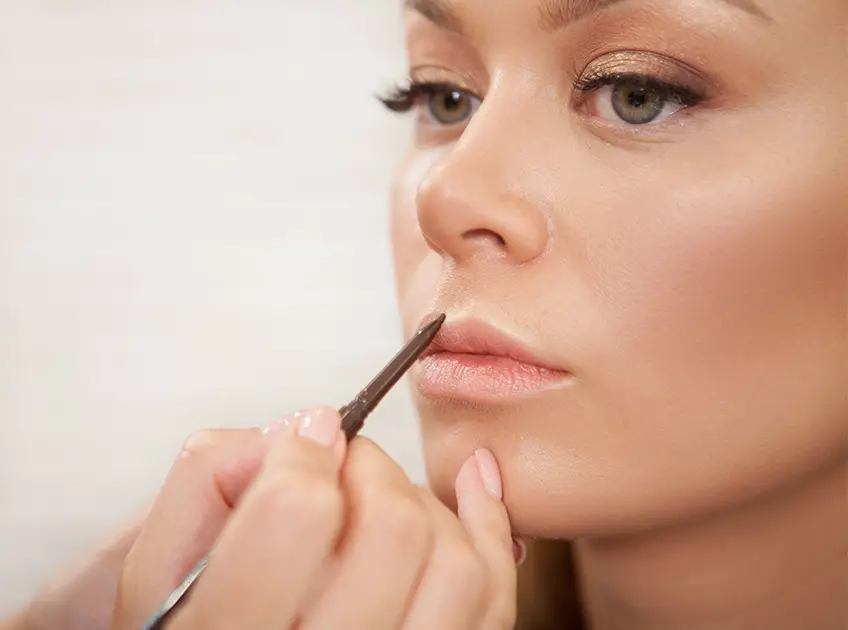 Eyeliner and lip liner are makeup staples. Although there are multiple makeup products, some can be used in the place of others. For instance, the use of lipstick as a blush is common. In fact, some makeup hacks show using lipstick as a one-man-army to give a complete makeover.
Likewise, you can also use eyeliner as a lip liner in emergencies to get the perfect look. Generally, eyeliners come in black color, and if you want to give your lips some loud variation, eyeliner comes in handy. However, these days, eyeliners also come in varied colors that can be easily used as lip liners.
Trying eyeliners will surely give great results if you want to experiment and be a little creative with your lips. Additionally, many eyeliners are water-proof and water-resistant, making them stay longer on your lips.
You should keep in mind that eyeliners are dry and can make the lips dry too. So, always moisturize your lips before applying eyeliners as lip liners. Another thing to remember is you can only use cream pencil eyeliner as a lip shade.
How To Use Eyeliner As Lip Liner?
If your skin tone is similar to nude lip shade, you can use eyeliner as a lip liner. However, if you are applying a black shade to your lips, you can also use black eyeliner. Everyone is not confident enough to apply a black shade, but if you want to be a little creative, black could make you look bold and confident.
[ Read: Gel Eyeliner vs Liquid Eyeliner ]
Here are the steps you should follow while using eyeliner as lip liner-
Apply moisturizer to your lips and let it settle for around 10 minutes. Once the lips absorb the moisturizer, you can apply the eyeliner.
Take your cream pencil eyeliner and give an outline to your lips. Trace the natural lip line from the outside. Make a clean and smooth line for fineness. The eyeliner will work as a trap for the lip color, preventing it from getting feathered.
Now, stroke the eyeliner to the remaining lips and apply a nude shade to cover them. Blend them.
Take your favorite lipstick and apply it over the lips. You will see that the lipstick will glide smoothly, giving high and long-lasting colors.
[ Read: 10 Best Waterproof Eyeliner ]
Benefits Of Using Eyeliner As A Lip Liner
When your eyeliner substitutes your lip liner, what else do you need? After all, the weight of one of your makeup staples is decreasing. Although there are multiple benefits if using your eyeliner as a lip liner, here we have listed a few of them-
1. Eyeliner Gives A Glamorous Look To The Lips
Eyeliner makes the lips look larger and fuller. It enhances the overall look of the lips, making them look gorgeous and glamorous. At a younger age, lips have enough elasticity, however, as you grow old, the lips start losing their plumpness, and the color diminishes. It can be corrected with an eyeliner or lip liner easily.
2. You Get A Lot Of Variety
With eyeliner, you can have an array of collections that are generally not found in the case of lip liners. Eyeliners come in different types. Even though cream eye pencils are the best when using them as a lip liner, you can choose among different shades matching the skin tone and lipstick shade.
3. Create A Dramatic And Dreamy Look
Eyeliners give you the freedom to be more creative and expressive with your lips. It enhances the lips, making them the center of attraction on your face. Moreover, different eyeliners can bring a fascinating look to the lips.
4. Using Eyeliner As Lip Liner Is Easy And Convenient
Once you start using eyeliner on lips, you will see how easy and convenient it is over a lip liner. It prepares the lips to be more expressive. Pick the right tone, making your skin tone and lipstick shade, and you are done with giving a dazzling look to your plump lips.
5. Saves Some Extra Bucks
Now that you use your eyeliner as a lip liner, you save some extra money by cutting down the expenses of getting different lip liner shades. You can now buy multiple eyeliners of different shades and make them work on your lips.
If you are planning to use your eyeliner on your lips, do not hesitate, as it is one of the best ways to give an edgy and sultry look to your lips. Make your lips dramatic with eyeliners and save your money.
You Might Also Like: