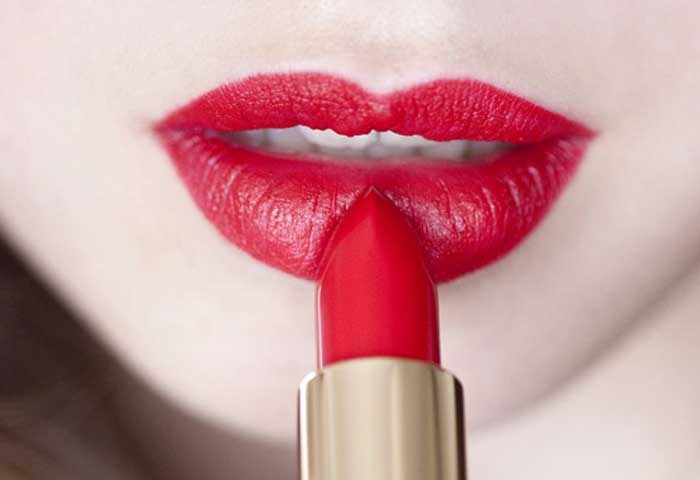 Lipstick has always been a women's best friend. Even women depend solely on her makeup to enhance her look and make her look more beautiful. Lipstick is somewhat regarded as a staple ingredient that we use every day and would continue to use for ages. For the most sad thing to accept about this product is inspire of using everyday we still lack the knowledge on how to apply lipstick with perfection. Although you may be mastering the lipstick hack, here we going to mention ten essential rules for applying lipstick.
How to Apply Lipstick Like a Pro
1. Always Test Drive your Color
You should always get a test drive of your color you choose before applying straight to your lips. Generally what we do is apply color over hands or somewhere near finger and then go forward with the color. You can always carry cotton in your bag and apply a bit of lipstick, where people don't usually touch. Now you can apply the color over your lips, which is already there in your cotton ball. You can also use the same technique with cotton swab and then try over your lips. Generally we take a test patch over hands or fingers which are of different tone than our facial skin. So, you must avoid getting into here.
[ Read: 5 Ways to PLUMP Your LIPS Naturally ]
2. You Should Apply Lipstick with Lip Brush
The best way to actually put lipstick is by using a lip brush. Applying lipstick with lip brush helps to give you a better coverage than directly applying through the Chap Stick. Lip brush helps to apply lipstick better and also in a perfect way. You can buy lip brush from a drug store and then practice using it properly. Properly using lip brush is also a talent which not all of us can master.
3. Applying Liner
You should never apply liner before you are applying lipstick. Once you are done applying lipstick, you should run the lip liner which of somewhat of similar shade of lipstick. You should also remember that the shade of liner should not be different than that of your lipstick. Also, you should not put efforts to highlight your lip liner more than lipstick. Dark lip liner than lipstick is common mistake that pulls men's away.
4. Choose to Put Gloss or Not
Generally, girls love to put some extra gloss over your lipstick which helps to increase the standard of your lipstick as well as make your lips look sassy. There is no harm is wearing gloss over lipstick, but you must decide whether this shade of lipstick demands gloss or not. Applying some gloss over your blood red lipstick can take it too away from the standards of being sexy! Not it starts looking like – overdoing of lipstick. But at the same time, applying lip gloss over your nude color lips can add more grace to your lips. So it truly depends.
5. Check your Lipstick
You should always have a close check with your lipstick. Generally, due to excess heat and bacterial reaction, there is a change in your lipstick as well as its texture. So, you must make sure that you are using lipstick which is good and healthy for your lips. Any changes in texture or color are sighs of expired lipstick, so you should take care about that.
6. Blotting
You should always opt for the blotting technique while applying lipstick. Once you have applied your lipstick you must use a tissue paper to remove the extra lipstick over lips. Here the trick is once you have applied the lipstick, place tissue paper in between the lips so that the extra lips comes on the newspaper. Now you can apply your lipstick once again and repeat the process. After two times, you need to place tissue paper over your lips so that the extra lipstick is transferred to tissue paper and then it would make your lip look perfect.
7. Application
Shade does not matter, what matters is how you apply your lipstick with perfection. You should always start applying your lipstick through center and then proceed towards the edges. You should never start from the edges, as it will smudge and there are high chances that you land up looking clownish. Once you have finished applying, decide whether you need the gloss or not.
8. Know what Shade Suits You
If you don't want to end up looking like a clown, you must always know what shade suits you the best. You should basically about four tones of lipstick which are basically – burgundy, pink, brown and red. While on other hand, some like to rock lipstick shades what Rihaana does! She loves to go with black, blue, neon purple or pink sometimes! There is nothing wrong in doing so, but what you should know is what suites you exactly.
9. Choosing Lipsticks
You must always choose for lipsticks which are average in price but good in color and texture. Go for lipsticks from famous brand and that will friendly to your pockets. Don't go for something which is very cheap and free. No one knows, it may land up giving you dark lips few years from now. So, you must always check if your lipstick is giving any reactions or not.
10. Look for Ingredients
You should look for ingredients used in lipstick because it may sometime contain hazardous and toxic chemicals in form of ingredient. You should always observe if your lips undergoes basic color changes after using the lipstick. That is the reason, we have always insisted to choose lipsticks from good brand and also look for the expiry date after purchasing. You must always buy them from proper drug store, because there are many other stores selling fake lipsticks which are even difficult to make out.
These were the basic essential rules you must remember while applying lipstick! So, have a happy lipstick wearing!!
You Might Also Like:
Image:- 1