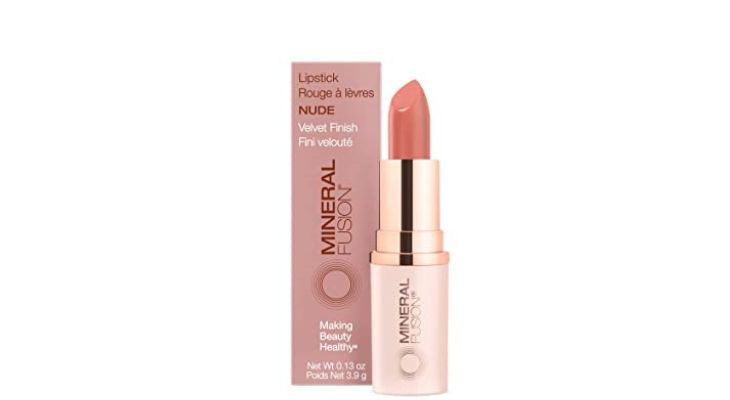 Olive skin looks gorgeous, and certain lip shades enhance the complexion even more. If you have such a skin complexion, we have curated a list of the 7 best nude lipstick for olive skin. Since nude shades are classy and look subtle, you can wear them anytime and look more beautiful.
Usually, olive skin has neutral tones, due to which nude lipsticks go really well with them. Besides nude lipsticks, some neutral shades with tint and hues of pink or mauve also give a decent look. So, if you are looking for such a lipstick and are not able to decide on one, check the list we have shared with 7 stunning lip colors for olive skin.
All these lipsticks are high-quality and infused with skin-loving ingredients, so your lip's health is not compromised. At the same time, applying these lipsticks keeps lips well-hydrates and nourished.
Check them out!
7 Best Nude Lipsticks For Olive Skin
1. Best Natural Look: Gabriel Cosmetics Lipstick
It contains a petrochemical-free base of the candelilla wax
Stays gentle on lips and fights off environmental stressors
Loaded with jojoba seed, aloe, and candelilla wax to seal in moisture
Nourishes the lips and keeps them supple
It is a luxurious nude lip color that offers all-day hydration
Suitable for all skin types
What We Don't Like: Due to its delicate texture, it is prone to breakage.
2. Best for Mature Skin: L'Oreal Paris Age Perfect Satin Lipstick
Loaded with precious oils that feel luxurious on lips
Smooth application and gives a flawless finish
Rich pigments help in vibrant color payoff
Suitable for mature skin due to its gentle and hydrating ingredients
Infused with vitamins and minerals and lasts longer
It is transfer-proof and does not feather
What We Don't Like: Reapplication is necessary.
3. Best Transfer-Proof Formula: Maepeor Matte Liquid Lipstick Kit
It comes in 6 stunning nude and brown shades; it looks great on olive skin
The smooth texture glides effortlessly on the lips
It prevents lips from getting dry and chapped
The compact design makes it travel-friendly
It can be layered to build a bold shade with a vibrant finish
It is non-fading and long-lasting
What We Don't Like: It may smudge a little.
4. Best Matte Finish: Maybelline Color Sensational Lipstick
It delivers a crisp matte finish.
It is a long-lasting and smudge-proof lipstick.
The infusion of nourishing oils keeps your lips deeply hydrated and well moisturized
It has a creamy formula and rich pigments.
It gives a flawless look to the olive skin
It is dermatologist tested and approved.
What We Don't Like: It may get patchy; therefore needs to be reapplied.
5. Best Long Lasting Formula: Mellow Store Matte Lipstick
It is a non-sticky and highly pigmented lipstick
The rich color payoff gives the color in just a swipe
The long-wearing formula stays on the lips for hours without smudging
It helps nourish the lips and prevent dryness
Infused with Vitamin E that prevents the appearance of lines and creases
The matte finish gives a vibrant pop of color and enhances the olive skin tone
What We Don't Like: It may feel slightly heavy on the lips.
[ Read: How To Make Your Lipstick Last Longer ]
6. Best Vibrant Look: Milani Color Statement Lipstick
It is a vibrant and bold nude shade that looks great on olive skin tone
Infused with vitamins A and C to nourish the lips
The presence of antioxidants fights off free radicals that may cause discoloration
Smooth and creamy texture glides effortlessly on lips
Prevent lips from drying
What We Don't Like: It is not transfer-proof.
7. Best Hypoallergenic Option: Mineral Fusion Lipstick
It is made with 100% vegan and rich pigments
Offers smudge-free color
Lacks toxic ingredients
Infused with white tea, cranberry, and vitamins C and E to
Protects lips from free radical damage
It contains cocoa butter and avocado oil
A highly nourishing formula that keeps lips soft and supple
This nude shade has hints of mauve that looks great on olive skin
What We Don't Like: It is delicate and may break easily.
Conclusion
These are some of the best nude lipsticks for olive skin. They look stunning and enhance the complexion manifold. So, grab any or all of them and flaunt your gorgeous lips wherever you go. It's time to look classy and ditch the vibrant and flashy colors.
You Might Also Like: