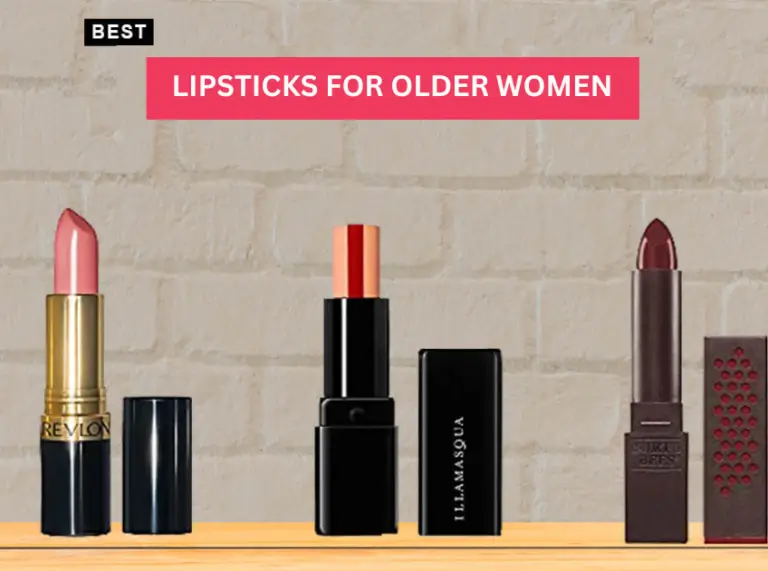 As the skin starts aging, taking extra care is essential; therefore, switching to makeup made especially for mature skin helps.
The lips are one of the delicate parts of the body. With aging, the supporting collagen, fat pads, and muscles in and around the lip area steadily diminish. It results in thinner lips that are more visibly lined.
Therefore, older women should look for three major features in their lipsticks-
It should be hydrating
It should not dry the lips
Lipstick should not settle in lines
You can wear any lip color that matches your skin tone; however, picking the product with skin-loving ingredients is essential. Luckily, we have a few brands that ensure lipstick stays beautifully on the lips and make them gorgeous without compromising lip health.
Check out the best lipsticks for older women.
10 Best Lipsticks For Older Women
1. Charlotte Tilbury Hyaluronic Happikiss
Charlotte Tilbury is a reliable name when it comes to skincare products. The lipsticks and lip balms from this brand are no exception as they give stunning results, ensuring the lips stay hydrated and plump.
What We Like
It is a hybrid lip balm and lipstick.
Ensures a perfect balance of nourishing the lips and imparting the lip color
Infused with hyaluronic acid that keeps lips well-hydrated
Contains C-peptide, which firms the lips and reduces the appearance of fine lines
Gives super soft and smooth lips by moisturizing them, leaving a glossy finish
Comes in 10 shades of neutral colors
What We Don't Like
This Product Best For
Women who are looking for some luxurious and high-end lipstick for older women.
2. Revlon Super Lustrous Lipstick
Revlon is one of the oldest and most popular lipstick brands, and there are people who swear by its quality. It is budget-friendly and an absolute winner of lipstick.
What We Like
It has an intense color payoff and, at the same time, moisturizes the lips
Extremely lightweight and stays all through the way
Made with microfine pigments that result in the most vibrant colors, yet still lightweight and comfortable to wear
Infused with vitamin E and avocado oil that keeps the lips soft and smooth
Helps promote cell turnover and also helps in preventing further irritation
Available in 91 creamy shades with smooth, matte, and pearl finish
What We Don't Like
This Product Best For
Women looking for an affordable and wide range of lipsticks from a reliable brand.
3. Chanel Rouge Coco Ultra Hydrating Lip Colour
When it comes to lipsticks, we can't afford not to mention the wide range of lipsticks from Chanel. Being the queen of lipstick, it has some great products suitable for mature skin. Boasting beautiful colors with long-lasting hydration, Chanel features the best lipsticks for older women.
What We Like
Delivers an even and natural-looking color to the lips
Don't leave a ring around your lips after fading, unlike many lipsticks
Features a softest and most velvety texture that smoothly glides on the lips
Infused with mimosa, jojoba, and sunflower waxes that ensure hydration and comfort for your lips
Suitable for dry and aging lips
Available in 24 luscious matte shades
What We Don't Like
Little pricier than drugstore brands
This Product Best For
Women looking for the best lipsticks for mature skin with a matte finish.
4. Maybelline Color Sensational Lipstick
Maybelline is another brand that is affordable and comes into everyone's beauty budget. With a flattering 40 shades, this brand gives you a plethora of options to choose from.
What We Like
Buildable and gives a sheer finish
Doesn't look patchy on the skin
Full coverage without feathering or bleeding around the edges
Formulated with Shea Butter, it leaves the lips super hydrated and soft
Has a buttery texture that lasts throughout the day
What We Don't Like
This Product Best For
Women looking for lipsticks that can be applied alone or layered on top of other lipsticks.
5. Illamasqua Hydra Lip Tint
The two-toned lipsticks from Illamasqua are another breathtaking product that women can try. Being older doesn't mean you have to be boring, and this is when these shades come in handy. However, you need to be bold on the choices as these shades are not everyone's cup of tea.
What We Like
Have a fun factor that makes them highly adorable
Suitable for dry and aging skin
Comes in 5 unique shade combinations
Hydrates the lips and can be used on cheeks for an extra splash of colors
Infused with apricot and peach hazel oil to nourish and hydrate the lips
It is fun, experimental, and suitable for individual personalities
Comfortable and lightweight to wear
What We Don't Like
Needs constant reapplication
This Product Best For
Women who are open to some fun and experimenting.
6. Burts Bees 100% Natural Moisturizing Lipstick
Burts Bees is one of those brands known for offering products that have only natural and skin-loving ingredients. The lipsticks from Burts Bees are no exception as they are 100% natural and moisturizing.
What We Like
It is hydrating and free of harsh chemicals
Affordable and budget-friendly
Comes in 18 nourishing, hydrating, and conditioning shades
Leaves the lips with a smooth satin finish that looks super-natural
Formulated with ingredients like Beeswax, Moringa Oil, Raspberry Seed Oil, and Vitamin E
Stays for long hours and is ideal for aging skin
What We Don't Like
This Product Best For
Women who love bold colors.
7. L'Oreal Paris Makeup Colour Riche Satin Lipstick
L'Oreal is one trusted brand as it is old, popular worldwide, and known for its quality makeup products. This lipstick from L'Oreal looks nothing less than designer lipstick and gives stunning results.
What We Like
Creamy and hydrating on the lips
Comes in 52 spectacular shades
Intense color that doesn't bleed, feather, or smudge
Enriched with ingredients like Omega 3, Vitamin E, and Argan Oil
Softens the lips and keeps them nourished throughout the day
Glamorous packaging, an amazing choice of colors, stunning packaging
Extremely pigmented and long-lasting too
What We Don't Like
This Product Best For
Women looking for affordable lipstick are best for older women.
8. By Terry Lip-Expert Matte
Extremely hydrating, By Terry Lip-Expert Matte, is one of the best lipsticks for women with mature skin. It works wonderfully on dry and aging skin and keeps them well-nourished.
What We Like
Gives the perfect long-lasting pout that constantly nourishes the lips without creasing and smudging
Helps get an intense pop of color that lasts throughout the day
Comes in 16 beautiful non-sticky shades
Enriched with vitamin E that keeps lips hydrated, soft, and supple
Applies like a cream and dries down to a matte
What We Don't Like
This Product Best For
Women looking for non-sticky shades of lipsticks for older skin.
9. IT Cosmetics Pillow Lips Solid Serum Gloss, Humble
IT Cosmetics has come a long way and has proven to feature some of the best products in the beauty industry. Giving instant shine and hydration, the lipsticks from IT Cosmetics are perfect in all senses.
What We Like
It is a beautiful lip serum or tinted gloss that adds a natural flush of colors
Infused with Collagen, Hyaluronic Acid & a Tri-Oil Complex
5-in-1 lip treatment combines the hydration and care of a lip balm with the sheer tint of a gloss
Delivers up to four hours of hydration and visibly revitalizes dry, chapped & aging lips
Easy to apply, giving a flawless flush of natural color that's never sticky or tacky
What We Don't Like
This Product Best For
Women who want collagen and tri-oil complex to keep lip skin healthy.
10. DoPro Lip Lift Stick Boost-In-Lip Plumper Stick
This lip plumper is one of the most stunning products for aging skin that comes with a stimulating roller applicator. This anti-aging stimulating roller helps to plump the lips, giving them a voluptuous look.
What We Like
Infused with hyaluronic acid, collagen, and Vitamin C & E that volumize and hydrate the lips
Give immediate and long-lasting effects, diminishing fine lines and signs of aging.
Nourishes and rejuvenates the lips in minutes,
Improves the color and appearance of lips with its unique formulation and active ingredients
Features a clear liquid consistency that blends nicely
What We Don't Like
This Product Best For
Women who are looking for an anti-aging stimulating product for their lips.
You Might Also Like: