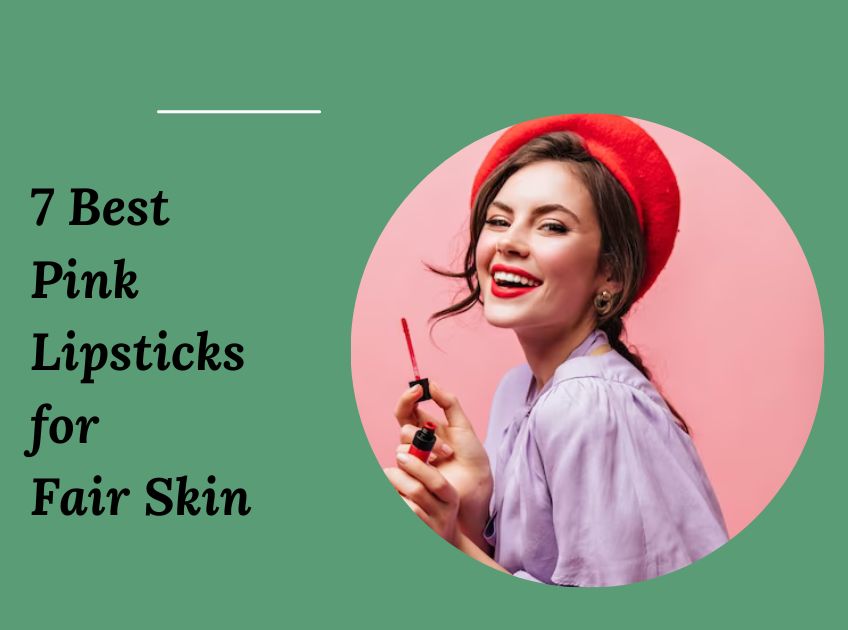 When red lipstick does not exactly go with your clothing, pretty pink lipstick is the ideal alternative for a gentle makeup look or just for something new. However, it can be challenging to locate the ideal shade of pink, particularly for those with fair complexion.
Pink Lipsticks
If pink lipstick is not the proper shade for fair complexion, it can make the entire face appear dull, which will make everything else appear pale. Therefore, people frequently ask, "Should I choose pink?" Should I go with a pink colour if it's pink? Which companies have the best products?
Hence, here is a properly curated categorized list of pink lipsticks that can meet the requirements of every fair person. Scroll down to know more!
7 Best Pink Lipsticks for Fair Skin
1. For plush & rush: Butter London Plush Rush Tinted Lip Treatment
Goes on incredibly smoothly and slightly enhances your natural lip colour.
Has the lightest, prettiest shade of pink and is infused with shea butter and murumuru seed butter, which leaves the lips feeling super smooth and hydrated.
When you receive that unexpected date or invitation for an evening coffee, this makes the ideal workaround.
Has antioxidants and a plumping complex that help in the promotion of smoother, fuller-looking lips.
What We Don't Like: It might not stick around for long.
[ Read: 7 Best Lip Colors For Fair Skin ]
2. The Classic: Juliet Hewett Los Angeles Lipstick in KiKI
This lipstick is one of the best buys on the market for the most natural and timeless look.
It's a flattering shade that goes with both daytime and evening makeup looks; it's described as "creamy peony pink."
Made with camellia oil to hydrate skin, its formula is creamy and non-drying.
The lipstick is packaged in a gold tube with a rounded top that resembles old-fashioned lipstick containers and that is amazing!
What We Don't Like: A bit expensive.
3. Inspiration by Hepburn: NARS Velvet matte lip pencil – roman holiday
Both matte lip pencils and matte lipsticks apply very smoothly, have intense color, and have a long wear time.
The "Roman Holiday" shade of the NARS Velvet Matte Lip Pencil resembles a large crayon.
The product has a long shelf life and a nourishing, smooth formula.
It delivers a velvet matte finish and a seamless outcome.
What We Don't Like: After some use, the tip breaks off.
4. In the mood for lunch: Revlon Super Lustrous Creme Lipstick, Pink in the Afternoon
The creamy, barely glossy appearance makes lips appear full, and it applies smoothly and evenly.
Has Micro-fine pigments that provide strong intensity and long-lasting colour.
You can try it with 1960s-inspired make-up for the swooping look; it is also referred to as "creamy pink peach."
Contains vitamin E and avocado oil to help seal in moisture.
What We Don't Like: It does not have depth.
5. For Romantic Evenings: Charlotte Tilbury Matte Revolution Lipstick Pillow Talk
Charlotte Tilbury was the top-ranking brand when I first started my research for pink lipstick.
With antioxidants and orchid extract to hydrate the lips, this lipstick is a must-have for all the right reasons.
It's the ideal shade of pink in nature. It contains 3D Glowing pigments that provide the appearance of LIT-FROM-WITHIN lips.
What We Don't Like: It may not give every person the desired result.
6. For Hydration: Urban Decay Vice Hydrating Lipstick in "Naked"
It is a medium-dark pink with a cream finish that's quite warm in tone.
Has smooth application and leaves your lips feeling incredibly moisturized, giving you a plump feeling.
Urban Decay Vice Lipsticks in this specific category is under $20 and provide 35 various colour options to choose from.
The aloe vera and avocado oil in its creamy recipe together with the naked pink will offer your lips all the nutrients they require for the day.
What We Don't Like: It may not stay for long.
7. The colour in a cup: MAC Cremesheen Lipstick in Creme Cup
It has never been easy to find a light pink or nude colour that looks good on you. Lipstick with lighter tones tends to cover fair skin.
With its creamy texture, lips appear hydrated rather than dry. Additionally, it has a slightly glossy texture that makes lips appear larger.
The shade is described by MAC as a "light blue pink," and I believe the cool undertones suit my skin tone well.
The hue is the ideal blend of pure pink and bare skin.
What We Don't Like: It is a bit pricy.
[ Read: 7 Best MAC Lipsticks For Fair Skin ]
Conclusion:
Choosing the ideal lip colour, particularly when it comes to pink, can be difficult for someone with a fair complexion. However, we have got you covered; whether it's a date night or just a stroll in the park, the abovementioned lipsticks won't let you down. But before using, do not forget to double-check the ingredients.
You Might Also Like: