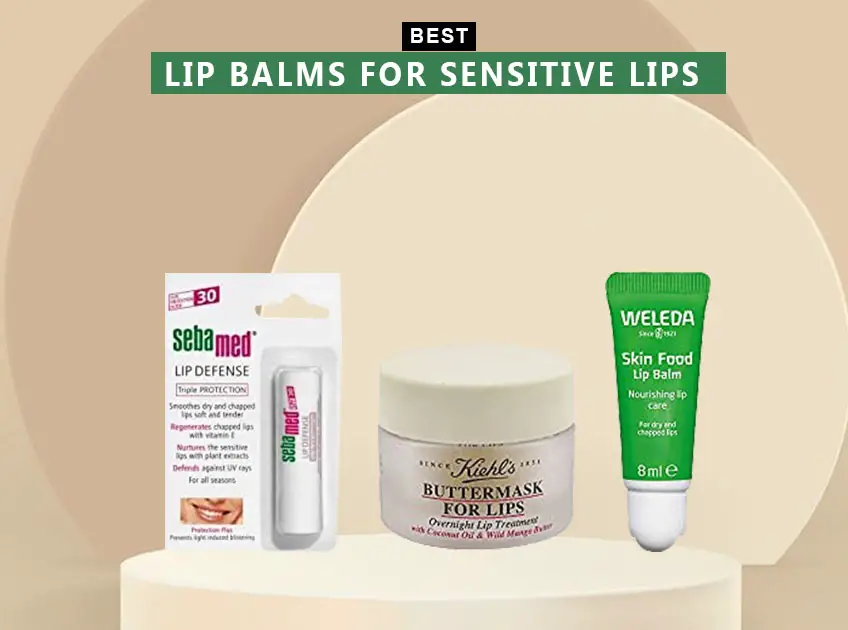 Lips have the thinnest skin on the face; therefore, they are more susceptible to dryness and chapping than any other body part. The problem doubles when you have sensitive lips. Certain ingredients may trigger reactions, causing pain, irritation, inflammation, and redness in and around the lips.
Therefore, you need to be cautious while selecting lip care products. Since lip balms are supposed to hydrate lips and make them intensely nourished and moisturized, they make a suitable choice for all.
Lip Balms
Here we have curated a list of the 7 best lip balm for sensitive skin that offers ultra hydration to the lips without causing or triggering any allergic reaction. All these lip balms are hand-picked based on their quality, performance, and ingredients to ensure they suit sensitive lips and all skin types.
Check them out!
7 Best Lip Balms For Sensitive Lips
1. Ultra Hydrating: First Aid Beauty Ultra Repair Lip Therapy
It is infused with potent ingredients that repair dry and chapped lips.
The healing and moisturizing properties of the product make it best for dry and sensitive lips.
It offers a semi-matte finish, making it wearable under lipstick.
Formulated without potential triggering ingredients such as mineral oil, alcohol, artificial fragrance, parabens, and petrolatum
It is allergy-tested to be suitable for sensitive skin.
What We Don't Like: You get a small quantity.
[ Read: How to Use Coconut Oil for Chapped Lips ]
2. Intense Moisturization: L'Occitane Shea Ultra Rich Lip Balm
It is packed with 10% shea butter that feels luxurious and penetrates lips to nourish them from the inside
Moisturize the lips and prevent them from drying
Works best under the harsh environment such as wind, air, and outdoor heat
Its smooth texture makes it glide over the lips
What We Don't Like: The results are not long-lasting.
3. Overnight Treatment: Kiehl's Buttermask for Lips Overnight Treatment Hydrating Mask
It is an intensively hydrating lip mask that helps restore dry lips overnight.
The infusion of Fairly Traded Coconut Oil and Wild Mango Butter makes it extra nourishing for sensitive lips.
It is an overnight treatment for dry lips that smoothes and softens while you sleep.
It also contains squalane to strengthen the lip's moisture barrier, lanolin to soften and heal damaged skin, and vitamin E to provide anti-aging properties.
Free of sulfates SLS and SLES, parabens, formaldehyde, mineral oil
What We Don't Like: It has a synthetic fragrance.
4. Deeply Moisturizing: Weleda Skin Food Lip Butter, 0.27 Ounce, Plant Rich Moisturizing Lip Care
It consists of lip-nourishing ingredients like sunflower seed oil, chamomile, and calendula
It is a rich, oil-based botanical blend that offers intensive and nourishing care to sensitive lips
Hydrates even the driest, chapped lips with its powerful skin-loving ingredients
Free from synthetic compounds or toxic chemicals
It nourishes lips with rich plant oils
What We Don't Like: Reapplication is necessary.
5. Gentle and Effective: Eucerin pH5 Lip Active
It is packed with dexpanthenol and vitamin E, which help nourish lips and make them deeply moisturized.
It smoothes and hydrates dry, chapped, and flaky lips.
The gentle formula also offers sun protection of SPF 15
Key ingredients include vitamin E to protect the lips against free radical damage and panthenol to soften the lips while alleviating redness and irritation.
It is fragrance-free
What We Don't Like: It may feel slightly heavy on the lips.
[ Read: How to Lighten Dark Lips Naturally at Home ]

6. Dermatologically Tested and Approved: Sebamed Lip Defence SPF30
Offers three levels of protection to the lips
Contain Jojoba oil that helps soften and nourish the lips
Infused with vitamin E and chamomile extract that helps prevent free radical damage
It also offers SPF30 sun protection to protect lips from sun damage
It is dermatologically and clinically tested for sensitive skin
What We Don't Like: You need to reapply this lip balm for a long-lasting result.
7. Healing Formula: Smith's Rosebud Salve
It is a multipurpose product used over chapped lips, dry elbows, and knees to relieve dryness.
Formulated with skin-loving ingredients and is free of triggering ingredients like sulfates, parabens, formaldehyde, and mineral oils
It can be used over cuts, burns, diaper rashes, and other such skin concerns.
What We Don't Like: It may feel slightly heavy due to its weighted texture.
Conclusion
So, these are the most useful and effective lip balms for sensitive lips. If you feel dryness, flakiness, irritation, inflammation, redness, and itching while using any lip care products, you should avoid it. Shift to any of these potent lip balms and enhance your lip health.
You Might Also Like: