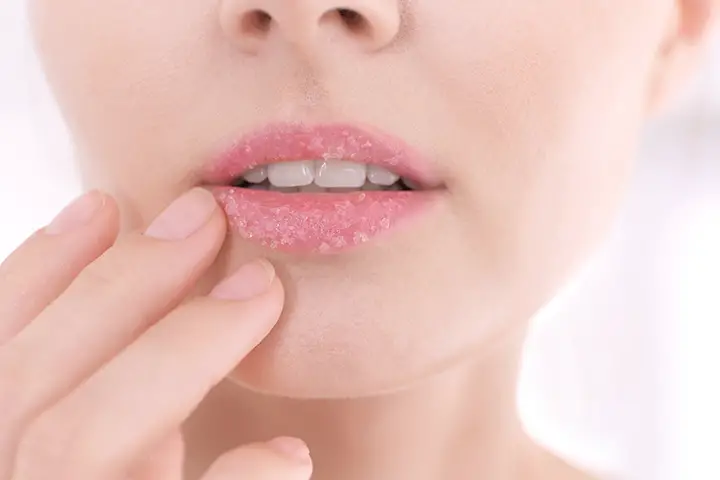 Lip scrubs are best for removing dry skin, thus helping you have fresh, soft, and smoother lips. It also prevents further peeling or cracking. People in colder regions are prone to such issues and hence need a lip scrub to prevent chapped and sore lips. Besides this, some of them are also useful for getting rid of dark lips that occur often due to improper diet, smoking, dehydration, or certain cosmetics. It is better to make them at home when you want to avoid any chemical ingredients in your lip scrub.
Homemade Lip Scrubs for Dark Lips:
Some simple recipes of homemade lip scrubs are as follows:
1. Orange Peel Lip Scrub:
This DIY lip scrub is a great treatment for dark and discolored lips. The almond oil used in it acts as a nourishing agent and natural exfoliator for chapped lips.(1)
Ingredients:
10-12 almond oil drops
2 tbsp of brown sugar
2 tablespoons of orange peel that has been dried and powdered.
Process of using:
Take some dried orange peel and grind them to make a fine powder. To it, add some brown sugar and almond oil drops. Use this mixture as a scrub for your lips for about 30 seconds. Use a wet wipe or some warm water for cleaning the lips.
Frequency of use: Follow this two times a week.
[ Read: Home Remedies to Lighten Black Lips ]
2. Lemon and Sugar Lip Scrub:
In this recipe, sugar acts as an exfoliating agent, and lemon acts as a bleaching agent.(2)
Ingredient:
1 lemon
2 teaspoon of granulated sugar
Process of using:
In a small bowl, mix 1 teaspoon of lemon juice with 2 teaspoons of granulated sugar. Scrub the mixture on your lips.
Frequency of use: Repeat this 3 times a week to notice the benefits.
[ Read: How to Exfoliate Lips Naturally ]
3. Lemon and Almond oil:
Lemon acts as a skin lightening agent, a natural bleach as well a skin toner. It helps in getting rid of sun damage so that the lips can be lightened naturally. Similarly, almond oil is a good moisturizing agent.(3)
Ingredients:
Process of using:
Take half a lemon and a tablespoon of sweet almond oil. These need to be thoroughly mixed and massaged on the lips. Leave it overnight before washing it off.
Frequency of use: After consistently using it for 3-4 weeks, you can notice visible changes in your lips.
[ Read: How to Naturally Plump Lips with Cinnamon ]
4. Beetroot Juice:
Beetroot has excellent staining characteristics with its bright pink color. So it is a chemical-free way that is efficient in cleaning the pigmentation of lips.
Ingredients:
Process of using:
Mix a tablespoon of beetroot juice with the same amount of honey. On the wet lips, massage this mixture. This has to be left overnight to get soft, pinkish lips in the morning.
Frequency of use: Following this regularly helps in getting naturally pink lips.
[ Read: How to Plump Your Lips Naturally at Home ]
5. Honey and Sugar Scrub:
It is a gentle scrub that is suitable for tender skin. Brown sugar is loaded with antioxidants which help in protecting the skin from UK damage because of exposure to the sun. It also has glycolic acid which is a skin conditioning agent that protects from toxins. Similarly, honey is a humectant that ensures better miniaturization after exfoliation. The enzymes in honey lighten the lip skin tone.
Ingredient:
Process of using:
Thoroughly mix a tablespoon of brown sugar with a tablespoon of honey in a bowl.
Massage it on the lips for about a minute to enhance blood circulation so that it becomes healthier and brighter.
This needs to be left for a few minutes before washing using normal water.
Frequency of use: Follow this twice or thrice every week for visible results.
Final Words:
Lipsticks can temporarily make your lips beautiful but if you need naturally pink lips, you need to start opting for natural techniques. Besides following the DIY lip scrubs, you can always rely on enhancing your food habits, remaining hydrated by drinking enough water, and avoiding activities like smoking which are primary causes of depigmenting the lips.
Scientific Evidence:
You Might Also Like: