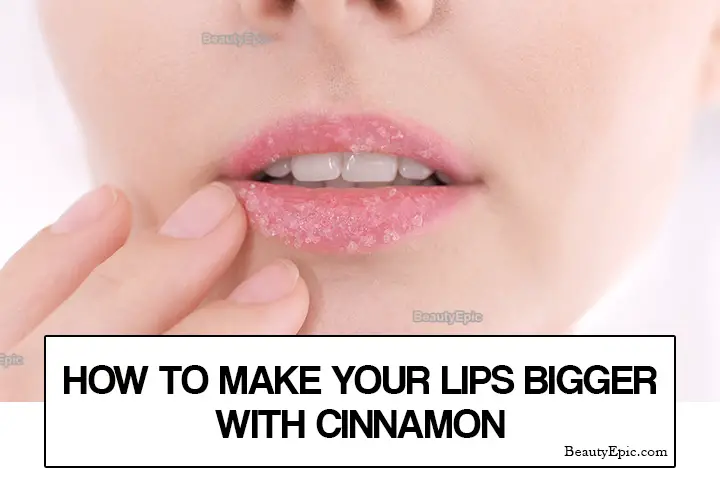 Fuller lips are in fashion. Who doesn't want them! However, not everybody is born with the plumped pout of Angelina Jolie. There are many plumping treatments and devices which can provide you with the plump that you desire. However, these might come at a heavy price. Moreover, you might not even be happy with the results. In order to get a natural pout and plump, you can use cinnamon.
Does Putting Cinnamon on Your Lips Make Them Bigger?
Cinnamon can improve the flow of blood and blood circulation. Thus, it serves as a plumping serum when you apply it on your lips. It will provide your lips with an attractive look. As the results are not permanent, you can use it as and when you desire.
1. Cinnamon and Vaseline
Cinnamon scrubs can be pretty helpful when it comes to getting fuller lips. You can prepare your own scrub using cinnamon. One of the most effective scrubs is that of cinnamon and Vaseline.
Things Required:
How to Do:
Take a tablespoon of Vaseline and add a pinch of cinnamon. Mix it in a bowl. Now, apply the paste on your lips.
Allow it to sit for around ten to fifteen minutes prior to rinsing off using cool water.
Best Time to Apply: Before bed.
No of Repetition: Twice in a week if you have to get the result that you desire.
[ Read: Does Vaseline Make Lips Bigger ]
2. Cinnamon Oil
Lips love the use the cinnamon oil. It helps in nourishing them and making them soft and plump.
Things Required:
Cinnamon oil, and
Shea butter.
How to Do:
In order to prepare the mix, you will need 2-3 drops of cinnamon leaf oil and one teaspoon of shea butter.
Add them to a bowl and mix it well. Apply it like your lip balm.
However, you can also wash it off with water after leaving it for two to three minutes.
Best Time to Apply: Any time of the day.
No of Repetition: Do it twice daily.
[ Read: How to Plump Your Lips Naturally ]
3. Sweet Almond Oil, Ground Cinnamon, & White Sugar
Just as cinnamon, sugar acts as an excellent exfoliator. A few drops of sweet almond oil can help in rejuvenating the dead cells. So, why not use these three ingredients to get an awesome result.
Things Required:
Cinnamon,
Sweet almond oil, and
White sugar.
How to Do:
For the mixture, you will need one tablespoon of almond oil, one teaspoon of powdered sugar, one tablespoon of white sugar.
Mix it well and store it in a container.
Take some of it and massage it on the lips for 5 to 10 minutes.
Wash it off using water and then pat dry.
Make sure that you apply some lip balm after this.
Best Time to Apply: Any time of the day.
No of Repetition: Do it once every day to get the best results.
[ Read: How to Lighten Dark Lips ]
Precautions & Tips
It is better to do a patch test prior to applying cinnamon oil or scrub. When used in higher quantities, it can cause a stinging sensation. Adjust the oil or powder as per the sensitivity of the skin.
Prior to applying, exfoliate your lips. This will remove the dead skin cells and impurities.
Do not use it on chapped lips.
These DIY recipes are going to prove really helpful. However, you need to keep in mind that it is not going to work within an instant. The key is to be patient.
You Might Also Like: