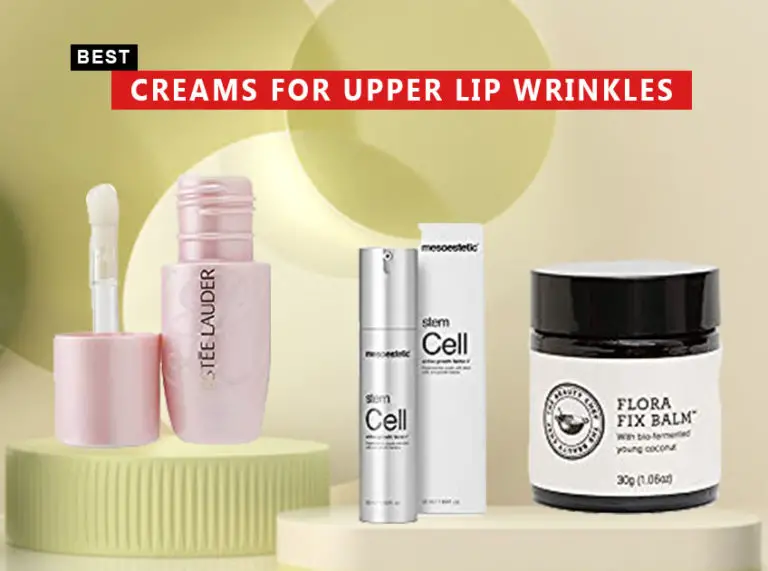 The vertical lines forming on the lips of older adults are lip wrinkles, also called lip lines, lipstick lines, and smoker's lines. Since they appear dramatically, they are easily noticeable and difficult to conceal.
Lip wrinkles form as we age; however, a few creams can help reduce them considerably. Using the best cream for upper lip wrinkles can make the skin firm around the lips, giving you a youthful look.
Here, we have listed the 7 best creams for upper lip wrinkles based on their quality and performance. Check them out!
7 Best Cream For Upper Lip Wrinkles
1. Revitalizing the Luscious Lips: Weleda Skin Revitalizing Eye and Lip Cream, Unscented
The nourishing formula helps reduce the appearance of fine lines and wrinkles around the upper lips
Made with the highly effective Evening Primrose Oil and designed especially for mature skin to keep wrinkles at bay
Hydrates skin, locks in moisture and prevents further drying
The powerful blend of unsaturated fatty acids and Inca Nut Oil helps rejuvenate the cells that have been ravaged by the sun
Get absorbed into the skin quickly
What we don't like: It may feel a little greasy initially, but it soaks up faster.
[ Read: 7 Best Lip Liners For Mature Skin ]
2. High-end Wrinkle-lifting Cream: Kodiake Mesoestetic Stem Cell Active Growth Factor
Boosts lip health and the areas around the lips, making them firmer and free of fine lines
Boosts collagen and elastin production to help achieve plumpness around the lips
Hydrates lips thoroughly, making them appear fuller and healthier
Designed to pad out the lip contour area and give it a more youthful finish
The presence of hydrating and regenerative ingredients makes the cream highly effective for upper lip wrinkles
What we don't like: It is an expensive cream.
[ Read: How to Get Fuller Lips with Makeup (Make Your Lips BIGGER) ]

3. Clean and Vegan: The Beauty Chef – Flora Fix Balm
Helps plump the skin and make it firmer and healthier
Formulated to bring youthful glow and radiance to the skin by deeply nourishing and healing
Offers moisture to dry areas of the skin such as upper lips area, knees, elbows, and ankles; therefore, suitable for every dry body part
Infused with a powerful blend of nourishing botanicals that delivers essential oils and nutrients to the skin.
What we don't like: The results of this cream are not instant. You have to wait for at least four weeks to get its results.
4. Dual Action: roc Retinol Correxion Deep Wrinkle Facial Filler with Hyaluronic Acid and Retinol
It is a dual-action intensive wrinkle repair formula infused with the goodness of retinol and hyaluronic acid
Decreases fine lines and wrinkles on the face, giving a plump and healthy glow
The ingredients of the cream are gentle; therefore, they are suitable for everyday use
It is non-comedogenic, dermatologist-tested, and works amazingly to combat deep wrinkles, fine lines, dark circles, crow's feet, uneven skin tone, or dry skin.
What we don't like: The greasy texture of the cream is not preferred by everyone.
[ Read: How To Plump Your Lips Naturally At Home? ]
5. Refreshing And Rejuvenating: Estee Lauder Pure Color Envy Nighttime Rescue Lip Oil-Serum
It is an overnight lip rescue treatment that ensures baby-soft lips and wrinkle-free skin around the lips
The serum is highly effective for the skin and helps hydrate, soften and soothe dry, chapped lips and the skin on the upper lips
Infused with hydrating and deeply moisturizing skin-loving ingredients that are lightweight and extremely effective
Comes with a plush applicator that makes the formula pleasing
Camellia, Rose, and Lavender work together to nourish and condition
What we don't like: It comes with a hefty price tag and doesn't fit everybody's beauty budget.
[ Read: 5 Best DIY Lip Scrub for Dark Lips ]
6. Goodbye Wrinkles: CeraVe Anti-Aging Retinol Serum
It improves skin's texture and visibly reduces the signs of aging like fine lines and wrinkles
Ingredients like hyaluronic acid and Niacinamide helps give radiant and calm skin. They also help retain the skin's moisture for a long.
It is a lightweight serum with a gel texture and non-greasy feel that fully absorbs into the skin
It is fragrance-free, non-comedogenic, and non-irritating; thus suitable for sensitive skin.
What we don't like: Even though it is non-comedogenic, it is recommended to perform a patch test to ensure it doesn't cause any skin irritation.
[ Read: How to Hide Wrinkles with Makeup ]
7. Ultra Hydrating and Brightening: SAJJ Voletas Collagen Boost Anti-Aging Serum
It works like a miracle correcting serum, formulated to provide an instant blemish-free skin
The presence of anti-aging ingredients in the serum reduces fine lines, erases wrinkles, brightens skin and repairs damage
It boosts collagen production due to the presence of naturally extracted sheep placenta with collagen, and amino acids
It is non-sticky and absorbs quickly into the skin
What we don't like: The smell of this serum is not liked by all.
Conclusion
These are the most effective creams to keep fine lines and wrinkles at bay. Buy any of these and give your face a firmer and more youthful look.
You Might Also Like: