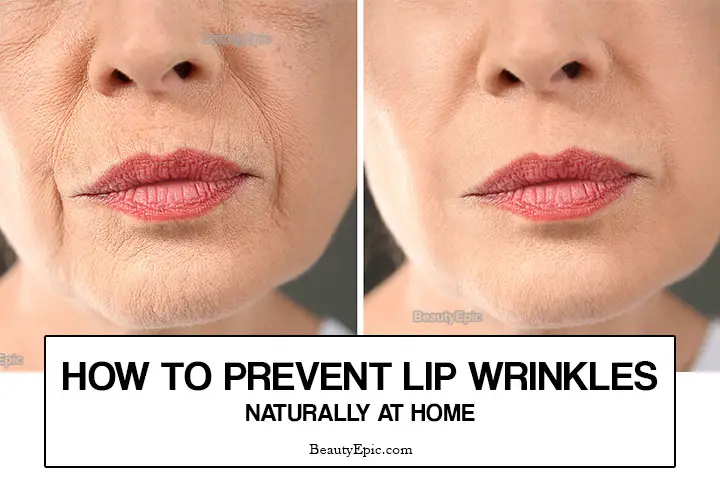 Nowadays, skin problems are the main issues for people. There are many people who have suffered with the problem of lip wrinkles. This can also be called lip lines, lipstick lines and the vertical lines in the lip area. This can be happened due to aging. It is very difficult to conceal these lines. Actually, after the age of 20, your skin produce one per cent less collagen each and every year. The decreased production of collagen can make your skin thinner and less elastic. At the younger age, you have puffy lips. But as you grow older, your skin produces less oil and it can cause severe dryness. Drinking through straw can also be the cause of your lip wrinkles.
Home Remedies for Lip Wrinkles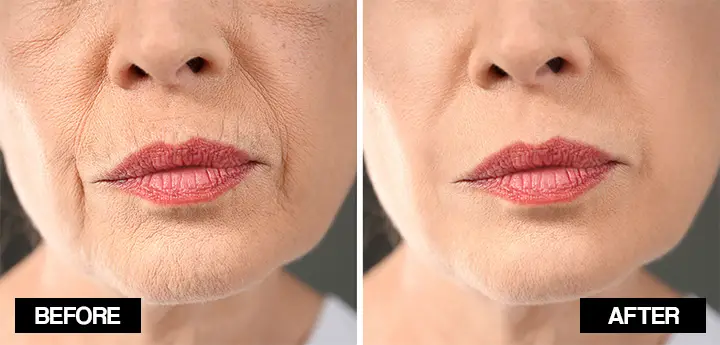 There are some essential home remedies that you can use in order to decrease the level of your lip wrinkles.
1. Vaseline for Lip Wrinkles
Vaseline is a useful home remedy in order to get rid of lip wrinkles. It is necessary to remove your all make up before going to bed at night. You can use a small amount of Vaseline on your lips. This will help you to hydrate your lips for a long time. After regularly using Vaseline on your lips, your wrinkles will be less apparent and you will look glowing and young.
[ Read: How to Get Rid of Wrinkles Around Mouth ]
2. Essential oils for Lip Wrinkles
There are many essential oils that you can use to get rid of lip wrinkles. You can use the lemon oil in order to reduce the damage of your skin due to oxidation. Lemon is full of Vitamin C. This will provide you the essential and immediate benefits. The sandalwood oil is also very helpful and you can use it in order to moisturize your lips.
Your skin will look younger and hydrate after using this essential oil. Lavender oil is also very helpful in this case. It can reduce the sunspots and inflammation. The rose oil is full of antioxidant and antibacterial properties within it. This oil can reduce the inflammation of your skin. You can use these essential oils at the bedtime. You will see the difference after using these oils regularly.
3. SPF Contained Lip Balms
There are many lip balms contained with SPF. These lip balms are mainly formulated with sugar and it can help you to lock the moisture. The black currant seeds will help you to keep your lips hydrated. The lip balms are full with grape seed oil and Vitamin C and E. It is full with SPF and it can protect your lips from the sun rays. It can make your lips smooth and soft.
[ Read: How to Get Rid of Forehead Wrinkles ]
Other Treatments for Lip Wrinkles
The above things you can do as home remedies in order to get rid of lip wrinkles. But if you cannot control it with the help of the minimal home remedies, then you should go for the treatments. There are various treatments related to your lip wrinkles. These are:
1. Derma Fillers: This is a popular treatment in order to reduce your lip wrinkles. Doctors are using the injectable fillers in order to fill the lines and wrinkles and provide you the fuller and puffy lips. It can be done by using the solution that contains Restylane, Juvederm and Volbella. These all are specifically designed for the lip treatments. After this treatment, your lips look little fuller and puffy.
2. Chemical Peel: The chemical peel is very useful in order to remove the top layer of the skin. Your lip will look younger. It can reduce the lip wrinkles. These chemical peels are good enough specifically for the upper lips. The doctor will give you the right suggestion according to your specific lip condition.
[ Read: How to Get Rid of Under Eye Wrinkles ]
3. Laser Resurfacing: Laser surfacing is another process of treatment in order to peel off the top layer of the skin. It can make a place for the younger looking skin instead of that older and damaged one. The laser treatment can tighten your skin around the mouth, eyes and nose area.
4. Dermabrasion: It is a type of surgical skin treatment. It can be done by the professionals. It will help you to look younger. In this treatment, a rotation brush will be used in order to remove the top layer of the skin.
5. Micro Needling: It is a brand new procedure. It can help you to reduce the appearance of fine lines in your lip area. It can also help your skin to produce more collagen.
[ Read: How to Get Rid of Neck Wrinkles ]
6. Platelet-Rich Plasma: This is a unique procedure that uses your own blood in order to stimulate the overall collagen production. This procedure sometime called as vampire facial.
7. Botox: The Botox treatment will relax your muscles. You will have to take some injections related to this treatment.
These various lip treatments are very helpful and essential for your lip wrinkles. You can easily get rid of lip wrinkles by using these home remedies and treatments.
Your Lips Are One of the First Areas to Show Signs of Aging
You Might Also Like: