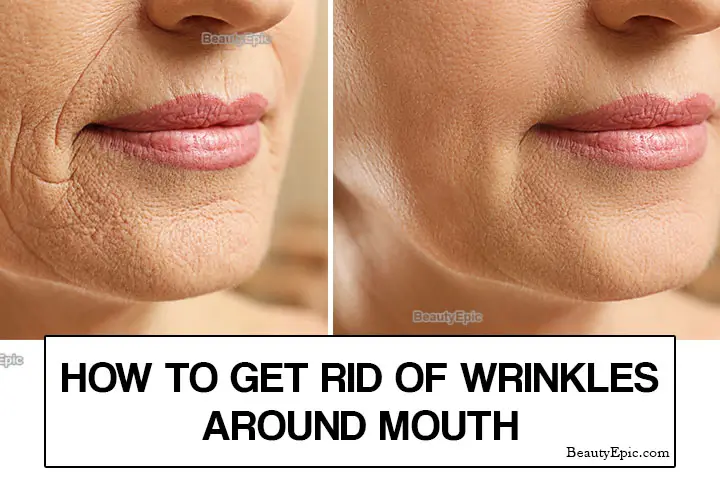 Wrinkles are a common problem that occurs as you get older. The skin loses its ability to keep itself moisturizing, which makes it look loose and folded. And, wrinkles around the mouth are because of diverse reasons such as age, genetics, gender, smoking, excess expose to solar radiation and overuse of beauty care. The most important and inevitable is wrinkles around your mouth.(1)
As individual ages, they will have fine lines and wrinkles on below eyes, forehead, under the eyes, between the eyebrows as well. Women are more likely to get wrinkles in the area thanks to the very structure of the skin there.
How to Get Rid of Wrinkles Around The Mouth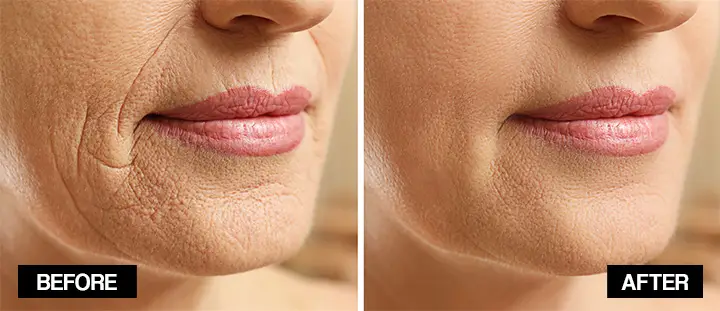 It is easy and inexpensive to reduce and get rid of wrinkles around your mouth. Of course, you have to make a little effort and exercise patience. Here are a few remedies:
1. Grape Seed Extract
The ingredient is grape seed extract that is grapeseed oil. Grape seed extract has great natural antioxidants and therefore help to get back the elasticity attribute to your skin. Grape seed extract has great properties. It protects the elastin and collagen in the skin. Grape seed extract is at available pharmacy store.(2)
How to do:
Remove the seeds from grapes. Use a stringer to make it easier.
Then let the seeds and the skin dry for close to 24 hours
This will remove the remaining part of the grape juice.
Heat the seeds and skin at low temperature. This will make the seed dry quickly.
Now oil comes out and a little amount of juice also produced. Now separate the juice and oil.
Press the extract oil and solids are set apart. After some few hours, the solids come on to the surface of the liquid.
Now you can skim manually to separate oil from the solids.
When to use: Massage grape seed extracts in the area around the wrinkles daily. Continue to use it at night regularly. You'd find improvement win three to four weeks.
[ Read: How to Get Rid of Under Eye Wrinkles ]
2. Essential oils
Essential oils that are useful in reducing wrinkles around the mouth include jojoba oil, lavender oil(3), frankincense Oil(4) and pomegranate seed oil. You can make an anti-ageing remedy from these oils.
How to do:
The ingredients for this are these essential oils mentioned here and vitamin E.
Now take a quarter cup of each oil and mix them in a jar.
How to use:
Use this mixture every morning immodestly after showering. Use also in the same way at night.
To make the wrinkles vanish rub the oil mixture on the affected area as well as your face.
Your skin will look younger within a few minutes.
[ Read: How to Get Rid of Forehead Wrinkles ]
3. Facial Exercises
As in case of other parts of the body, the region around the month can also be subject exercise to get rid of wrinkles around here. The exercises stress on the neck and help in making the moose skin firm, thus it helps reduce wrinkles.(5)
Exercise 1:
Use index fingertips to apply pressure to make the mouth as it is when you 're laughing.
With pressure intact, smile to make the lips apart as much as possible.
Hold in the position or five to 10 seconds. Relax and repeat.
Repeat the prices 15 times in the beginning and later make it up to 30.
Exercise 2:
Hold your mouth corners with your index fingers.
Pull apart a 1/4th of an inch from the normal position.
Resist with fingers and use mouth muses to make the corners tight and toward each other.
Keep the position for 5 to 10 seconds.
Relax and then repeat
Repeat the process with 10 times in the beginning and raise it to 25.
[ Read: How to Use Castor oil for Wrinkles ]
4. Tape
This is yet another method to reduce wrinkles around your mouth. You can also a good quality adhesive tape that is safe for the skin.
How to do:
Clean the skin before going to bed. Use a mild face cleanser to wash the face, wipe with a slot facial towel, take a long strand of the tape from the roll.
Apply around he ahead near the mouth where wrinkles are clear.
Leave the tape thus overnight and remove it in the following morning.
Wrinkles are a common problem. However, you can reduce and get rid of them using the methods discussed here. It's important to lead a healthy lifestyle. Drink plenty of water and avoid high-calorie food. Instead, consume a balanced diet. Avoid alcohol and smoking. All this will help you keep wrinkles around your mouth at bay.
Wrinkle Creams for Smooth Skin
Best Overall
Drunk Elephant A-passioni Retinol Cream – Buy on Amazon
Best Budget
RoC Retinol Correxion Deep Wrinkle Night Cream – Buy on Amazon
Best Drugstore
Neutrogena Rapid Wrinkle Repair Regenerating Anti-Wrinkle Retinol Cream + Hyaluronic Acid – Buy on Amazon
Best With Peptide
Olay Regenerist Micro-Sculpting Cream – Buy on Amazon
Best Daytime
CeraVe Skin Renewing Day Cream with Sunscreen – Buy on Amazon
Best for Crow's Fee
The Inkey List Retinol Eye Cream – Buy on Amazon
Best Repairative
Priori DNA Intense Recovery Cream- Buy on Amazon
Best Tightening
Yeouth Retinol Moisturizer- Buy on Amazon
Best Firming
Dr. Dennis Gross Alpha Beta Glow Pad Intense Glow for Face- Buy on Amazon
Scientific Evidence:
You Might Also Like: