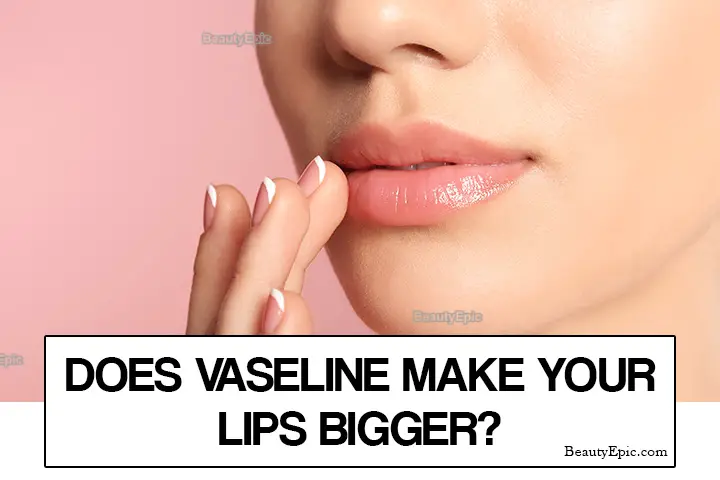 There are many who dream of fuller and sensuous lips. It adds a bit of mystery and glamor. It appears like the trend of fuller and plumper lips is all set to stay. However, surgery isn't the best method to achieve this because it might have some unpleasant consequences. In fact, it might also lead to an unsatisfactory result and comes with a heavy price tag. Applying Vaseline to exfoliate it can make the lips appear bigger(1)
Does Vaseline Make Your Lips Look Bigger?
Even though it hasn't been proved scientifically, there are reviews that suggest that Vaseline can make lips appear much bigger and fuller.
1. Vaseline for Bigger Lips
Things Required:
How to Do:
If you brush your lips with a dry toothbrush, you can get fuller and bigger lips. When you brush, it will help in getting rid of dead cells and makes the lips soft and smooth.
Moreover, it can also increase the blood flow in the lips. Thus, it is going to leave the lips fresh and plump.
Moreover, if you have to get quicker and better results, apply some Vaseline on the toothbrush.
This is going to scour the lips. Believe it or not, it is going to work wonders. When you brush, it will allow the skin to hydrate. This is important when it comes to having fuller lips.
Best Time to Apply: Any time of the day.
No of Repetitions: Daily.
[ Read: How to Make Your Lips Bigger with Cinnamon ]
2. Ground Cinnamon and Vaseline
Cinnamon is rich in exfoliating and moisturizing properties. It serves as a great lip plumper. Cinnamon can increase the circulation of blood on lip skin. Thus, it makes it appear naturally red.(2)
This is the reason it can be used as an active ingredient in several DIY lip scrubs. One of the easy scrubs to prepare is that of cinnamon and Vaseline.
Things Required:
How to Do:
For this, you will have to get a tablespoon of Vaseline and pinch of cinnamon.
Mix the both in a bowl.
Apply the prepared paste on the lips.
Allow it to sit for ten to fifteen minutes. Rinse it off with cool water.
Best Time to Apply: Any time of the day.
No of Repetitions: Try it 2-3 times in a week.
[ Read: How To Plump Your Lips Naturally ]
Precautions & Tips
Even though Vaseline has several benefits, it should only be used externally.(3)
Some people have sensitive skin and might develop allergies when they use Vaseline.
In such cases, people should be careful about adverse reactions and irritations when they use Vaseline.
Also, you need to make sure that the lips are clean prior to applying the petroleum jelly.
You should never use it on chapped lips.
Make sure that you exfoliate your lips properly before you apply it.
Always do a patch test before applying it on your lips
Do not rub it too much.
Apply it for a while and allow it to rest.
However, you need to keep in mind that there is nothing which can change your lips permanently. Moreover, you should not expect instant results. Natural lip plumper is going to take some time to show its effects. Hence, you need to be patient.
Scientific Evidence:
You Might Also Like: