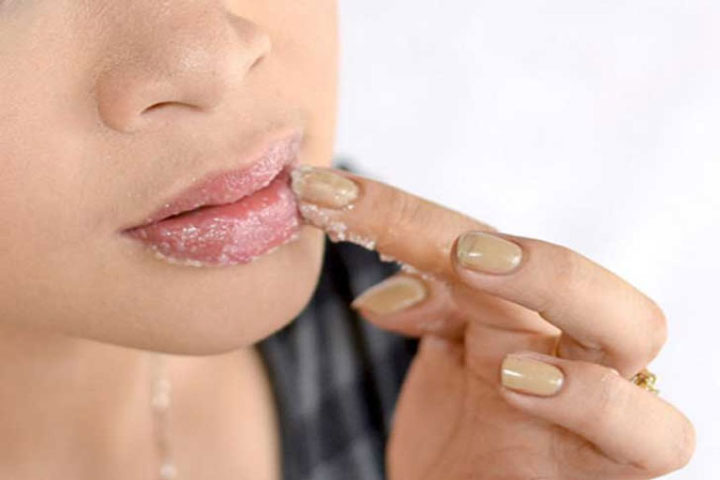 We all advice each other on taking care of our facial skin and how regular exfoliation is necessary to remove those dead skin cells. But, how many of you have thought about those pretty pouty lips of yours? Ever thought of exfoliating them? Wait, did you know that you can and you need to exfoliate them? Just like how you have dead skin cells on your face, you have them on your lips too. So when you take steps to keep your skin glowing, why not do it for your lips as well. In this post, you can choose from 11 different natural remedies to exfoliate your lips and the best part is you don't even have to step out of your homes to get it done. Read on ladies, as we bring you the best natural exfoliation remedies on how to exfoliate lips naturally at home which will result in soft, smooth and kissable lips.(1)
How to Exfoliate Lips Naturally
Now the ingredients used in these remedies are easily available right in our kitchens and if not they will definitely be available in the nearest supermarket. And with the safety of our health as the top most priority, you can be rest assured that there would be no harmful side effects of using these remedies.
1. Sugar and Honey Lip Exfoliator
This remedy will work wonders with the honey's hydrating properties.(2)
How to do:
Take a bowl and add 1 tablespoon of sugar and some honey.
Mix them both together to make a paste
Now gently apply this paste on your lips and start rubbing it in circular motion with your fingertips.
Use warm water to wash it off after 2-3 minutes and pat dry.
2. Coconut Oil And Coffee Scrub
The coconut oil present in the scrub will help in removing all the impurities and nourish the lips while the caffeine content of the coffee will help in making the lips look fuller.(3)
How to do:
You will need some coconut oil and coffee grounds.
Mix them both together to make an exfoliating scrub.
Using a toothbrush, gently rub this scrub on your lips in a circular motion.
Once you have thoroughly scrubbed your lips, you can rinse it off.
[ Read: How to Lighten Dark Lips Naturally ]
3. Aloe Vera Gel for Lips
Aloe vera is like the holy grail for people with dry and chapped lips. This is the best scrub that will not only exfoliate but will also moisturize your lips thoroughly.(4)
How to do:
Take some aloe vera gel. It would be great if you can use fresh gel, but a store bought gel will also work fine.
Apply a little bit of the gel on your lips.
Dip your fingers in warm water and gently massage your lips to exfoliate it.
4. Lemon Juice Scrub
Lemon juice is not just for drinking but also for making your lips soft and smooth. The citric acid present in lemons is great exfoliator agent.(5)
How to do:
The first step is to take half a lemon and gently rub it over and around your lips
The next step is to apply a thin layer of honey on your lips
After 10 minutes, use a warm cloth to remove the honey.
5. Toothbrush for Exfoliating Lips
Well, a toothbrush is not just to brush your teeth! Make sure that you use a toothbrush which is specifically for exfoliation purpose. Please don't use your regular brush because that is just too gross!(6)
How to do:
Take a toothbrush which has soft bristles.
Apply a layer of petroleum jelly on it and gently scrub your lips with it in circular motion.
You can either wipe off the petroleum jelly or leave it as is so that it will keep your lips moisturized.
6. Baking Soda Lip Exfoliator
The wonders of baking soda never cease to amaze us. It is absolutely a great way to get rid of all the bacteria and dead skin clinging on your lips.
How to do:
 Make a paste by mixing 1 tablespoon of baking soda and 2 tablespoon of water.
Now rub this scrub on your lips using a toothbrush
 Scrub your lips for about 3 minutes.
Rinse off the scrub using warm water.
[ Read: How to Use Coconut oil for Chapped Lips ]
7. Sugar and Olive oil Scrub for Lips
The goodness of olive oil is known to all of us and when mixed with sugar, it is one of the best ways to exfoliate lips naturally.
How to do:
Mix 1 tablespoon each of granular sugar and olive oil.
Apply the scrub on your lips.
 Gently exfoliate using your fingertips.
You can wash off the scrub after few minutes.
Apply a lip balm after the exfoliation.
8. Washcloth Scrub for Exfoliating Lips
This natural remedy is the easiest of them all and requires absolutely no ingredients. So if you are out of stock, this is the way to go, to make your lips all glowy and shiny.
How to do:
Take a clean washcloth and run it under the water.
Use the damp washcloth to gently scrub your lips.
Once done, apply your regular lip balm to keep it moisturized.
9. Rose Water And Glycerin for Lips
This is a classic combination and is a favorite with a lot of celebrities too! Rose water can help in brightening up your light colored lips.(7)
How to do:
 Make a solution by mixing a little bit of rose water and glycerin.
Apply the solution on your lips.
Massage it gently with your fingertips.
Leave it overnight so that it is completely absorbed by your lips.
10. Jojoba Oil And Brown Sugar Scrub
The jojoba oil has antibacterial properties which can kill all the unwanted bacteria and the brown sugar just makes the whole scrub a lot tastier.
How to do:
Take equal quantities of brown sugar and jojoba oil.
Mix then both together and apply the scrub on your lips.
Use your fingertips to gently scrub the lips in a circular motion.
Once the sugar is completely dissolved, you can rinse it off using warm water.
Don't forget to apply a layer of your lip balm after washing away the scrub.
11. Sugar And Coconut Oil Scrub
Another great remedy for dry lips is this sugar and coconut oil scrub. Both these ingredients are great at killing bacteria and moisturizing the lips.
How to do:
Make a paste by mixing 1 tablespoon of sugar with few drops of coconut oil.
Use a toothbrush to apply it on your lips
Gently scrub the lips in a sweeping motion.
Rinse it off after couple of minutes with warm water.
Now that you are aware of these natural remedies, you better not give us an excuse on why you are not exfoliating your lips. You can try all of these remedies and then stick to the one which worked out the best for you. Just remember to always end a remedy by applying a layer of your lip balm to keep your lips hydrated.
Do write in if you know some other natural remedies which we can share with our readers.
Scientific Evidence:
You Might Also Like: 
Image:- 1