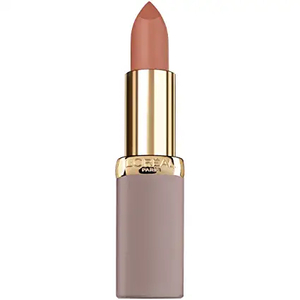 If you have had enough reds and pinks and love the thought of coloring your lips with some bold and dusky color, MAC Stone is the ultimate choice. With a brown taupe gray shade, this lipstick from MAC is soaring high among makeup enthusiasts.
Even though everything about MAC is appealing- be it its range of colors, quality of makeup, or use of ingredients, the price is something that restrains people. No matter how hyped MAC cosmetics are, their price tag makes things go towards the downside.
What's the use when people can't afford it? If you are one of those people, fret not, as we have selected some amazing similars for MAC Stone that give uncanny resemblance. While some are equally good, some are 80-90% similar to the real thing.
Mac Stone
The best part is all MAC Stone alterniatives come from popular brands and are easily affordable. But before checking them, let's find out what makes MAC Stone a brand you can't stop talking about and what are its major ingredients.
Ingredients
As you check closely, MAC Stone features a brown gray shade. The creamy texture allows gliding smoothly on the lips, even after being a matte finish. It is very comfortable on the lips, and it doesn't dry. The staying power is around 5 hours, and it transfers very less.
One thing that makes it appealing is MAC's signature vanilla scent, making it smell and feel good on lips.
The major components of MAC Stone are-
Octyldodecanol- It is a clear, slightly yellow, odorless oil that makes the skin feel nice and smooth and works in a wide range of formulas.
Ricinus Communis (Castor) Seed Oil- It is an age-old ingredient used in thick and gloss-giving formulas.
Silica- It keeps the skin matte as it has great oil-absorbing abilities.
Apart from these three major ingredients, MAC Stone also consists of Tricaprylyl Citrate, Ozokerite, Isononyl Isononanoate, Paraffin, Phenyl Trimethicone, Microcrystalline Wax, Cera Microcristallina, Ethylhexyl Palmitate, Caprylic/​Capric Triglyceride, Copernicia Cerifera (Carnauba) Wax, Ascorbyl Palmitate, Tocopherol, Vanillin, Acrylates Copolymer, Polyethylene Terephthalate, and Stearyl Stearoyl Stearate.
Pros
Creamy and smooth texture.
Goes opaque in one swipe and hydrates the lips.
Wears off evenly and doesn't flake or dry the lips.
Cons
The expensive price tag is the only downside of MAC Stone, due to which the search for alterniatives is always trending.
5 Best MAC Stone Alternatives
1. Maybelline New York Color Sensational Nude Lipstick Powder Matte Lipstick, Carnal Brown
It is a pure matte lipstick that has 2X more mattifying powders.
Smooth texture that glides onto lips for an effortlessly cool and edgy look.
Infused with trusted and skin-loving ingredients that keep lips hydrated and nourished.
It has long-staying power, suitable for everyday wear.
2. Edanta Matte Lipstick Cream Lipsticks
It comes in a form of lip kit that has a lip liner and lipstick in the almost similar shade to MAC Stone.
The lip liner is waterproof that outlines the perfect lip shape and together with lipstick it ensures filling the full coverage of the lips and creates a perfect lip makeup.
Lipstick has dry texture, which needs to be used with lip balm for smooth application and coloring.
3. Anastasia Beverly Hills – Matte Lipstick
Easy-to-apply, full-pigment formula delivers an ultra-matte finish that seamlessly glides on the lips.
It is a full-pigment lip color with a velvety-smooth ultra-matte finish and comfortable wearability.
It features matte finish without making the lip go dry or flaky.
Available in more shades that look extremely good and are suitable alterniatives for high-end brands.
4. MAKI YIKA Brown Lipstick Matte
It is a matte brown waterproof, long lasting and kiss-proof lipstick, a perfect alterniative for MAC Stone.
It is a non-stick and non-fade lipstick that can last through all day.
It is lightweight, smells good and goes on smoothly without skipping or pulling. It's so seamless and creamy, you don't feel clumpy or thick, not leave the lips cracked or chapped.
Comes with 2 precision applicators to take your lipstick to next level.
5. L'Oreal Paris Cosmetics Colour Riche Ultra Matte Highly Pigmented Lipstick, Utmost Taupe
Highly pigmented, super matte finish, giving rich lip color and comfortable wear in just one stroke.
Infused with Jojoba Oil to provide intense hydration all day and a comfortable lightweight feel on lips.
With full-coverage matte, it enhances natural lip color and melts onto lips when applied.
Blurs imperfections and fills in lip lines for more even looking lips without a dry look.
Available in more shades to explore and apply on different occasions.