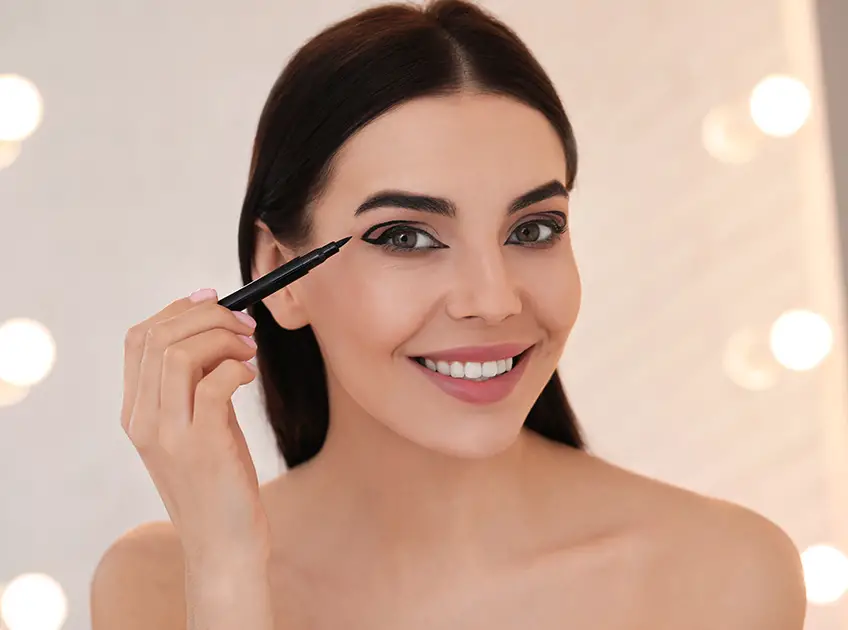 Even though applying eyeliner and giving an edgy and sultry look to the eyes is a bit tricky, once you master the art, you can tackle the winged look easily. But which eyeliner is the best for you- liquid or gel?
Although both function the same and make the eyes gorgeous, they still cause a little confusion. So, let's break down and know the application tips of gel and liquid eyeliner to get a beautiful winged line.
Gel Eyeliner vs Liquid Eyeliner
Gel Eyeliner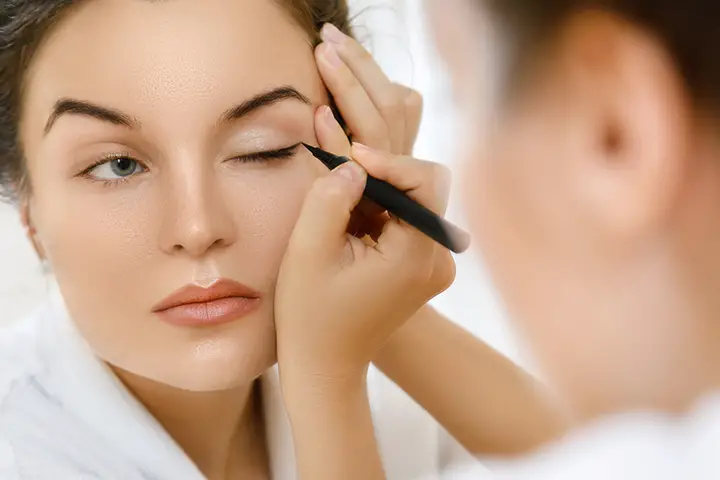 Gel eyeliners have a thicker and creamy consistency. They come packaged in a little pot and require a small edgy brush for application to the lids to create a winged line. As per the experts, gel eyeliner is suitable for those applying eyeliner for the first time as they are easier to use. The brush moves better around the delicate skin of the eyes.
The best thing about gel eyeliner is you can choose the brush size, color intensity, and line thickness as per your preference to get a stunning look.
How To Apply A Gel Liner?
The following application tips can help you get a perfect winged look-
Use a brush that is neither too thin nor too thick. But make sure the tip is pointed to get it just right.
Rest the inside of your wrist on the cheek to keep your hand steady. You can lower the hand as per your comfort.
Now gently draw a line from the inner corner out.
Note 1: If you are a first-timer, you may need multiple strokes to get a perfect winged look. However, it becomes easy over time, and a single stroke helps attain the desired look.
Note 2: Do not leave any bit of skin showing between your eyelid and the liner. It doesn't look good; in fact, it gives a blurry appearance.
[ Read: How to Apply Eyeliner Like a Pro ]
Liquid Eyeliner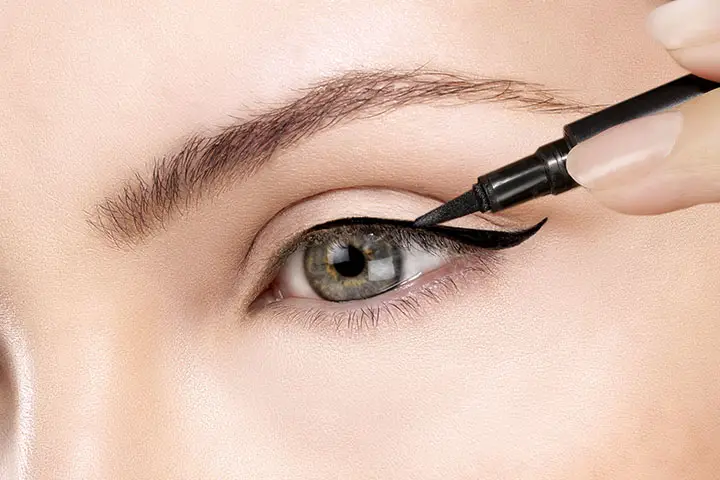 Liquid eyeliners look more like a pen or pencil and work like texting. They are more watery and not as creamy in consistency as gel eyeliners. Some liquid liners come with a small brush in the lid that helps to create a line over the eyelid.
Since they have a pen-like structure, liquid liners are easy to apply and get a precise, very defined, and perfect line over the eyelid. They are suitable for creating a dreamy and dramatic look. However, you need to be very cautious while using them as they are not as buildable as gel liners.
If you try layering the line, you may end up making the liner look streaky. Due to their ease of application, people often pick liquid eyeliner. However, it is essential to be a bit steady while using it.
How To Apply A Liquid Liner?
Here are the best application tips for liquid eyeliner-
If your eyes are closer, intensify the outside of the eye. It will help to draw the eyes out to give a balanced look.
If your eyes are wider, stroke the liner towards the inner corner, shifting towards the ridge of the nose. It will create a more balanced look.
Asian eyes already have a well-defined look. Such people can follow the natural long shape of the eyes, extending them up.
To get a dreamy look on a vanishing lid, apply liner close to the lash line all the way along and slightly pull out at the end. It will give the desired edgy look to the eyes.
People with hooded eyes can get a little creative by applying a long line from the inner edge and out. Stay close to the lash line at the outer corner and finish off with a dramatic flick.
How To Create A Winged Line?
No matter what kind of eyeliner you use, these tips can help you get a perfectly winged line.
Get an eye pencil, sharpen it and apply it over the eyelid in the shape and width you want the liner. This step will help you erase mistakes and rework. Also, it will prevent making the eyes messy after applying liner.
Once you have the perfect shape, start applying liner exactly over the sketched color.
Basically, the idea is to help you get the desired thickness and wing in one shot. If you are not a pro and apply liner directly, you may create streaky patterns that you had to erase. Removing eyeliner could be messy, so trying an eye pencil is a better option.
When it comes to gel vs. liquid eyeliner, we believe it's a personal preference. What you like more and in which type your hands are adjusted make all the difference. Create winged eyes and make them more gorgeous than ever.
You Might Also Like: