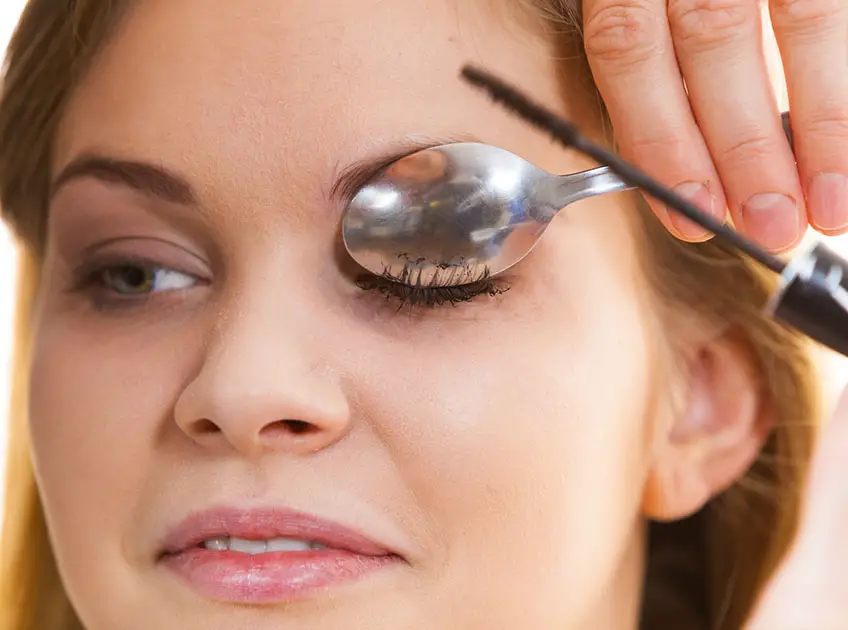 Curing eyelashes give a dreamy look to the eyes. It is something you should never forget to do before heading to a party. When eyelashes are worked on perfectly, they make the eyes look bigger, bold, and beautiful. The long lashes curled up with precision can make anyone go gaga about the eyes.
For curling eyelashes, all you need is one right eyelash curler in your makeup bag. Eyelash curler is a small and handy device that does not take much space and helps in making the eyes gorgeous. But wait! What if you forget to put your eyelash curler? Or what if you don't have any?
In such a case, do not panic! Here we are giving you some great alternatives to eyelash curlers that will perk up your lashes without compromising your looks. You will also know how to use those hacks to get the desired curled look. Check them out!
Curl Your Eyelashes With A Spoon
Mascara Is The Savior
Mascara comes in handy when you are short of an eyelash curler. All you need is to give a double duty to your mascara by using the wand to curl the lashes gracefully.
Hold the mascara wand and move it across the lashes in a zigzag pattern.
When you reach the tip, curl in.
Hold the wand and count to ten.
Repeat the process to attain beautifully curled lashes that give a stunning look to the eyes.
[Read: How to Apply False Eyelashes: Step-by-Step Guide ]
Warm Hands Coming To Rescue
In case you do not use mascara or forgot to bring that too in your makeup bag, your hands will solve the purpose. Gentle pressure and little warmth with hands are sufficient to get curled eyelashes.
Warm your fingertips by breathing out warm air.
Press the upper part of the lashes with fingertips, curling them upwards.
Hold the lashes till the count of ten.
Repeat it at least 8 to 10 times or as needed to get curly eyelashes. Since you do not have a curling device, you have to be patient and give time to complete the process.
[ Read: Gel Eyeliner vs Liquid Eyeliner ]
Use A Spoon For Curling The Eyelashes
When nothing seems to be working, a few kitchen items will surely help you get curly eyelashes. Using a spoon to curl the eyelashes is one of the most common hacks women use. At the same time, it is effective too.
Take warm water in a mug and dip a spoon inside.
Once the spoon becomes a little warm, press the curved side of it over your lid.
Press the lashes gently against the curved edge of the spoon.
Hold for ten seconds and leave.
This process works more like a curling device, but you need to repeat it often to make it work. Do it again at least five to six times and see if you get the desired result. If not, repeat again.
Hold Your Lashes For A While
Another eyelash curling hack that sounds effective is holding the lashes after applying mascara.
Apply mascara on your lashes in the desired amount.
Before the mascara dries, hold lashes in a curled position by lifting them gently at the base of the lid.
Hold till the count of ten.
As the mascara dries, the lashes will stay in the upward curled position as you made it. Since the liquid in mascara is thick, it helps to hold fast the lashes the way you curled them.
[ Read: 10 Mistakes Need to Avoid While Using Eyelash Curler ]
Using Hot Toothbrush
Toothbrushes are useful in many life hacks, and curling the eyelashes is one of them. Since a toothbrush is something that you will definitely have and will never forget to carry, it will help in getting the desired curly look of the lashes too.
Take a clean toothbrush and run it under hot water.
Press it gently into a clean towel so that it gets slightly dry.
Now brush through lashes starting from the base of the lid, moving towards the tip to get the curls.
You may need to repeat this process again until you get the desired look. A toothbrush hack is highly effective and can be done easily. Just make sure you do not end up putting bristles inside the eye, as it can cause irritation.
Eyelashes are one of those parts of the eyes that can make your eyes look dreamy and gorgeous. Sometimes applying kohl, eyeliner, eyeshadow, and other eye makeup is not sufficient because curled eyelashes are something that can turn your entire look for good. Try any of these hacks and get stunning curled eyelashes.
You Might Also Like: