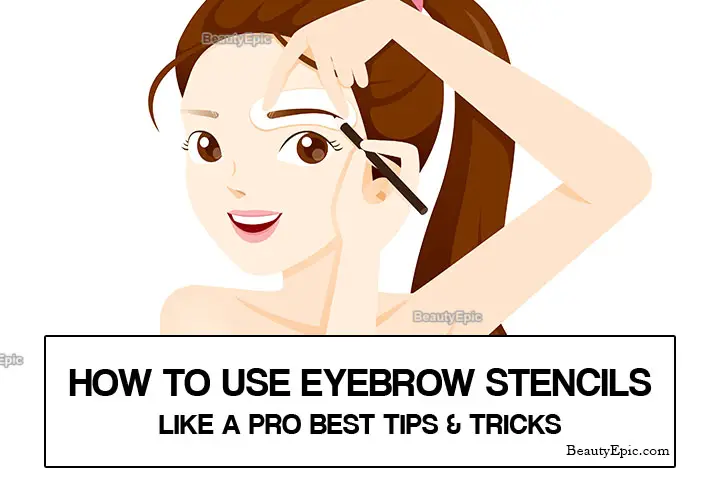 Your eyes could say a lot about you. So, giving it the right shape and look will help in enhancing your personality. The eyebrow stencil  a useful makeup tool by which one can ensure a well-shaped eyebrow. It helps to highlight and add to the eye makeup that you opt for. If you have sparse eyebrows or unevenly shaped eyebrows, a stencil can help define and beautify the same.
What is An Eyebrow Stencil?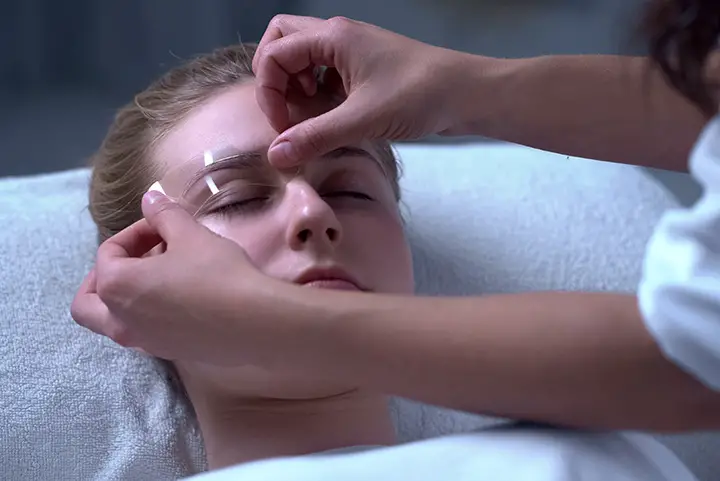 If you are new to doing your eyebrows, a stencil will help you define your eyebrows easily. These are available from different cosmetic brands. Opt for one that has an eyebrow kit or shape as you desire.
The kits also come with eyebrow pencils of different colors. Opt for brown and black or any other shade that resembles your natural eyebrow hairs closely. Use the stencil whenever you want to define your eyes. It is always best to do your eyes for any makeup and hence it is handy to keep a stencil in your makeup kit.
[ Read: How To Change The Shape Of Your Eyebrows ]
Types of Eyebrow Stencils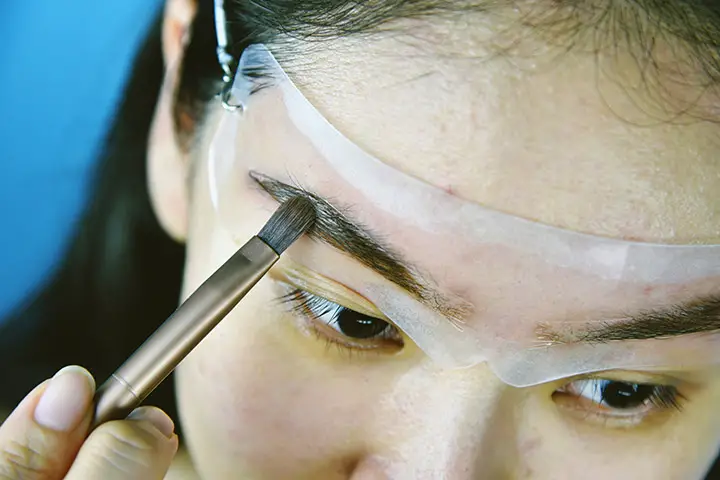 Compare the different kinds of products available in the market. The types can be several. Ppt for a stencil of a shape that resembles your natural eyebrow curve.
You can log onto an online store to find different stencil kits. Take a close look at your eyebrow shape and curves before you begin. Also, if you wish to define the shape of your brows, keep in mind that it should be as per the facial shape.
Alternately, you could also visit a retail store or a beauty expert showroom. Check the products they have and opt for a trial or demonstration before you purchase a product.
A stencil will require a few strokes to define the shape. So, repeat the process until you find the makeup satisfying.
[ Read: Can I Dye My Eyebrows with Henna ]
How to Choose the Shape of The Stencil for Your Face Type?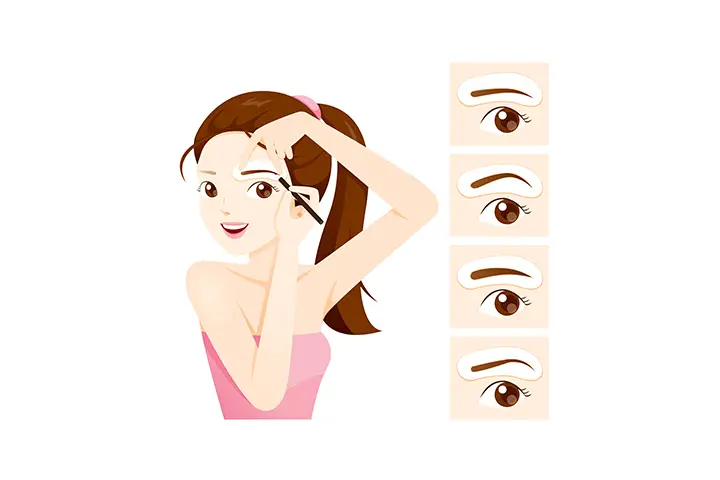 Before you make a choice of an eyebrow stencil you need to be certain of the face shape and the kind of shape that your brows will look good with. You could experiment with more than one shape on different occasions which will help you to experiment with different looks. To get art this, you  will need to use the best guide to face shape and also the suited stencil kits.
How to Do:
You need to first ascertain your face shape and the stencil shape or curves that would be ideal for you. For instance, if you have a face shape that is long, it looks shorter when you flaunt flat eyebrows.
It is best to keep the balance and have a natural curve. Take a close look at your natural eyebrow; it would be most suitable to define the same with a similar stencil shape.
Depending on your face shape, choose a stencil shape that will help define your eyebrow curves.
Usually, a curve upward in the middle is characteristic in all shapes; you might want to define the curve soft or sharp as per your face shape.
[ Read: How to Fill in Your Eyebrows With a Pencil ]
How to Draw Eyebrows Using a Stencil?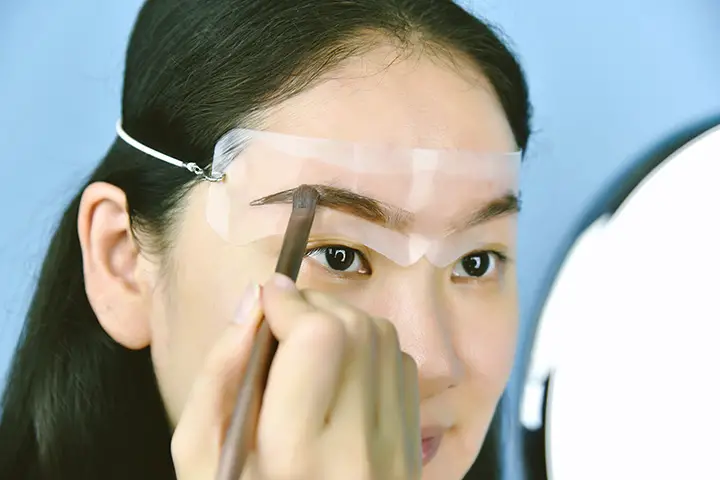 Most stencil kits come with instructions. You could also lookup online portals for instructions. Many come with video guides that offer step by step instructions.
It doesn't do your any harm  to try to draw the eyebrows with the help of a stencil beforehand so that you  don't have any difficulty when you are in a hurry to put makeup.
Take a look at a demonstration on how to use an eyebrow stencil. It comprises of placing the stencil on top of the natural brow line.
You need to trace on and around it and then fill in the spaces with a liner that is black or of a shade matching the natural colors of your brow hair.
Apply the stencil at the time of doing eye makeup. It is best to trace it on after smoothing the skin with a foundation or primer.
Stencil placement needs to be done once on each eyebrow. Trace out the brows with the stencil and fill in with strokes as necessary.
[ Read: How To Tweeze Your Eyebrows Perfectly ]
How to Make a DIY Eyebrow Stencil?
There are DIY kits available that help you define the shape of the desired eyebrow. Opt for one to create a stencil shape of your choice. Use a stencil kit to define the shape of the brows you have. Once you have traced the shape with a pencil or pen, cut it out and save it for future use. Use it once on each brow with the liner of a shade of your choice.
Cons of Stencil Drawing Eyebrows
There can be few limitations when it comes to drawing eyebrows with a stencil. Ensure that you use the stencil of the right shape and width to stick to a near-natural look.
To prevent mistakes to ensure that you do not use too dark a shade for defining your brows. Also, the width of the stencil should not be too wide but fit in the natural width of your brows.
Look at a mirror to see the shape of your eyebrows. Note the shape, the thickness you want to create and the length of the natural eyebrow, and then pick the suitable stencil.
[ Read: How to Shape Eyebrows for Face Shape ]
Using The Stencils Correctly
An eyebrow stencil, when used right, helps define and enhance the natural curves of your brows. It is a vital element in a well-done eye makeup routine.
Opt for a liner that would suit the occasion or the natural brow hair color. Ensure that the stencil shape and width closely resembles your natural brow curves.
Since you would be using liner or mascara to fluff up and fill in the brows, a stencil that will help create the right curve and fill in the spaces would create a good finish.
The above tips can help one to choose an eyebrow stencil kit and use it to highlight their brows right.
You Might Also Like: