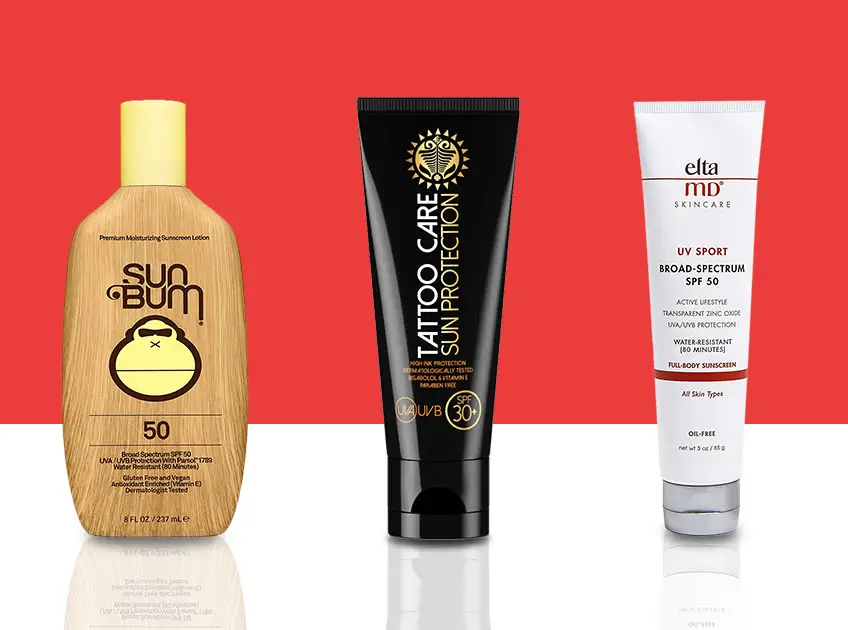 Microbalding is one of the effective ways of making the brows look thicker, more defined, and fuller. Even though your microbladed eyebrows will not be ruined by sweating or swimming, you must be cautious during summer.
Microbladed eyebrows require extra attention and protection from sun rays, especially if you have undergone the procedure recently. Proper aftercare, right after the treatment is essential. Therefore, here we have listed some of the best sunscreens for microbladed eyebrows to ensure your brows remain shielded from harmful sun rays.
Check them out!
10 Best Sunscreen for Microbladed Eyebrows
1. CeraVe 100% Mineral Sunscreen SPF 50
CeraVe is one of the most popular skincare brands. The sunscreen for CeraVe is made to protect the skin from sun damage and bring more charm and glow to the face.
It is infused with zinc oxide & titanium dioxide that helps sensitive skin.
The chemicals like Hyaluronic Acid, Niacinamide, and Ceramides keep the skin well-nourished and moisturized.
It soothes the skin and supports the skin's natural barrier.
It is a mineral-based sunscreen, free from paraben and fragrance.
2. Neutrogena Sheer Zinc Oxide Dry-Touch Face Sunscreen With Broad Spectrum SPF 50
Neutrogena is the cult favorite skincare brand that has launched multiple skincare products. The sunscreen from Neutrogena is broad spectrum with SPF 50, ensuring full protection.
It is oil-free, non-greasy, and non-comedogenic.
It is a mineral sunscreen with a main active ingredient as, zinc oxide.
The ingredients of the cream act like a physical blocker that reflects UV rays off the skin's surface.
It is also sheer and doesn't leave any noticeable residue on the skin.
3. DRMTLGY Tinted Moisturizer With SPF 46
It is an ultimate skin care product that caters to different functions. It is an all-in-one face sunscreen and foundation that provides broad spectrum protection against UVA and UVB rays.
It is a tinted moisturizer that will help cover up the tattoos and protects them from wearing.
It works best for microbladed eyebrows and ensures the result lasts longer.
Besides, it also casts a shade of color corrector on top to even out skin tone.
The cream comprises mineral blockers and goes on without leaving a white cast behind.
4. BLUE LIZARD Sensitive Mineral Sunscreen With Zinc Oxide, SPF 50+
This mineral sunscreen from Blue Lizard is the best sunscreen for microbladed eyebrows, providing complete protection from harmful rays of the sun.
It is water resistant for up to 80 minutes and features smart bottle technology.
Zinc oxide is the main active ingredient of this sunscreen, providing broad-spectrum coverage by blocking UV rays from getting to the skin.
It is free of paraben and fragrance and suitable for sensitive skin.
5. EltaMD UV Sport Broad Spectrum SPF 50 Sunscreen Sport Lotion
Providing intense protection from UVA and UVB rays, the sunscreen from EltaMD supports broad spectrum SPF 50. The oil-free formula makes it suitable for people with sensitive skin.
It is water resistant for 80 minutes, making it suitable to use while swimming.
The non-greasy and oil-free formula with zinc oxide ensure complete protection and skin nourishment.
It is mineral-based sunscreen and is perfect for people looking for protection for their microbalded eyebrows.
The formula doesn't leave a white cast on the skin.
6. Supergoop! Unseen Sunscreen, 1.7 oz – SPF 40
With SPF 40, the sunscreen from Supergoop provides broad spectrum protection. It is weightless, invisible, oil-free & scent-free, and is beard friendly, and suitable for all skin types.
It is rich in antioxidants and helps filter blue light emitted from the phone, computer, and tablet and the harmful UVA, UVB & IRA rays.
The unique oil-free formula glides onto skin, providing shine control & leaving a velvety, makeup-gripping finish.
This sunscreen is reef friendly and includes clean, powerful ingredients like frankincense and meadowfoam seed that soothe and nourish the skin.
7. Tattoo Care Sunscreen – SPF 30+
It is a special sunscreen made specifically to help tattooed skin; therefore the best sunscreen for microbladed eyebrows. It moisturizes the skin deeply and provides a broad spectrum of protection.
It is SPF 30+ sunscreen that prevents tattoo colors from fading and cracking.
It doesn't leave a white cast on the skin or over the tattoos, making them look natural.
It is water and sweat-resistant, made to resist wear-off.
The light coconut scent gives a slight aroma, uplifting the mood.
8. Coppertone Limited Edition ULTRA GUARD SPF 70 Sunscreen Lotion
SPF 70 Coppertone Limited Edition ULTRA GUARD sunscreen lotion has a broad spectrum formula that provides complete protection from harmful sun rays. It protects tattoos from fading.
It stops up to 98% of damaging UV rays from entering the skin and damaging it.
It is water-resistant, protecting for over 80 minutes when you are inside a pool.
It is oil-free and non-greasy, perfect for people with sensitive skin.
Infused with Vitamin E, the cream provides deep nourishment and hydration to the skin.
9. Banana Boat Sport Ultra, Reef Friendly, Broad Spectrum Sunscreen Lotion, SPF 50
With superior endurance, the sunscreen lotion from Banana Boat is perfect for protecting the tattooed skin from UV rays that can damage the colors and fade the tattoo.
The sunscreen provides strong sun protection that stays on for long hours, so you can play and roam under the sun with no issues.
The broad spectrum protection protects skin from UVA/UVB rays.
It is lightweight, non-greasy, and has a breathable formula.
It is water and sweat-resistant and lasts in water for up to 80 minutes.
10. Sun Bum Original SPF 50 Sunscreen Lotion
The Sun Bum screen lotion features SPF 50 and is reef friendly. Being a broad-spectrum sunscreen, it provides complete protection from harmful sun rays and protects the tattoo from fading or cracking.
It is a non-comedogenic sunscreen that delivers UVA/UVB protection and contains Vitamin E to nourish the skin.
The composition makes it oil-free, water-resistant, and reef friendly.
It is hypo-allergic, oxybenzone, octinoxate, gluten, cruelty, and paraben free.
Conclusion
Even though the healing process is fast after microblading, proper aftercare will ensure long-lasting results. It is important to protect the microbladed eyebrows from sun rays as the chances of discoloration are usually high with sun exposure.
Since the UV rays break down the ink in the brow tattoo, never forget to wear any of the above sunscreens for microblading eyebrows.
You Might Also Like: