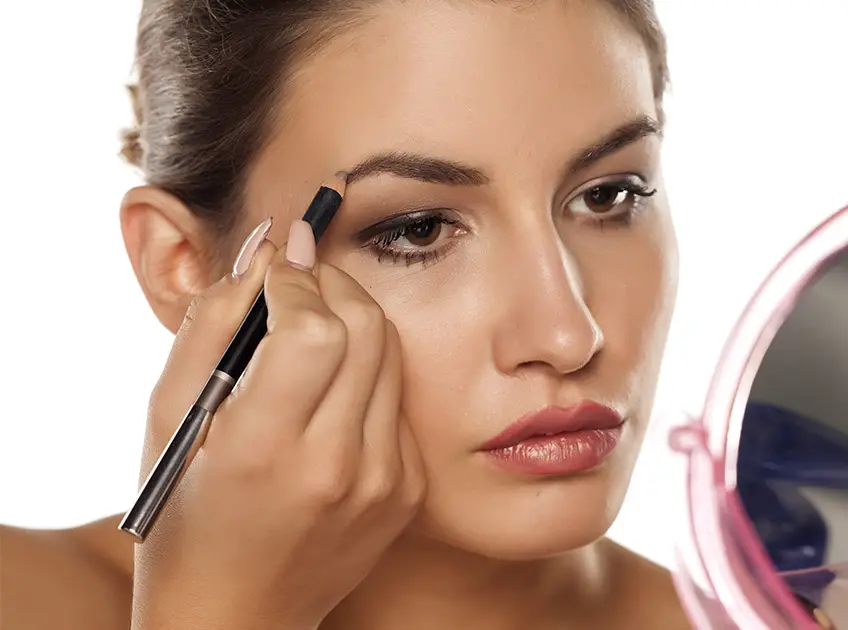 Those who have thin or narrow eyebrows can fill them in to enhance and define the looks. It also helps to frame face as well as complete eye makeup look. All that one needs to get started are small brushes, brow powder, and brow pencils.
Prep the Eyebrows
Use a Tweezer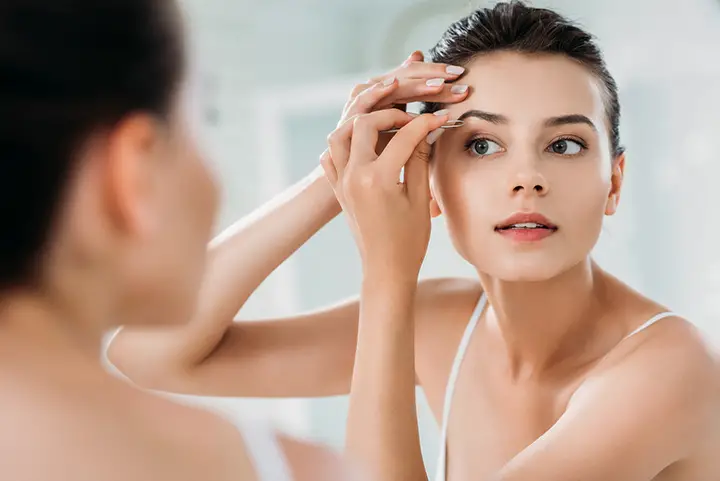 One can tweeze their eyebrows in the following way.
Target stray hairs that lie below natural browline.
Remove hairs that might lie between the two brows.
Pluck away stray hairs that are prominent.
[ Read: How to Shape Your Brows Using Your Face Shape ]
Trim Eyebrow Hair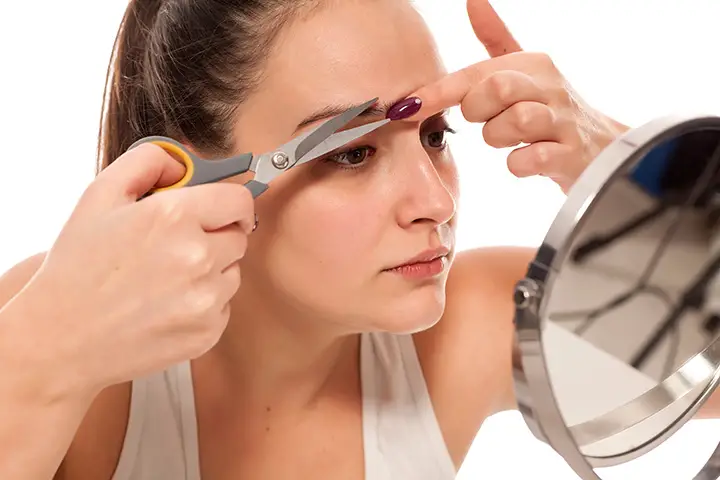 Once the stray hairs are removed one can then trim their eyebrows.
If certain hairs are longer than natural shape these can be brushed upward.
Once they are brushed up, one can trim the upper edges.
Use eyebrow scissors to trim hairs horizontally across brow.
Cut hair that go beyond the top of the brow line.
Ensure that hairs are not cut beyond 1/8th inch above the edge of the eyebrow.
[ Read: How To Shape Your Eyebrows Perfectly ]
Fill Shape Below Eyebrow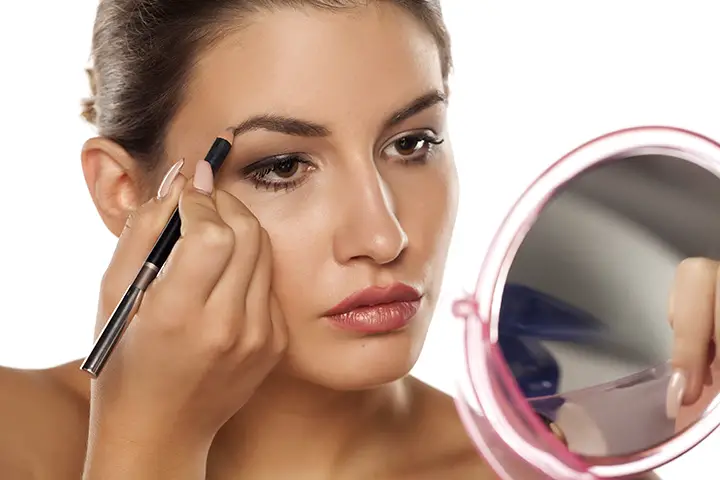 Use short strokes with an eye pencil to define the natural shape of browline.
Add on few strokes as necessary, keeping the look natural.
Do not pick shade that matches brow color; since eyebrow hairs can have different hues or pigments, one can use a brow color that is lighter for filling in or underlining.
[ Read: How To Shape Eyebrows Flawlessly ]
Shape the Eyebrows
Measure Out Inner Brow
Place eyebrow brush or a pencil vertically from the eye till it reaches tip of the tear duct.
Slide up brush to see where it intersects line of eyebrow.
Remove hairs that extend beyond the point.
Use starting point of nostrils' flare to measure the eyebrows.
Mark Starting Point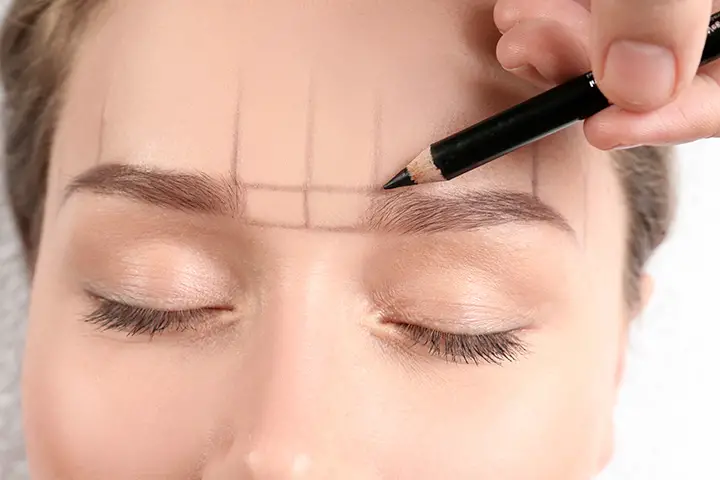 Make a light dot or mark with eyeliner to track where eyebrow hairs start.
Tweeze out hairs between eyebrows and past inside corners of eyes.
Use aloe vera gel or any soothing cream for soothing the skin.
[ Read: How to Apply Liquid Eyeliner for Beginners ]
Find End of the Brow
Place eyebrow brush diagonally from the outer corner of the nostril to outside creases of eyes.
One can extend the same up to brow bone as well.
Do not tweeze out end hairs that are in thicker part as these do not grow back.
Find Natural Arch
Place eyebrow brush diagonally, till the point when it reaches the top of eyebrows.
Tweeze out hairs below the brow.
Keep Arch Angular and Low
Tweeze eyebrow hairs to define the natural arch of eyebrows.
Go for the low and natural look rather than too angular or rounded.
[ Read: How to Apply Eyeshadow ]
Fill in Eyebrows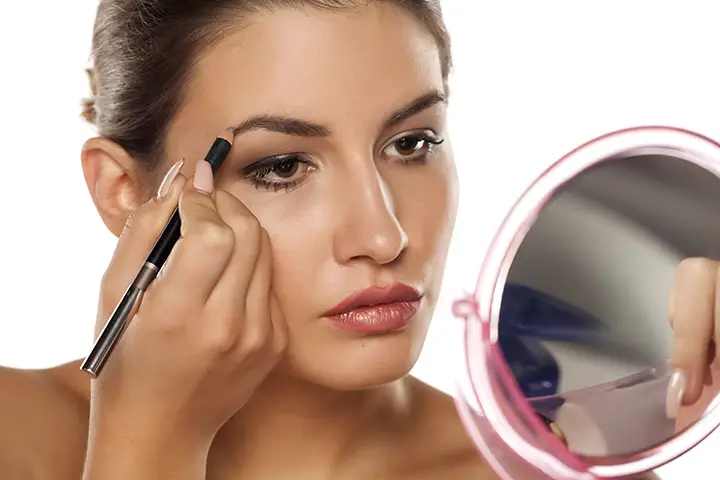 Consider Skin Tone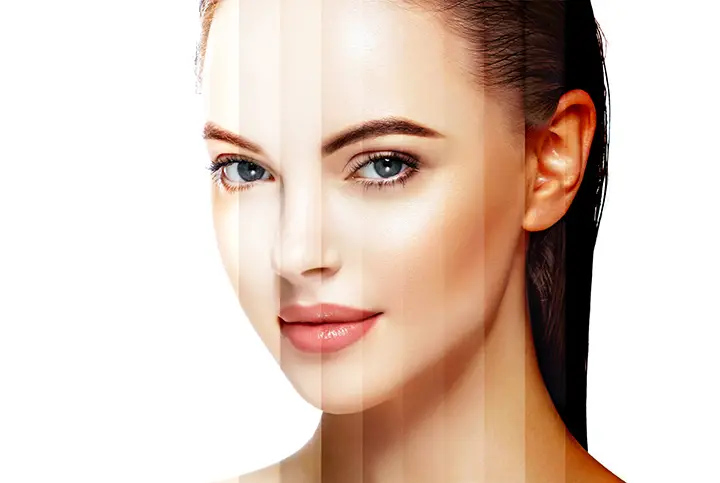 To choose colors to fill out eyebrows one can compare their skin tone.
Use lighter color for filling or underlining bottom of eyebrows.
For skin tones that are darker one need to use red shades.
If one has lighter skin tone then light brown colors are better as brow fillers.
Start to Fill with Powder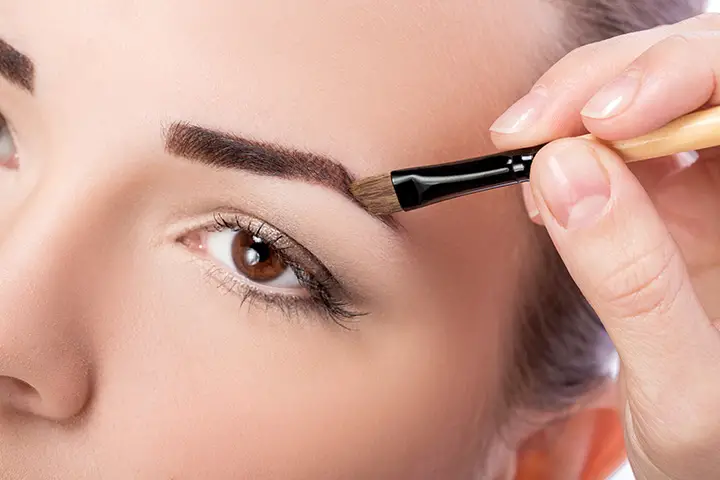 Touch with brush the powder of choice and tap off excess.
Start and lightly fill top as well as bottom edges of brows.
Fill in direction that hair grows.
Stay within the margins of the natural shape of the brows.
Apply powder beyond where the brow hair ends.
Start on the arch and work down to either side.
If one has strong jawline soften the bold features with a brow shape that is softly rounded; for small features and round face one can opt for crisp or angular brows.
[ Read: How to Apply Mascara Step by Step ]
Use of Brow Stencil
There are stencil packs that one can purchase at stores or online.
Choose the shape of your choice and line it on the natural browline.
Press the shape on the area to see how the outline works with the stencil.
Shade out the brow by the stencil's edges.
Work with one and then work on the other after wiping off the stencil with a paper towel.
Fill in Rest of Brow
Move the arch and continue to fill to edges of brows.
Use brushstrokes lightly.
Do not add much product on the brush and focus on adding volume on edges of the brow.
Do not layer on powder in the middle.
Focus on brow edge and add on a full, natural look.
Do not outline beyond the natural edge.
[ Read: How to Apply Liquid Eyeliner ]
Brush Out
Use spoolie brush to spread out color powder.
Disperse evenly across the brow.
Add on powder and brush out to get desired shade intensity.
The above steps help to fill out eyebrows the way one wishes to. It is important to start by measuring out the brow distance and trimming the brow hairs. Once these steps are achieved one can pick up shades of their choice. Once the shades are used on the brows one can move onto completing the rest of eye makeup. Well done and filled eyebrows will help to make eye makeup look more professional.
You Might Also Like: