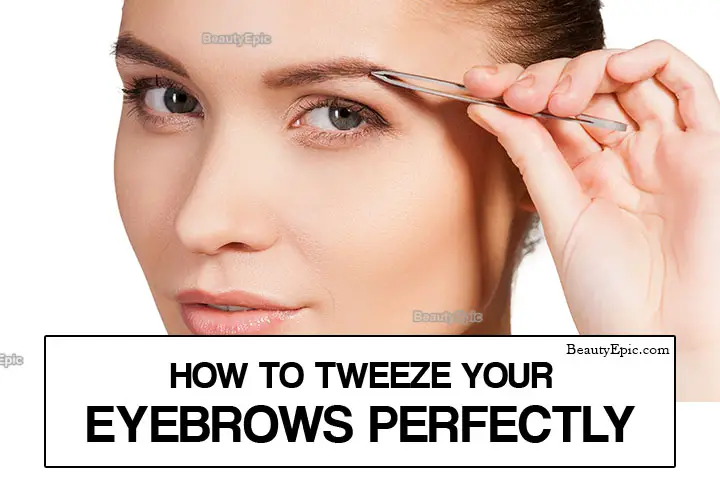 Your eyebrows are like borders that provide an accentuated look and a definite dimension to your face. Never ignore them, as they have the power to make or mar your look. You can get perfectly shaped eyebrows by tweezing techniques. While you can get them done professionally, they charge you a bomb for threading and waxing your brows. Additionally, if a party plans crops up randomly, you might not get the time to visit the salon. Tweezers are your best friends and you should always keep them handy.  Anyways, fuller eyebrows are so much in vogue, which obviously leaves you with much less effort to apply.  I offer you a step-by-step guide to help you tweeze your brows perfectly at home. So here we go.
1. Cleansing is a Must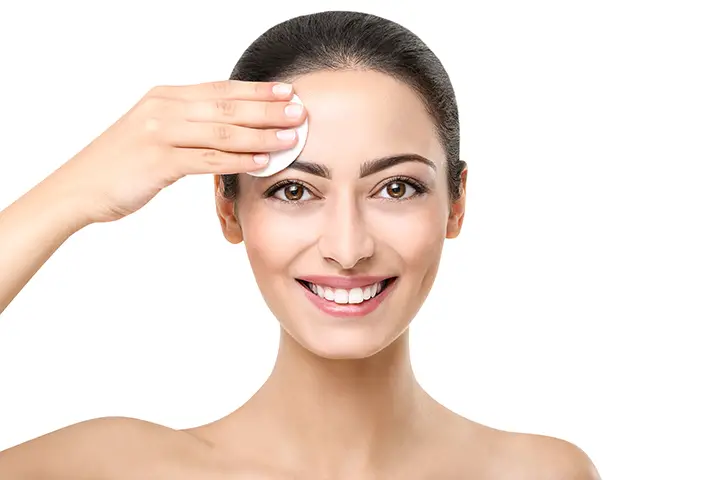 Before you even touch your brows for tweezing, take care to clean them perfectly. This step has more advantages than one. Firstly, since there will be no dirt or residual makeup left, the chances of infections and allergies are minimized. Also, you will be clearly able to identify areas that need tweezing which eliminates the chances of over-tweezing the brows.
In the words of Glamsquad Artistic Director Kelli J. Bartlett, "Use a makeup remover first to ensure the skin has no residual dirt or makeup." In a time crunch, you can always just use a makeup wipe."
[ Read: How to Clean Your Face at Home ]
2. Pick Good Quality Tweezers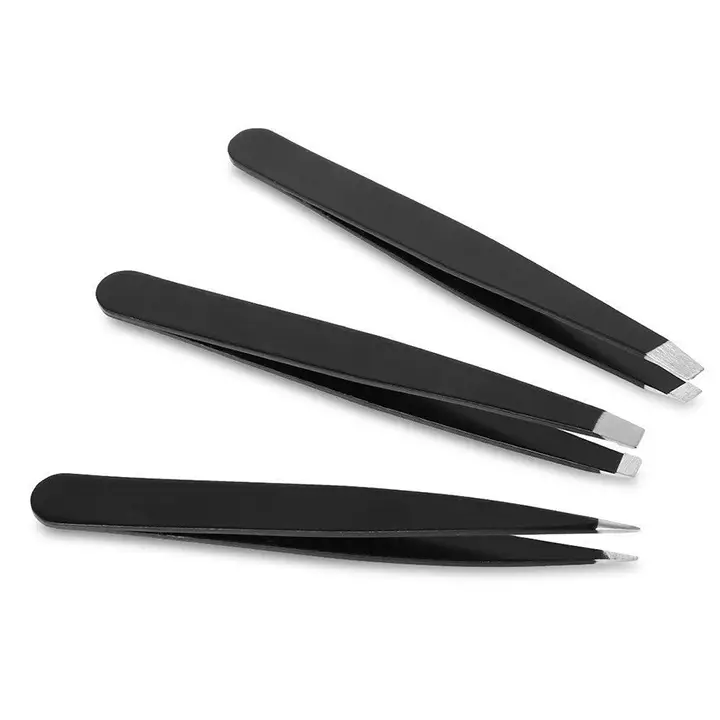 For achieving optimum precision, invest in tweezers with a slanting tip that can get hold of single hair strands. Tweezers are a one-time buy and will last you for many years. Do buy good-quality ones that do a great job of plucking out unwanted hair.
[ Read: How to Shape Eyebrows for Face Shape ]
3. Determine The Brow Shape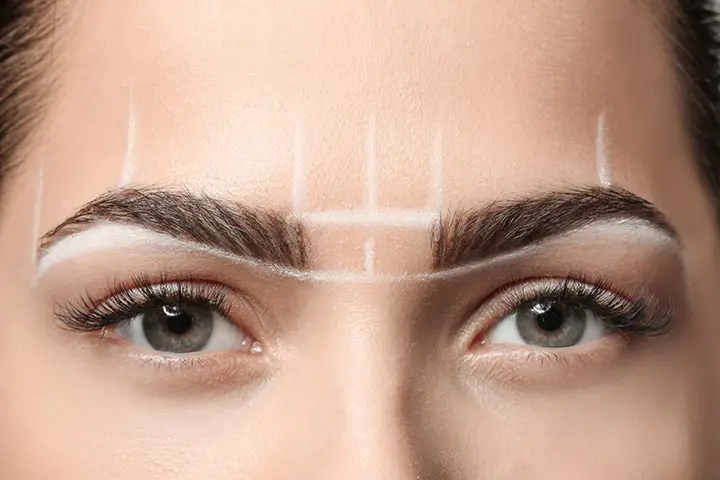 Celebrity makeup artist Vincent Oquendo suggests using a white pencil to shape your eyebrows. In this way, you will be able to determine the natural shape of your eyebrows vs the defined shape that you are looking for. This is the best way to identify stray hair and remove them using the tweezers. If you just visually ascertain the shape, you might lose track during the tweezing process and end up with two differently shaped brows.
[ Read: How To Shape Your Eyebrows ]
You Can Define the Brow Shape in the Following Steps
4. Mark the Starting Point and the Endpoint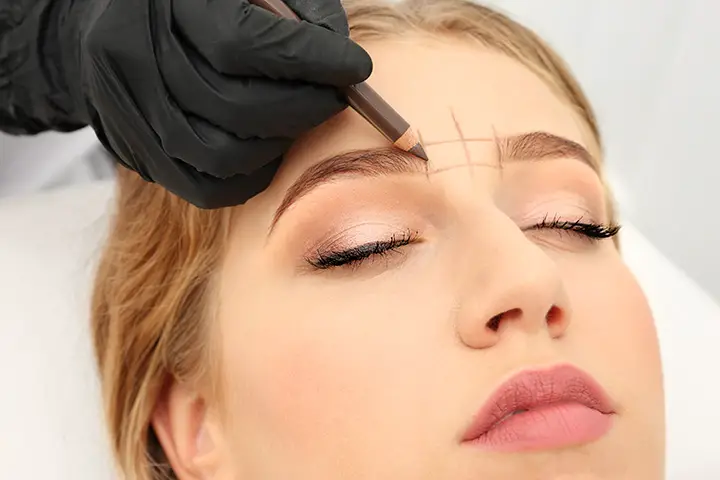 Flip the tweezer such that the open hangs downwards. Place the tweezer vertically such that its closed-end touches the outer end of the nose. The point is about one inch above the corner of your eye.  Mark it. Similarly, align the tweezer at an angle across the cheek where open end is at the bottom of the nose and the closed endpoints towards the end of the brows. Mark this point.
[ Read: How to Fill in Eyebrows With a Pencil ]
5. Determine the Brow Thickness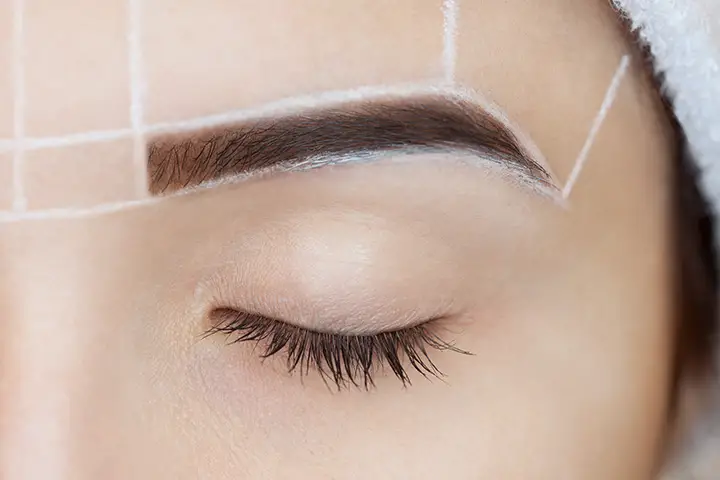 Start at the lower edge of the thickest part of your brows. Use a white pencil to mark an outline that does not cover any stray hairs and follows the natural shape of your eyebrow. You can select a shape that is angled, straight or curved. The thickness again depends on your preference and the shape of your face.
[ Read: Everything You Need Know About Microblading ]
6. Start Tweezing…Now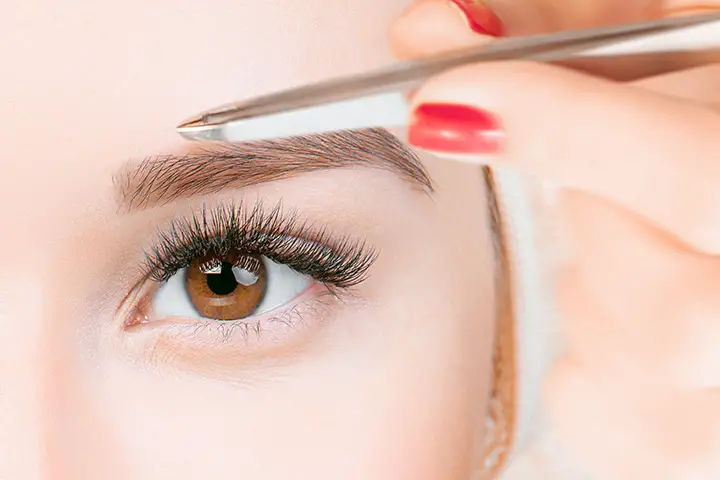 Once your brows are cleaned and their shape is defined, you can start tweezing. For those who prefer a natural look, you can pluck only the stray hairs that fall outside the defined eyebrow border. Also, another rule of thumb as suggested by celebrity makeup expert Bartlett is, pluck only two hairs at a time. Then again evaluate the shape before proceeding further. Carefully isolate the single strand of the hair to be plucked and pull it in the direction of the hair growth. This will minimize the risk of a skin infection or breaking the hair strand.
[ Read: How to Get Thicker Eyebrows Naturally ]
Some Tweezing Pro-Tips
Tweezing after a shower helps hair strands to pluck out easily as the hair follicles are dilated.
If tweezing is very painful, dab some numbing gel before you start the tweezing process.
Instead of a magnifying glass, use a regular glass as it reduces the chances of over plucking.
Arch your eyebrows well. They should start right above the tear duct and end at a point which is 45 degree from the outer corner of the eye.
Pat some cortisone cream immediately after the tweezing. This will reduce redness and irritation.
For sparse hair growth in the eyebrows, use a good eyebrow pencil to fill in the gaps.
If in case you have overplucked your brows, wait for three weeks before you tweezing again. This will give the eyebrow hair time to regrow and retain its natural shape.
The above-mentioned process and tips will seamlessly guide you through the process of tweezing. Tweezing your brows can be as easy as it seems but tricky if you goof it up. If there are numerous hair strands that need to be tweezed, go for professional help.
You Might Also Like: