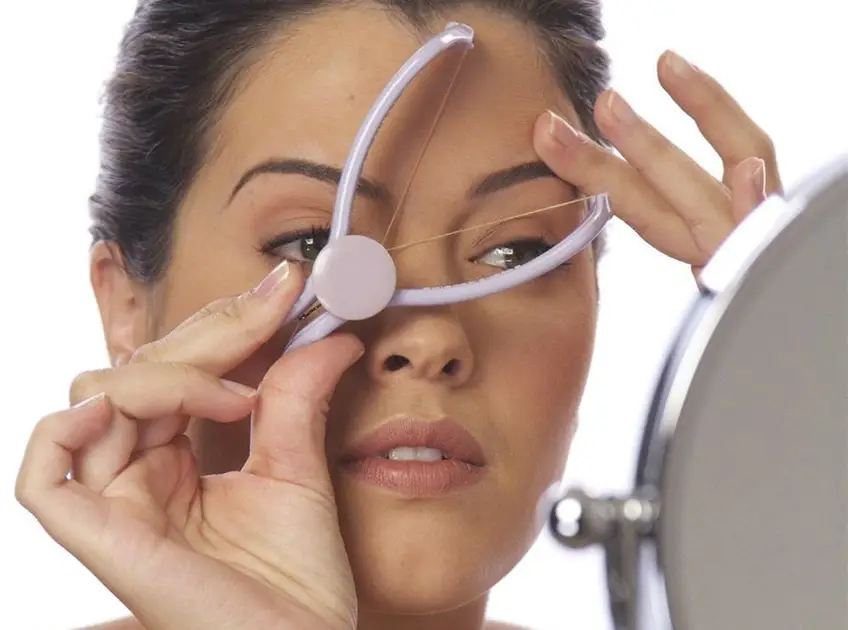 We all love to have groomed, properly shaped, natural-looking eyebrows, but it takes effort to maintain them. Nicely shaped eyebrows look great and enhance other facial features; however, everyone is not born with them.
It is when an eyebrow threading tool comes in handy. Eyebrow threading is an age-old tradition, mainly practiced in Asian countries, to give an elegant shape to the eyebrows.
As the name implies, eyebrow threading involves using a thread to remove certain hair from eyebrows and give them a well-defined shape. Through this hair removal method, the eyebrows stay groomed for longer than methods like tweezing or waxing.
In eyebrow threading, the professional sets a thin cotton thread along one eyebrow and moves it along the skin, giving an outline and picking up the extra hair on the other side. The hair is plucked out deep from the roots; therefore, the result lasts longer.
Usually, you need to visit the salon and make an appointment with a professional for eyebrow threading. However, many eyebrow threading tools make this process so easy and convenient that you can do it at home as well.
Since threading is a delicate process, doing it incorrectly can cause more harm than help. Therefore, having an eyebrow threading tool that offers precision and efficiency is the best way to achieve good results.
Eyebrow Threading Tool
Let's take a look at some of the best eyebrow threading tools that offer perfectly sculpted eyebrows in the comfort of your home.
5 Best Eyebrow Threading Tool
1. Waycom Ladies Facial Hair Remover
It is an electric body and facial hair removal tool with cotton threads that works wonderfully to help you get rid of the finest hair.
The beautiful butterfly design of this machine makes it very interesting. It makes the machine easy to grasp so you can work on your eyebrows without slips.
It is made of stainless steel material that makes the Waycom Ladies Facial Hair Remover durable and hygienic. Even though it is an electric machine, no blades, heat, or chemical ingredients are involved.
It is easy and safe to use on the face with no side effects. Precise results are ensured.
What We Like
It has a plug-in design that helps in recharging the device.
Handle includes on and off switch
Non-slippery to ensure no mistakes
Can remove the finest hair efficiently
Not suitable for large areas like legs, arms, or underarms
It comes with a charger, a box of powder, a special cotton bundle, a headband, and a user manual. It is one of the best eyebrow threading tools that you can use.
2. Electric Body Facial Hair Removal Threader
Offering long-lasting results, this facial hair removal works as a wonderful eyebrow threading tool. It helps in removing unwanted hair from eyebrows efficiently without causing irritation or harm to the skin.
Since it pulls hair right from the roots, the results are long-lasting. The easy and stronger grip makes it useful to work on all the areas of the skin, including arms and legs.
It consists of a thin cotton thread that is easy to install onto the machine and used to remove the hair from the roots. The best part is it doesn't cause any damage to the skin.
This Electric Body Facial Hair Removal Threader has a compact and ergonomic design, making it easy to handle and work on smaller to larger areas. Since the size is compact, you can take it anywhere with you.
What We Like
Design is compact and ergonomic
Consists of thin cotton thread
Suitable for smaller and larger areas
Pulls hair from roots
Results are long-lasting
3. Electric Hair Remover Cotton Thread Epilator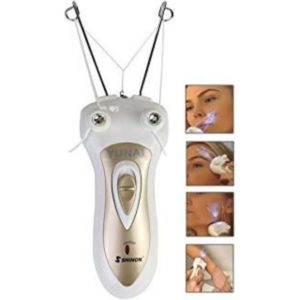 This machine is a complete body hair removal machine that works efficiently and helps you get rid of unwanted hair without pain and irritation.
The fine cotton thread in the machine pulls the hair from the eyebrows, chin, upper lips, forehead, and hair on legs and arms. Since all these hair is generally fine, this machine works well for them.
The results are long-lasting as the hair is pulled straight from the roots. Unlike waxing and tweezing, it doesn't irritate the skin or cause bumps or burns.
If you have sensitive skin, this eyebrow threading tool will work best for you.
What We Like
Rechargeable with fast charge time
Battery is durable and last longer
Motor is powerful and ensures hair comes out firmly from the roots
Consists of an inbuilt LED light for more precise results
Reliable, easy, and convenient to use
4. Yunai Hair Remover Rechargeable Threader
Yunai Hair Remover Rechargeable Threader offers the safest and one of the fastest ways of shaping the eyebrows. It is suitable for all skin types and doesn't cause any harm to the skin.
The hair is pulled straight from the roots; thus, the results are long-lasting. Even the shortest and finest of hair are pulled out. The machine is easy and convenient to use and suitable for large areas like legs and arms.
It is rechargeable and has a non-slip handle. Also, it has a compact design for easy carrying.
What We Like
No heating blades
Easy and efficient to use
Helps to give perfectly shaped eyebrows
Results last longer
5. Slique Manually Threading Epilator
If you don't like the idea of battery-charged machines, Slique Manually Threading Epilator will be the right choice. It works similarly but requires more hand movements to thread and remove hair with the cotton.
It works well on facial hair and removes them from the roots without causing skin damage. Mess-free hair removal is guaranteed with this threading epilator.
Apart from shaping the eyebrows, you can also use this machine on the face, neck, eyebrows, cheeks, forehead, and chin for hair removal.
What We Like
It is a manual eyebrow threading tool
It can be used in large areas like legs and arms
Easy to carry while traveling
There is no need to charge it
You Might Also Like: