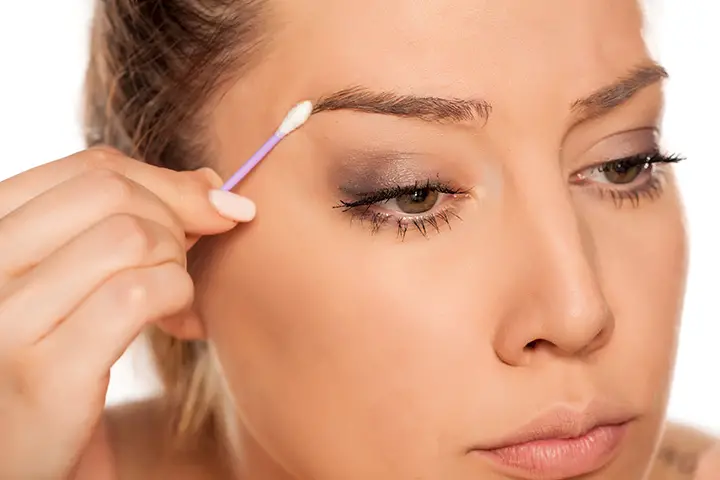 Thin eyebrows don't look as beautiful as thick eyebrows. Those having thinner eyebrows struggle hard to thicken it using various ways. Since it is an essential feature that enhances the looks of an individual, it is essential to try some natural methods to thicken it instead of simply relying on the brow pencils or gels to make them appear thicker.
Oils That Can Help to Thicken The Eyebrows Naturally
There are different cold-pressed oils that can be regularly used to get glamorous eyebrows. Here we have enlisted the best 5 that you must try:
1. Coconut Oil:
This oil can be commonly found in most households, but we are not aware of the numerous health benefits it offers.
The good fatty acids along with the nutrients have antioxidant and anti-microbial properties that are extremely beneficial for the skin and hair.
These work by preventing loss of protein which is important for triggering hair growth.
Process of Using:
Use a cotton swab to dip in the oil and apply it to the eyebrows directly.
This has to be kept overnight and then washed off in the morning.
Make sure to use organic cold-pressed coconut oil and practice this every day to see the benefits.
[ Read: How to Use Coconut oil for Thicker Eyebrows ]
2. Castor Oil:
This oil has a good amount of fatty acids, vitamins, antioxidants, and protein which can nourish the hair follicles and ensure fuller eyebrows.
Process of Using:
Organic castor oil can be directly applied to the eyebrows and left for 30 minutes. After that, use a makeup remover to wipe it off and wash the face with lukewarm water.
[ Read: How To Grow Thick Eyebrows with Castor oil ]
3. Olive Oil:
This oil has vitamins A and E that aid in hair growth. Besides this, the phenolic compound named oleuropein assists in thickening the eyebrows.
Process of Using:
Take some olive oil in your fingertips and massage it. Wash it off with water after leaving for a few hours. This can be done once every day.
[ Read: How to Get Thicker Eyebrows with Vitamin E Oil ]
4. Vitamin E Oil:
This has antioxidants that stimulate the scalp, helping in hair growth.
Process of Using:
Open the vitamin E capsule and massage the oil on the eyebrows. It needs to be left overnight for a better outcome.
5. Jojoba Oil:
This oil has amazing moisturizing and regenerative characteristics. The hair follicles get unblocked because of which thicker eyebrows grow.
Process of Using:
Some drops of jojoba oil can be massaged on the eyebrows using fingertips and left overnight. The next morning, you can wash the face.
[ Read: Does Vaseline Make Your Eyebrows Grow Thicker ]
An Important Note Before Using The Oils:
Before using any of the oils mentioned above for a thicker eyebrow, make sure to do a patch test, i.e apply some oil on the skin and see if it causes rash or irritation. If nothing happens, you are good to go.
Always prefer organic and cold-pressed oils for best results as they are free from any chemicals. Those having very oily skin and other skin issues should better consult a doctor before using the oils for eyebrows.
Final Words:
Using oils for making the eyebrows thicker is the safest natural way that you can try at home without spending a lot of money. But to get visible results, you need to consistently follow it as it does not provide results overnight.
You Might Also Like: