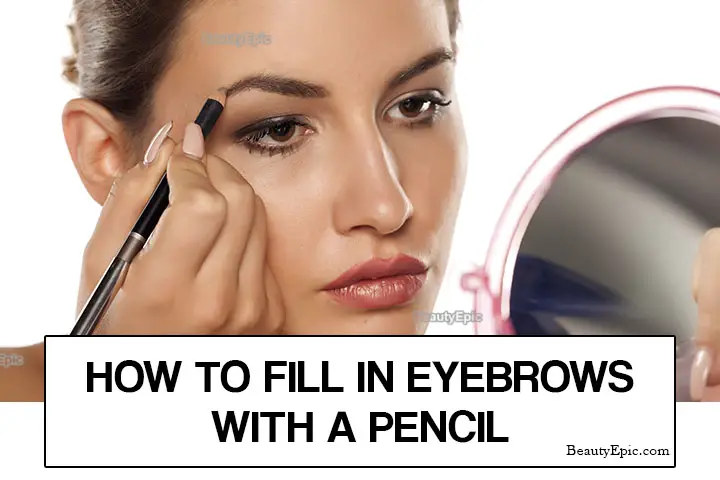 One of the most confusing things about eyebrows is, irrespective of how perfect its shape is, it isn't always clear as to what eyebrow pencil shade should we use. A shade that is ideal for a girl with lighter hair is not going to be the right choice for a girl with black hair.
The most important thing that you need to keep in mind while choosing the shade is that lighter is always better. When you try and match the eyebrow color exactly, you might end up making it look too dark or unnatural. Obviously, this is not the effect you want.
Blond Hair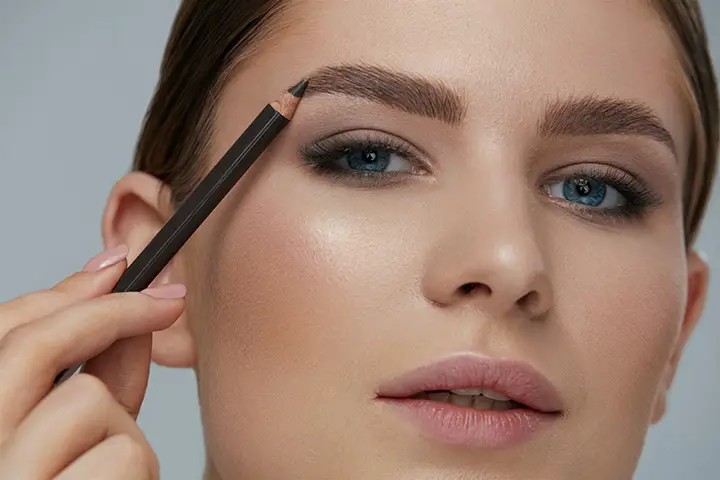 Blondes have to mix something with a warm undertone to avoid looking gray and ashy. Women with cooler hair shade should go for taupe shade. In case you are new to eyebrow pencils, this can be a great way to start.
The shade is appropriate for red to blonde but looks particularly great on blondes with cooler toned hair. In case you are an ash or platinum blonde, this can be a great choice.
In case your hair is on the warmer side such as honey blonde, you can look for a true blonde pencil rather than sticking to taupe.
Ask for a sample eyebrow pencil and try it on the brows to see how good you look. Never buy makeup products without testing it on yourself.
[ Read: How to Shape Eyebrows for Face Shape ]
Black and Brunette Hair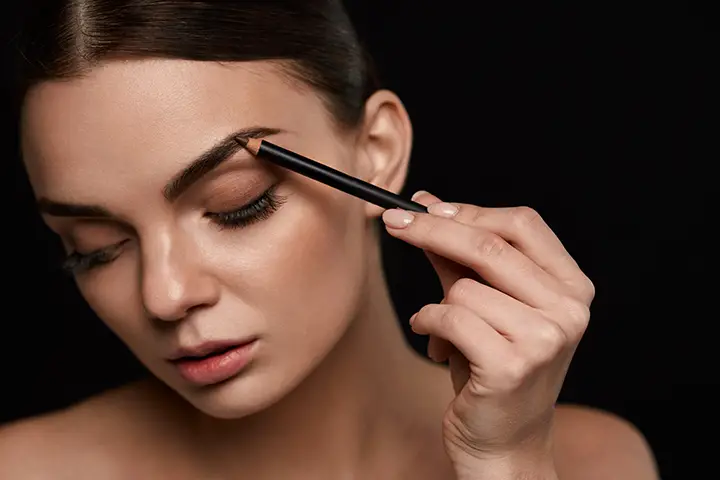 Brunettes should stick to soft browns and not something that is harsh. If you have dark black hair, you should use a pencil that is dark brunette rather than black.
In case you have a deeper skin tone, use black pencil and take something over the brunette shade for making it appear prominent but not something that looks overdone.
It is important to go one shade lighter with the brow pencil so that your brows look softer.
[ Read: How To Shape Eyebrows Flawlessly ]
Red Hair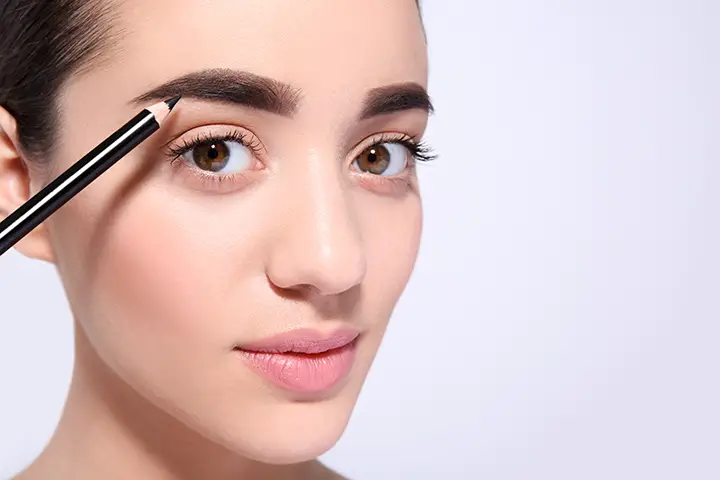 People having red hair need to add a red warm tone.
Better to use gold mascara for setting the brow products as it will look like the sheen on anyone. Thus, in simple words, it is hair-like.
If at all you are looking to color the brows by yourself, make sure that you use only vegetable dye.
[ Read: Everything You Need to Know About Microblading Eyebrows ]
Gray Hair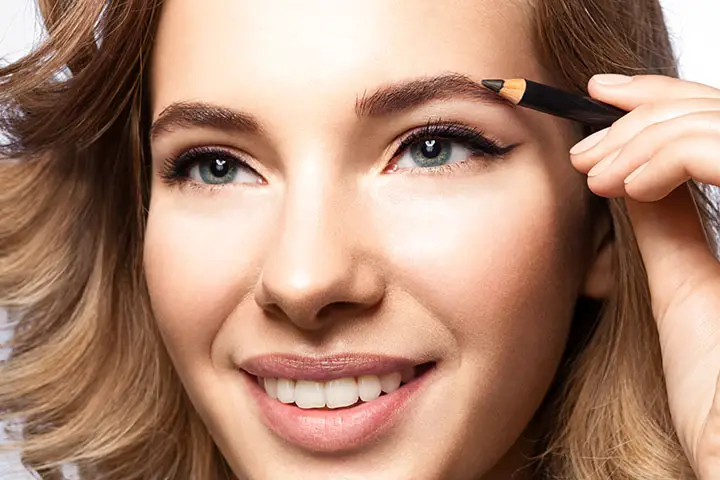 Gray hair is mostly underrepresented when it comes to brow products. It can be quite frustrating for someone who is encountering thinning of hair and has brow which looks sparse.
A majority of the taupe brown pencil which is available in the blonde section will make the eyebrows appear natural.
Give the brows a fuller look by shading the hairs below and above the brows to give it a barely-there shadow feel.
[ Read: How to Use Vaseline for Eyebrows Growth ]
How to Choose the Shape of Your Eyebrows Based on the Shape of Your Face?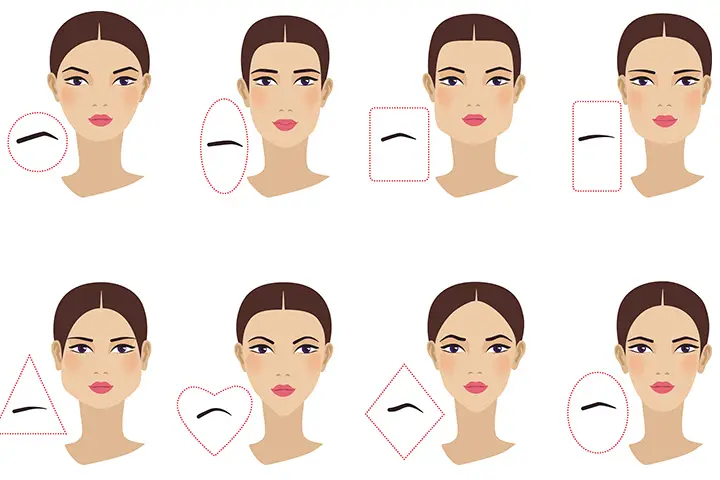 The right shape of your eyebrows and make you appear instantly glamorous. However, when it comes to eyebrow shapes, there is no one size fits all solution. There are six types of face shape and each has its own best shape of eyebrows.
[ Read: How to Grow Your Eyebrows Fast ]
Round Face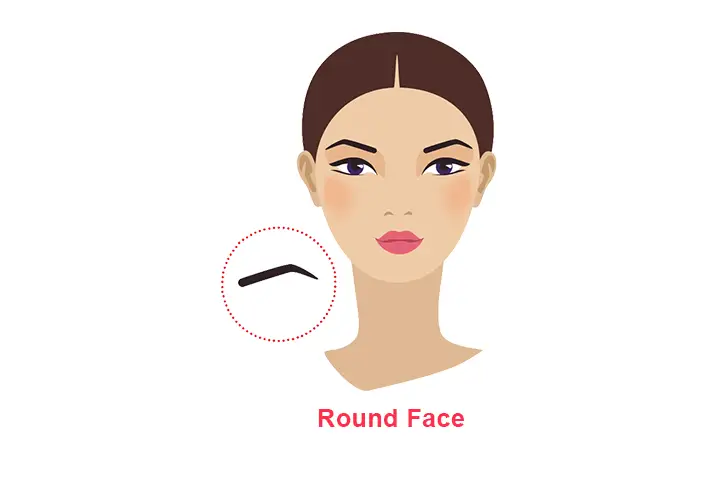 When you have a round face, your aim will be to make it appear longer. Develop high arched eyebrows. In case you do not like a sharp arch, go for a softer one. Don't go for a round-shaped eyebrow as it makes the face look more round.
[ Read: How to Use Coconut Oil for Thicker Eyebrows ]
Oval Face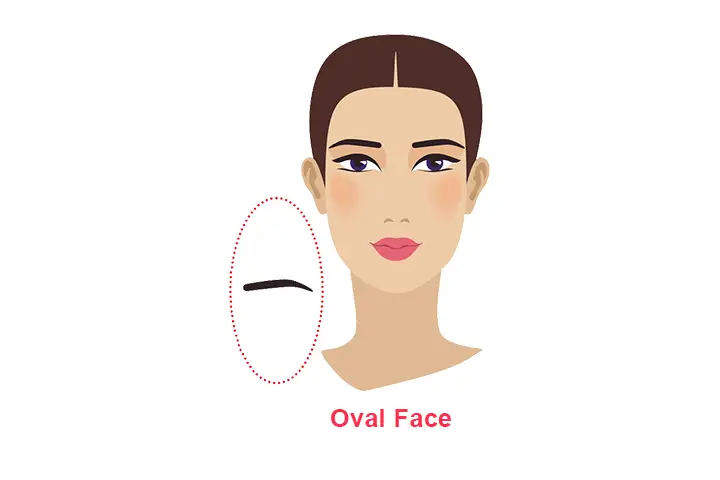 The Oval face is considered to be the best face shape by many. You can opt for a soft angled look. A slight arch can add a little dimension to your face. However, whatever you do, you shouldn't opt for dramatic shape. Since you already have a sharp feature, the dramatic eyebrow will only make it appear sharper and it is not going to look pretty.
Square Face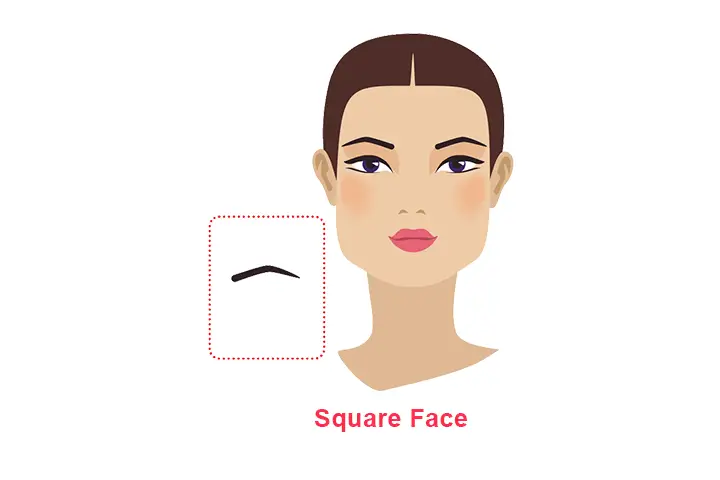 Your jaw and your forehead are at the same distance and this makes you appear squarish. You need to go for a look that softens the look and elongates the features to some extent. Choose medium thickness with a softer arch. Avoid making it too thick or too thin as these can tone down your features which are otherwise strong enough.
[ Read: How to Use Castor oil for Thicker Eyebrows ]
Heart Shaped Face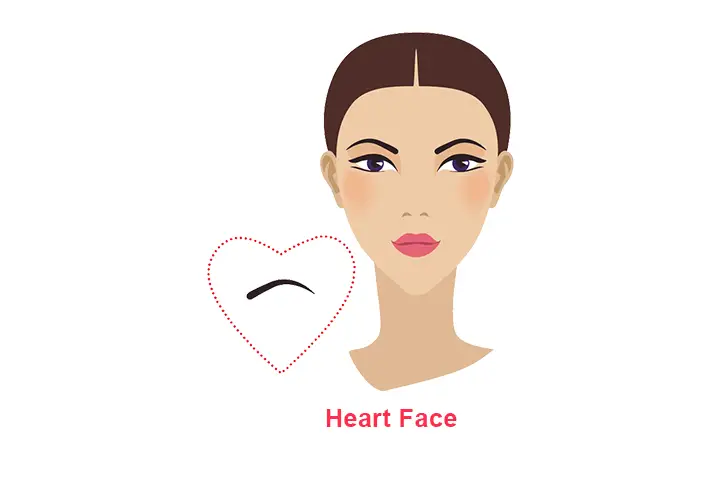 A person with a heart-shaped face will have a pointed chin. Thus, for softening the look opt for a rounded brow shape. A brow with a low arch can give it a natural look. However, if you have a shorter face, ask the beautician to give the eyebrows a sharp arch.
Diamond Face Shape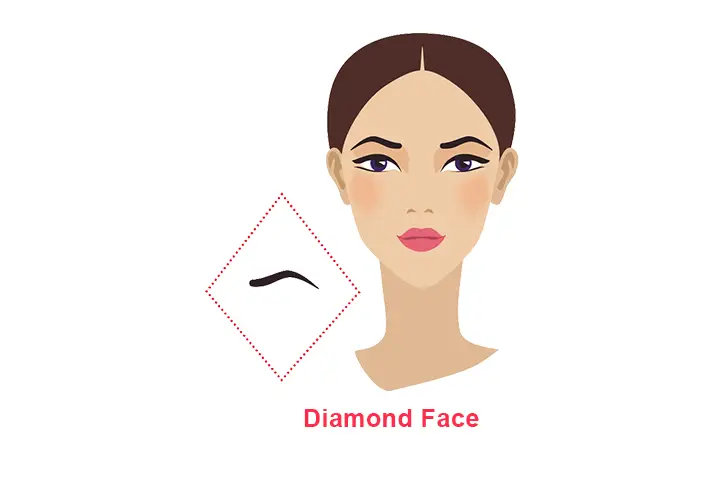 People with a diamond-shaped face soften the features using a curved eyebrow. It is important to use the brow pencil on the hair only so that you enhance what you have.
Long Face
In case you have a long face, your goal will be to make it appear rounder. Hence, you need to avoid arch-shaped eyebrows as it will make the face appear longer. Flat eyebrows that have a no curve or a little downward curve can reduce the length of your face and make it appear rounder. Flat eyebrows are the ideal choice for people with a long face.
[ Read: How to Get Thicker Eyebrows Naturally ]
How to Use Eyebrow Pencil?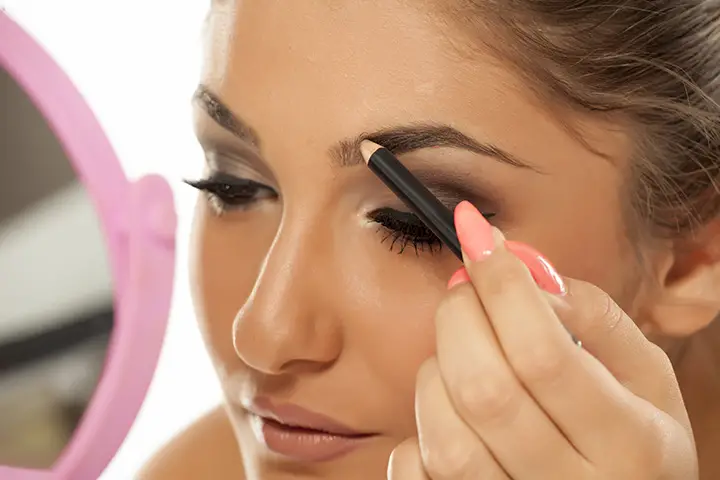 Drawing an eyebrow doesn't have to be difficult, you just have to follow the given steps.
Clean the surface of your face.
Draw an imaginary line from the nose corner to the eye corner. Place a small dot along the imaginary line where it is crossing the brow bone.
From the corner of the nose the corner of the eye, place a dot on the line that is crossing brow bone.
From the outside corner of the nose to the pupil's outer rim, place a small dot above the first dot.
You will have 3 lines; use the eyebrow pencil for connecting the dots.
After drawing use the brush on the end to give the effect of hair-like strokes.
Give a feathered look to your brows by brushing the hairs upwards and downwards.
[ Read: How To Do Eye Makeup For Beginners ]
Mistakes You Make Using Eyebrow Pencil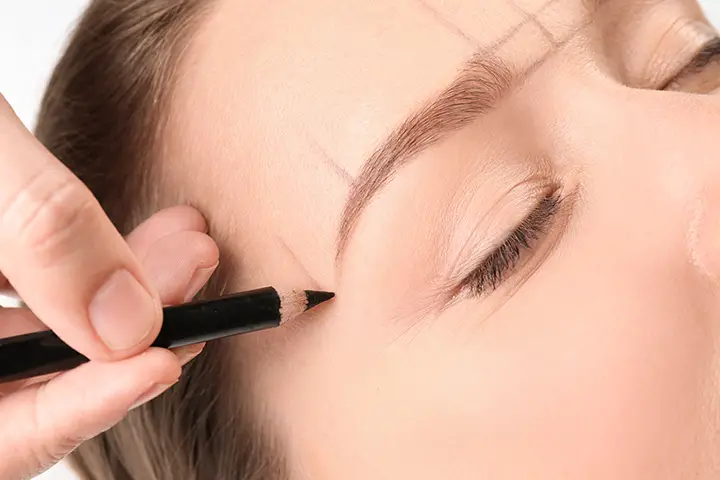 The Don'ts:
Do not use a moisturizer on your brows as it can make the pencil slide.
When you fill in, avoid drawing the whole brow to get solid and harsh lines.
You do not want to use sharp lines. Avoid getting obvious looking lines. You can use a spoolie brush for blending the product.
For contrasting with blonde hair, dark brows can look quite great but avoiding going too dark. It is better to choose two shades lighter than the hair color.
You shouldn't obsess over making them look identical to each other.
Many people do not blend after filling with an eyebrow pencil. However, blending can keep it from looking too overdrawn or harsh.
A perfect pair of eyebrows can frame your face in a great way and will help in bringing out your eyes. Make sure you follow the tips given above to get them in perfect shape.
Best Eyebrow Pencils
You Might Also Like: