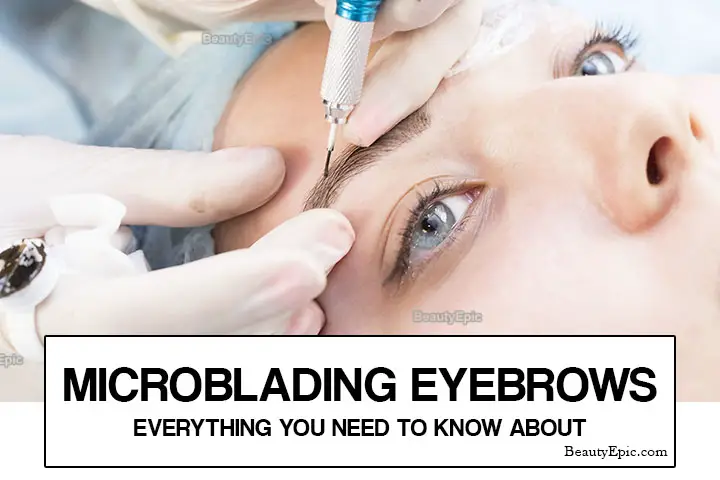 Thinning of eyebrows could be attributed to a varied number of reasons like aging, hormones, weather, health, or just genetics. So is there a solution that will help you achieve lush eyebrows without the hassle of shaping them with eyebrow products and services? Indeed there is, and this technique had taken Instagram by storm.
What Is Microblading?
Microblading is a tattoo-process that helps in achieving fuller brows. Eyebrow experts and make-up artists work with their clients to achieve the most suitable eyebrow shape that differs in every individual. This semi-permanent process lasts for about 18 months to three years. You should always select an expert eyebrow artist who diligently selects the right shape and color and then works efficiently to achieve the best eyebrows.
The tool used for this process is a precise pen with a sloped nib that has 10-12 needles that perform the tattoo procedure.
How is Microblading Done?
After an initial round of discussion where the salon expert decides the shape and color of your eyebrows! This depends on your face contour, features, the thickness of your existing brows, and your skin and hair tone. As discussed above, the needle used for the process has 10-12 needles at the tips which are used to make fine strokes on the brows. These needles work on the skin surface and do not penetrate deep into the inner layers. Your eyebrow expert should have a fine hand for performing this technique and should be experienced enough to select the right brow shape.
[ Read: How to Shape Your Eyebrows Based on Face Shape ]
The needle used for microblading is medical-grade equipment that the makeup artist maneuvers adeptly to achieve featherweight strokes which look realistic and natural.
What Actually Happens When You Get Your Eyebrows Microbladed?
The eyebrow area is shaped by performing threading and then cleaned. The brow area is numbed for the procedure. It takes about 40-50 for the area to become numb. The makeup expert starts drawing fine lines with light careful strokes. Once the treatment is complete, she will apply an ointment that speedily heals the treated area. From a light brow to a lush thick eyebrow, it is possible to achieve any kind of look using the microblading technique.
The entire process takes 30 minutes to an hour, depending upon the thickness to be achieved. The follow-up visit is scheduled for four-six weeks later so that the eyebrow expert can examine your brows and ensure that you are happy with the procedure.
[ Read: How To Shape Your Eyebrows Perfectly ]
Aftercare visits are a must to avoid infections and flare-ups. In the next ten days, the brows might become itchy and flaky and will change color. This is very normal unless the irritation gets extremely flared up. The right color and shape emerge after about 30 days. The salon expert usually goes for a top-up session to fill in gaps and add strokes to spaces that have healed.
Can You Be Allergic to Microblading?
If you are under the supervision of an expert eyebrow specialist, who uses the best equipment for the technique, chances of getting an infection are very rare. And as we discussed, you should never skip your follow-up visits as the salon expert needs to carefully examine the eyebrows after they have been treated.
Some Precautionary Measures
To check whether you are allergic to the treatment, your beauty expert will perform a patch test to test for allergies.
Also, remember to use sunscreen religiously after the treatment.
You should refrain from using Retin-A or retinol products about a week before an appointment and 30 days after getting your brows done. The ingredients in retinol can cause the brow pigments to fade away.
Try not to wet the brows for a week while they heal, and don't use any makeup on the area for at least a week.
[ Read: How to Use Castor oil for Thicker Eyebrows ]
Are Microbladed Eyebrows Worth It?
The onus of getting your eyebrows microbladed successfully lies completely on the eyebrow expert. The best in the industry use superior quality equipment and keep themselves updated with the changing industry trends. You should consult people, check reviews, ask the beauty experts about the products that they use for microblading and then go ahead with this treatment. If done by the right experts, microblading helps in achieving beautiful eyebrows that enhance your overall look and personality.
How Much Does Microblading Cost?
The price of microblading treatment is $900(approx), in which the top-up session treatment is added. Prices may vary subject to the salon expert's charges.
How Long Do Microblading Eyebrows Last?
Microblading lasts anything from 12 to 18 months and is detrimental to many factors. For people with oily skin, the pigment will last not more than 12 months. With those who have normal skin, it could last up to 18 months.
[ Read: How to Use Vaseline for Eyebrows Growth ]
Does Microblading Ruin Your Natural Eyebrows?
With proper pre-microblading precautions and post microblading care, the natural eyebrows remain unharmed. The choice of equipment and pigment should be top-quality.
Will Microblading Go Away Completely?
Yes, since this is a semi-permanent technique, after the stipulated period of 18 months, it goes away completely.
Should I Wash My Face After Microblading?
You should take precautions and avoid getting your brows wet or sweaty for a week after the treatment. You can use a medicated facewash like Cetaphil to clean the skin and dab your face gently, as it will not peel away the pigment (only if the beauty expert recommends you to do so).
Microblading your eyebrows is absolutely a personal choice. If you really want lush eyebrows, you can opt for this treatment. Select the most experienced beauty experts for this process and ask for the best products. Try not using makeup for a week after the treatment. With some proper care and followup, you will definitely keep those thick eyebrows for a year and more.
You Might Also Like: