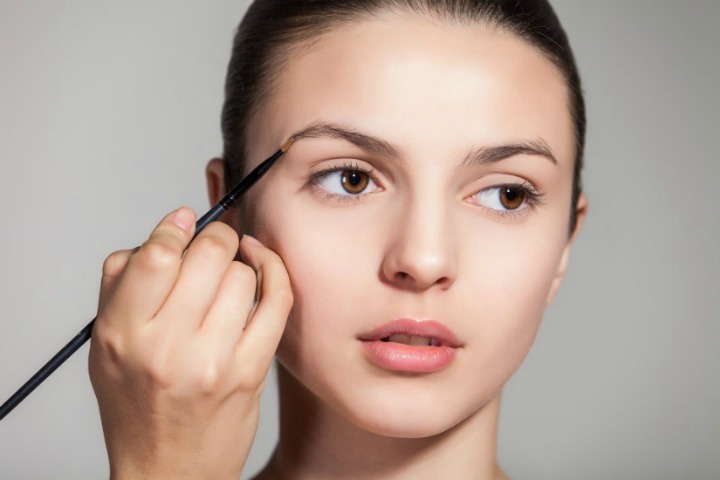 Shaping you eyebrows perfectly is an art. But there are two very important things that you should consider when you do your eyebrows. Always keep in mind the natural shape of your eyebrow and the shape of your face. So to help our ladies with how they could shape their eyebrows perfectly, here we have all the facts and figures listed. So lets get the threading and tweezing started.
What Are The Types Of Eyebrows
1. The Thick Eyebrows
Well, if you are on the thicker side then you are slightly privileged than the other women. For women with these, you only need to keep the shape of your face in mind and get your eyebrows threaded to the desired shape. But the only issue one can is that thick eyebrows grow too fast and you might have to thread them a couple of times in a month. It is always good to carry a pair of tweezers to pluck all that extra hair out. However, thick and well-defined eyebrows are a trend now, so just trim them right and flaunt them like never before. A bit of mascara will do wonders.
2. The Thin Eyebrows
If you have thin eyebrows, then threading should not be your thing. You should just stick to tweezers and pluck the extra ones out. If one lands up threading, they might land up looking eyebrow less and that could be scary. So keep in mind your natural shape of your eyebrow and pluck them accordingly. To give your eyebrows a fuller look, one can use an eyebrow pencil or eyebrow powder. Avoid using mascara, it might spread and look untidy.
[ Read: 10 Best Eyebrow Pencils For No Eyebrows ]
3. An Uni brow
The moment we think of an unibrow, our very own Bollywood actress, Kajol comes to our mind. While she rocked the 90's with her thick and wide brows, she has now settled down for a softer and subtle shape. Looking elegant and sophisticated sporting an unibrow, she definitely gives a lot of inspiration to us. If you are among the ones who have these brows, remember its all about keeping it subtle and soft.  The thick and wide ones are a big No No!
4. The Flat Eyebrows
Flat eyebrows need some extra effort on them. They might have the length and the width, but are too much in-to- the face. But we can still have you make them look good .The key to make flat eyebrows look fabulous is to keep the gap between them a little wide. Keeping them too close can make the flaw more evident and it might be difficult to tackle with other means. So to make them look perfect ensure you thread right in between your brows for them to look wide apart. Giving your eyebrows a slight curve at the outer end will further enhance them and make them look beautiful.
5. Arched Eyebrows
Another set of lucky woman I must say! If you have arched eyebrows, then you should be thanking your stars for it. Women with these eyebrows have the right shape, all they need to do is tweeze out some extra ones here and there. You can flaunt a natural arch but if you are looking at curving them to a high point, you can always try that out. Ensure you look edgy but keeping the classy quotient intact.
How To Choose The Right Eyebrows For Your Face Shape
Have a look at the different shapes
Oval shape

If you have the ideal oval face shape then you should opt for soft angled eyebrows.

Round shape
  For ones with a round face, high arched eyebrows will help make the face appear slender and look longer.
Square shape

For people who have a square or symmetrical face, they should opt for a softly arched eyebrow shape that will narrow down the jaw-line and balance the look.

Heart / Triangular shape

The ones with a heart shape or a triangular shape face, usually have a broader forehead. For them thicker and fuller eyebrows look perfect. They should avoid narrowing the eyebrows as narrow ones make the forehead look wide. Ones with thinner eyebrows should definitely enhance their eyebrows with eye-pencils

Long shape

If one has a longer face, they shouldn't have high arched eyebrows. Soft arch or slightly round shaped eyebrows look fabulous and create an illusion of a lesser longer face.
Have a look at the chart below and pick up the right shape of the eyebrow for your lovely face.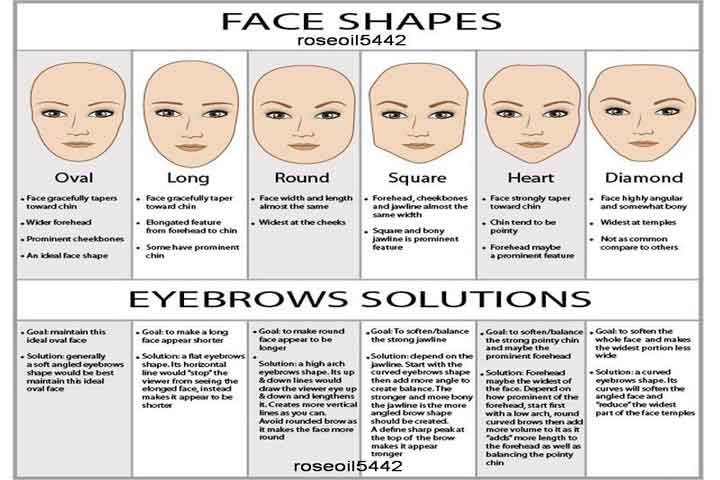 How To Pick The Right Shape For The Eyebrow
Now once you have understood your face shape right, have a look at the natural shape of your eyebrow. Depending on your natural shape, you can pick up from the following eyebrow shapes.
How To Avoid Eyebrow Mistakes
You can do the following to avoid your eyebrows from looking messy and undone. Check it out!
Avoid making them look identical. You would land up plucking more.
Avoid over-darkening your eyebrows, they can look extremely made up and fake.
Avoid over plucking them. Over a period of time the growth will get affected and the brows will start getting scanty and less in density.
Avoid using the wrong mascara brush. They make the eyebrows look flat.
Avoid starting your arch at the wrong spot. It makes your eyebrow look over edgy and pointy.
Do not forget the eye-brow gel. If you want all that effort to show results, have your eyebrow gel on and keep the shape intact.
Avoid these and look fabulous. Well, with is we hope all our ladies have a good time tweezing up those eyebrows and look phenomenally beautiful. Have a great time!
You Might Also Like: