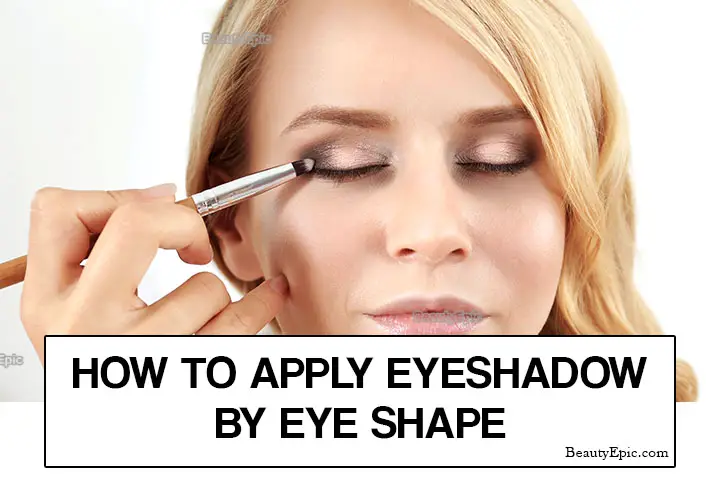 Eye shapes of different individuals differ and accordingly so do the makeup requirements. Here we take a look at the different eye shapes and how they are defined. Once you become aware of the kind of eye shape you have, it becomes easier to define them with the right makeup techniques.
Apply Eye Shadow by Eye Shape
Shapes of Eyes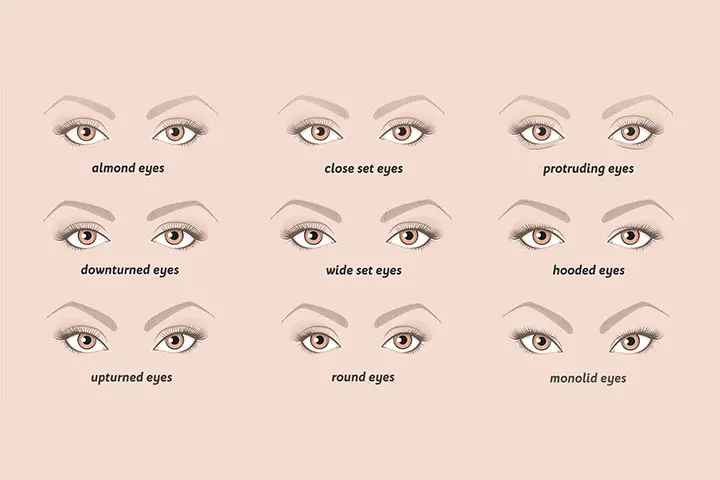 Shapes of eyes can be of the following kinds:
Almond Eyes
This particular eye shape is defined to be of the right proportions. They narrow towards the inner and outer corners and are wider in the middle.
Close Set Eyes
Such eyes are characterized by one being closer to the nose; the inner edges seem to be close together. For that reason, makeup techniques need to be different for such shapes as compared to almond or round eyes.
[ Read: Eye Makeup Tips for Close Set Eyes ]
Down Turned Eyes
This set of eyes usually has upper eyelids that droop down. This creates a downturned look; for such a shape the eyes need to be done in a way to balance the eye makeup.
[ Read: 7 Best Eye Creams For Droopy Upper Eyelids ]
Deep Set Eyes
These eyes are deep in sockets and have a small upper eyelid. Makeups for such eyes need to be such that the eyes appear bigger and brighter than usual.
[ Read: How To Do Smokey Eye Makeup ]
Protruding Eyes
These eyes bulge out from sock to lash; that make them difficult to work with makeup. However the right choices of colors are important to blend in and bring out a balance in the looks.
Hooded Eyes
In such eyes then there is a layer of skin that folds over and falls on socket line. It is more apparent with age. There are makeup techniques that one can employ to bring in a balanced look.
[ Read: Eye Makeup For Deep Set Eyes ]
Monolids
This is an eye shape common among Asian women. The upper eyelid is not defined, often the brow skin ends over the upper eye and creates a narrow, slit-like opening.
How to Apply Eye Shadow by Eye Shape?
There are makeup tips that one can use for applying eye shadow as per eye shape. Eye shadow is known to be transformative; one can work with different textures, colors, and blend in different ways to create looks that are cool and new, no matter what kind of eye shape you have.  However, though eye makeup looks are varied and some more popular than others, you need to consider your specific eye shape to know what makeup finish would look good for you.
[ Read: How To Apply Eyeshadow Like A Pro ]
Opt for the Two-Toned Cat-Eye Look
This is a good technique to adopt when you have downturned or hooded eyes. These are eyes where the lids are sloped. One way to offset the look is to draw attention to it by creating a look that is of a cat-eye and two-toned.
Do The Cat Eye
To begin one can draw the cat eye with the eyeliner. This helps to bring an outward and upward flick on the upper eyelid. Once that is done one can move onto the eye shadow.
[ Read: 10 Best Smudge Proof Eyeliner ]
Use Complementary Eye Shadow Colors
Here one can blend in two complementary shades. That helps to bring in character and dynamism to the entire look.
Enhance Cat-Eye Look
Women with monolids usually have a natural cat-eye shape. That can be enhanced by an eyeliner or an eye pencil.
Use Trio of Colors
To enhance the upper lid area, use layered or trio of colors. It is akin to creating a watercolor palette effect on the eyes.
[ Read: 10 Best Waterproof Eyeliner ]
Almond Eyes
There are different looks you can create for such eyes. Among them, smoky or bronzy eyes are flattering looks to opt for.
[ Read: Eye Makeup For Green Eyes ]
Use Cream Bronze or Shimmery Shades
Swipe darker of the shades over the upper eyelid. Layer on lighter shadow from crease to brow.
Outline with Liner
To get the overall look it is best to use the eyeliner across the entire eye. One can use a shadow brush to add on a blended effect.
Round Eyes
These can look great when one shade is used, typically light shades that add on a chic and classic look.
Use Eyeliner of a Light Shade
One can define the upper eyelid's rim with a light brown eyeliner, especially for daytime look.
[ Read: How to Apply Liquid Eyeliner for Beginners ]
Use Colors on One Lid
Use of a light eye shadow shade like lavender would look classy and not over the top which is a good effect for round eyes.
Hooded Eyes
With a large part of the upper eyelid exposed, it works well with a smoky eye effect.
Use an Eye Pencil
To create smoky eyes, start with an eye pencil and outline the upper eyelid.
Use Grey or Brown Eye Shadow
These work well to create the smoky eye effect, blending in with the eyeliner. Use brown or grey tones to blend upward, towards the brow bones.
With different eye shapes, there are different makeup techniques that one can use to highlight their eyes in unique ways and flatter their unique eye shapes.
Best Eyebrow Products
You Might Also Like: