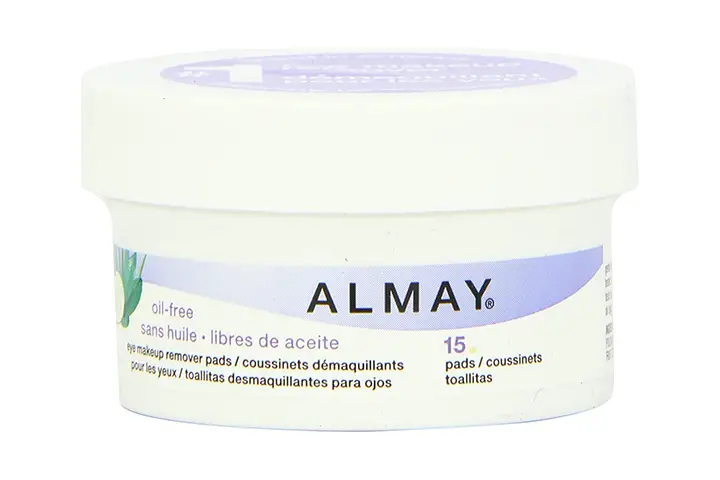 The skin around the eyes is extremely delicate so use almay oil free eye makeup remover to remove the eye makeup. It works gently on the eyes and lifts the dirt and debris from the skin.
Almay eye makeup remover works effectively. These hypoallergenic eye makeup remover pads are easy to carry and use. It is perfect for your gym bag, travelling or anywhere you need.
Almay Oil Free Eye Makeup Remover Pads
How it Works:
It is made with a botanical blend of aloe, cucumber and green tea, sweeps away makeup without irritation.
These pads remove all traces of makeup that soap and water can leave behind with no greasy residue.
These wipes feel totally comfortable over the skin.
Simple to use and removes all stubborn makeup from liner to shadow to waterproof mascara.
Pros:
Oil free eye makeup remover pads.
Mini size, great for a gym or travel bag.
Sweep away all tough makeup without irritation.
Dermatologist or ophthalmologist tested.
Effective eye makeup removal in a pad.
Suitable for all skin types.
Fragrance free.
Cons:
Can cause wrinkles from rubbing at your eyes.
Rating: 4.1 out of 5
This is an effortless and hypoallergenic eye makeup remover and it will help to remove the tough eye makeup. It is travel size for easy on-the-go makeup removal or easy touch up.
Frequently Asked Questions (FAQ's)
Q. How many pads will be in one container?
Ans: 1 contains 15 pads.
Q. Are the pads gentle on the eyes?
Ans: Yes, very gentle. I have been using these for several years. Have tried other brands but they're not as good.
Alternate Product;
You Might Also Like: