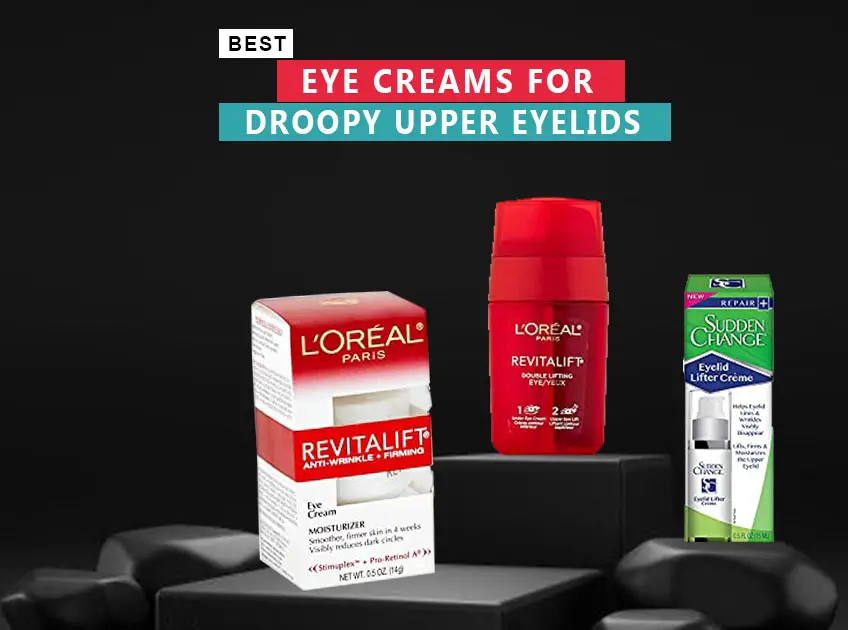 Creams that restore skin's firmness and elasticity are considered the best eye cream for droopy upper eyelids. At the same time, it should have good lifting capacity and act as a primary line of defense.
Eye Creams
Even though invasive treatments and Botox help revive droopy upper eyelids, many eye creams can effectively manage them. Infused with skin-loving and anti-aging ingredients, these creams are perfect for giving skin a firmer and younger look while combating droopy upper eyelids.
Check out the 7 best eye creams for droopy upper eyelids that we have hand-picked based on their quality and performance.
7 Best Eye Creams For Droopy Upper Eyelids
1. Multi-Purpose Eye Cream: L'Oréal Paris Skincare RevitaLift Double Lifting Eye Cream Treatment
It is infused with Pro-retinol A and Pro-tensium E, reduces wrinkles, and diminishes the appearance of dark circles
It is a two-in-one cream that tightens the sagging skin caused due to aging
It reduces wrinkles and the appearance of fine lines and aging spots
It helps give firmer, smoother, and brighter skin, especially around the eyes, to give you a youthful glow
What We Don't Like: It contains phenoxyethanol.
[ Read: Homemade Rosehip Oil Eye Cream For Wrinkles & Dark Circles ]
2. Free of Toxic Chemicals: Sudden Change Eyelid Lifter Crème
It is packed with antioxidants that fight free radicals and help reduce fine lines and wrinkles
The non-greasy formula stays light on the skin and gets absorbed into the skin easily
It contains multiple anti-aging ingredients that help firm the skin and prevent droopy upper eyelids
The active ingredients are Retinyl palmitate, fennel seed extract, and glycerine
It is free from harsh chemicals that can irritate sensitive skin
What We Don't Like: It contains parabens.
[ Read: Paula's Choice CLINICAL Ceramide Firming Eye Cream Review ]
3. Ultra Hydrating Formula: Lagunamoon Advanced Repair Eye Cream
It is one of the most effective anti-aging formulas, infused with Vitamin E and C
Castor oil in the cream helps repair the damaged skin and prevent issues of dark circles, wrinkles, fine lines, and sagging eyelids
Infusion of hyaluronic acid provides deep nourishment to the skin and locks in the moisture to prevent it from drying
The key ingredients are Vitamin C, Vitamin E, Castor Oil, Hyaluronic Acid, Niacinamide
What We Don't Like: It may irritate sensitive skin; therefore, a patch test is recommended.
[ Read: 6 Homemade Natural Eye Creams for Dark Circles ]
4. Lifting Complex: Filorga Time-Filler Eyes Absolute Eye Correction Cream
It is loaded with hyaluronic acid that hydrates the skin deeply and firms the skin
The lifting complex also works in favor of youthful and younger skin, preventing sagging skin and fine lines
Silk extracts and tripeptides nourish the skin and help promote healthy skin.
The key ingredients are Hyaluronic Acid, tripeptides, Persian silk tree extract, a lifting complex, and pro-vitamin B5
What We Don't Like: It contains phenoxyethanol
[ Read: How to Get Healthy Skin Naturally at Home ]
5. Collagen Booster: Estetist Coffee Eye Lift Cream
It is packed with caffeine that increases collagen and elastin production to make the skin around the eyes firm and tight
Addresses multiple issues like dark eye circles, puffiness, fatigue, and much more
It contains glycerine that nourishes the skin and keeps it moisturized
The key ingredients are caffeine and glycerine
What We Don't Like: The consistency of the cream is thick.
[ Read: Top 10 Essential Oils to Reduce Puffiness Under Your Eyes ]
6. Dermatologist Tested and Approved: L'Oreal Paris Revitalift Anti-Wrinkle + Firming Eye cream
It is one of the most powerful and effective eye-firming creams with anti-wrinkle effects
It features the exclusive Stimuplex Technology that improves skin elasticity and firmness.
Infused with eight natural proteins such as elastin, perlecan, fibrillin, integrin, collagen 3, 4, 7, and chondroitin sulfate, it helps maintains the skin's integrity
Also consists of skin-loving ingredients like pro-retinol, sal seed butter, and Gotu Kola extracts that stimulate the skin's firming capacity
What We Don't Like: It may cause breakouts to start with less quantity.
[ Read: Arvesa Collagen Anti Aging Cream Review ]
7. Effective and Affordable: Neutrogena Hydro Boost Eye-Gel Cream
It nourishes the soft and delicate areas around the eyes, making them soft, smooth, and firm
Enriched with skin-loving ingredients like hyaluronic acid, it locks the skin's moisture for over 24 hours
The gel formula absorbs easily into the skin without clogging pores; thus suitable for acne-prone skin too
Hyaluronic acid is the active ingredient, and it is free of fragrances, dyes, and oils
What We Don't Like: The quantity of cream is less than other eye creams.
[ Read: How To Get Rid of Open Pores Naturally at Home ]
Conclusion
Buy any of these best eye creams for droopy upper eyelids and give a complete makeover to your eyes.
You Might Also Like: