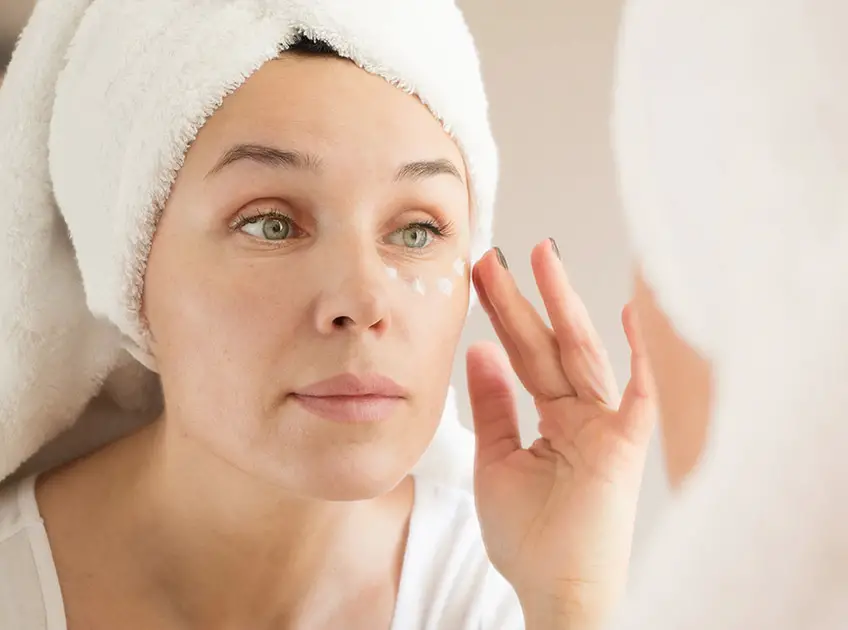 Under-eye cream is an important part of the skincare routine that keeps the skin moisturized and soft, keeping away puffiness, fine lines, wrinkles and dark circles. There are many under eye creams available in the market but these can be made at home with natural ingredients which have a better impact. Let us check out some of these homemade eye creams for dark circles.
Homemade Under Eye Cream for Dark Circles
1. Aloe Vera and Turmeric Under Eye Cream
Ingredients:
Aloe Vera or Almond oil- 5 tbsp
Vitamin E capsules- 4
Organic Turmeric- 1/2 tsp
Recipe:
In a bowl, squeeze the contents of vitamin E capsules.
To it, add the almond oil if you have normal skin or else aloe vera gel for oily skin.
Add turmeric to it and mix everything thoroughly.
Do a patch test to check if it stains the skin.
If there is no stain, apply it before going to the bed.
Benefits:
Puffiness under the eyes is reduced by almond oil which even enhances the complexion and skin tone of dry skin.
Similarly, aloe vera has moisturizing characteristics that lighten the dark spots, blemishes and dark circles.
Skin remains hydrated and glows with Vitamin E, thus reducing the dark circles.
Finally, turmeric brightens the skin.
[ Recommended: Does Baking Soda and Lemon Remove Dark Circles? ]
2. Evening Primrose and Coconut oil Eye Cream
Ingredients:
Coconut oil: 1/2 cup
Vitamin E capsules- 5
Primrose oil- 1 tbsp
Recipe:
Melt the coconut oil in the microwave for 15 seconds and add then add the vitamin E capsule contents to it.
Then add 1 tablespoon primrose oil.
Keep this mixture in the fridge and let it solidify after which you can use it as a cream in the morning before applying makeup and before sleeping.
Benefits:
Vitamin E oil has anti-ageing and firming characteristics, hence it helps in fighting wrinkles.
Fine lines are reduced by Evening Primrose oil which reduces skin inflammation, softens the skin and reduces dark circles.
Under-eye skin easily absorbs coconut oil, making it supple.
The combination keeps the skin hydrated.
[ Recommended: Vitamin E oil for Dark Circles – Benefits, Uses and Tips ]
3. Shea Butter and Coffee Eye Cream
Ingredients:
Shea butter – 1 tbsp
Coffee – 1/2 tsp
Recipe:
Brew the coffee and cool it. To this, add 1 tablespoon of shea butter and mix thoroughly.
Gently warm the mixture in a sterile, stainless pot can make it easier to blend as the shea butter will soften.
Transfer it into a container and let it cool.
Use a Q-tip for applying dots of the cream above and below the upper and lower eyelashes respectively and pat them so it gets absorbed by the skin.
Benefits: Caffeine is effective in reducing dark circles, reducing under-eye pigmentation and puffiness.
[ Recommended: Does Lemon Juice Help Dark Circles Under Eyes? ]
4. Cucumber and Mint Under-Eye Cream
Ingredients:
Milk-3 tbsp
Aloe vera gel-1 tbsp
Almond oil- 3 drops
Cucumber and mint- small amount
Recipe: Blend the above ingredients to the paste that needs to be applied under the eyes. Let it sit for 10 mins before washing it off.
Benefits: Cucumbers have vitamin K which reduces dark circles. Mint has anti-oxidant properties which have soothing characteristics on the under-eye area.
5. Avocado and Almond oil Eye Cream
Ingredients:
Avocado – 3 slices
Almond oil – 5 drops
Recipe: Blend the above ingredients and apply them to the target areas. You can wash it off in 5 minutes.
Benefits: Avocado is a great moisturizing agent that even reduces the fine lines. Skin cells are renewed by the almond oil, which decreases puffiness around the under-eye area
6. Shea Butter and Chamomile Eye Cream
Ingredients:
Shea butter: 1 tbsp
Chamomile essential oil: 10 drops
Recipe: In a pan, warm the shea butter over low heat. Add the pure chamomile essential oil to it and mix well. Let the mixture cool before applying as a regular under eye cream.
Benefits: People with dry under-eye areas can find this very soothing as the cream has a moisturizing effect.
Using the DIY under eye creams, made with good quality natural ingredients can help you get rid of the dark circles and rejuvenate your skin on regular use.
You Might Also Like: