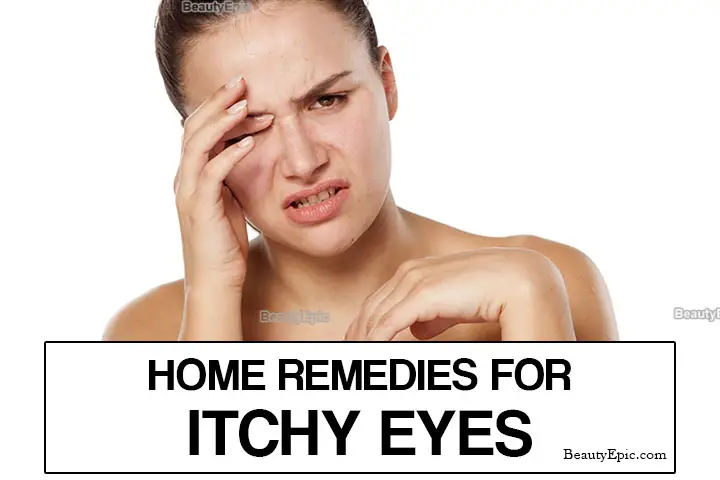 Most of us usually ignore such kind of problems like having itchiness in eyes. We usually feel the very much itchy eyes due to dust or over strain or some kind of chemical used in the eyes but on an honest itchiness in the eyes is really a very big problem It could be a symptom of a very big problem going into your Nervous system. If we talk casually yes itchiness is a really very common problem going on these days. It is to every second person we know! Moreover this problem mostly happens to those people who are living in the polluted areas and in the areas where dust level is really very high and itchiness attract those eyes who are really very sensitive towards the dust prone climate. To avoid itchiness to the eyes you must always wear your glares or shades and also you must always clean your eyes at regular interval and you may use some prescribed chemical eye drops to your eyes to make your eyes clean and healthy. Here we listed out some effective home remedies for itchy eyes these remedies are really effective if you follow them regularly.
7 Best Home Remedies for Itchy Eyes
If you want to cure the itchiness of your eyes in a very simple manner and at home itself you may follow the below mentioned home remedies which are prescribed in the article below these remedies are really effective if you follow them regularly and with dedication your itchiness or allergy in the eyes will be cured fully by these simple and easy remedies at home itself. These are not only simple rather these remedies are affordable to everybody.
Now let us know that what the "itchiness in the eyes exactly mean"?
Itchy eyes mean an unpleasant itchy sensation or a sensation to rub your eyes vigorously inside and around the eyes.
By rubbing your eyes may also sometimes make your eyes getting deep red color and this is not a symbol of good and healthy eyes you must follow these remedies or go and check a doctor for your eyes health.
Cold Compress for Itchy Eyes
Applying a cold compresses around the affected or allergic eye area can help a lot to you get an instant relief from the irritation.
How to do:
The simplest way follow this is to simply soak a cloth in ice crushed cold water and then place this cold cloth directly it over your eyes.
Do this several times after taking a slight break of 1 minute.
Chamomile tea bags are also being used as a cold compresses and this can also be really helpful to relieve itching eyes.
You just need some used chamomile tea bags in the refrigerator or freezer for about half an hour.
Then place the chilled tea bags over and above the affected eyes for at least 10-15 minutes.
Do this for about three to four times for fast recovery.
Cucumber for Itchy Eyes
Cucumbers are known to have anti-irritation properties that help a lot in reducing inflammation, puffiness, also swelling and irritation that is contributing to itchy eyes.
How to do:
You just need to thoroughly wash a healthy cucumber and cut it into thin slices.
Refrigerate the slices for 15 to 20 minutes till they are chilled enough, and then put these slices over your eyes for at least 10 minutes.
Repeat the process 3 times a day.
[ Read: How to Get Something Out of Your Eye Safely ]
Cold Milk for Itchy Eyes
Cold or chilled milk is also one of the good and best home remedies for itchy eyes.
How to do:
Dab a cotton ball in cold/chilled milk and rub it around the eyes.
You can also place a cotton ball which is soaked in milk and then on the eyes as a compress for an instant cooling effect.
Do this amazing and effective remedy twice a day and in the morning and in the evening.
Rosewater for Itchy Eyes
Pure or freshly made cold rosewater is one of the most effective home remedies for itchy or allergic eyes. It has soothing, cooling and healing properties for the eyes. It can be used in a couple of ways like below:
How to do:
Rinse your eyes with fresh and chilled rosewater for at least twice a day.
You can also use simple rosewater as eye drops for instant relief initially it might feel strong but after few days it will be okay.
Put 3-4 drops of rosewater into allergic eye.
[ Read: Pink Eye (Conjunctivitis) Symptoms, Causes and Treatments ]
Green Tea for Itchy Eyes
Green tea is a new and very popular yet effective and helpful product available these days. It has many and uncountable health benefits that includes providing a great relief from irritating itchy eyes. It also soothe up the eyes and has powerful anti-inflammatory benefits.
How to do:
Wash your eyes.
Now by boiling two green tea bags in one cup of distilled water.
Allow this to cool down completely.
Wash your eyes twice a day with this solution until your symptoms subside.
[ Read: How to Treat Pink Eye Naturally ]
Aloe Vera for Itchy Eyes
Owing to its natural soothing and silk like moisturizing properties and aloe vera is another natural, super powerful and fully effective home remedy for sore, and itchy eyes.
How to do:
You need to mix some aloe vera gel that must be extracted from an aloe leaf with and with one teaspoon of honey and about one-half cup of elderberry blossom tea.
Then you must rinse your eyes well with the solution for at least twice a day until the problem is solved fully.
 Alternatively, you may also just simply use the aloe vera juice as an effective eyewash.
There are many natural based aloe vera products available in the market you may buy any of those to cure the problem.
Raw Potatoes for Itchy Eyes
Raw potatoes can also bring a quick and instant relief from itchy and allergic eyes due to their astringent properties. Thus, they really help to be relieved from redness and inflammation.
How to do:
Cut some raw potatoes into thin-round slices just like cucumber and keep them in the refrigerator for a good time.
Put these chilled slices over your eyes for 15 to 20 minutes.
Do this daily for about 4 days or at night before going to sleep.
You Might Also Like:
Image:- 1