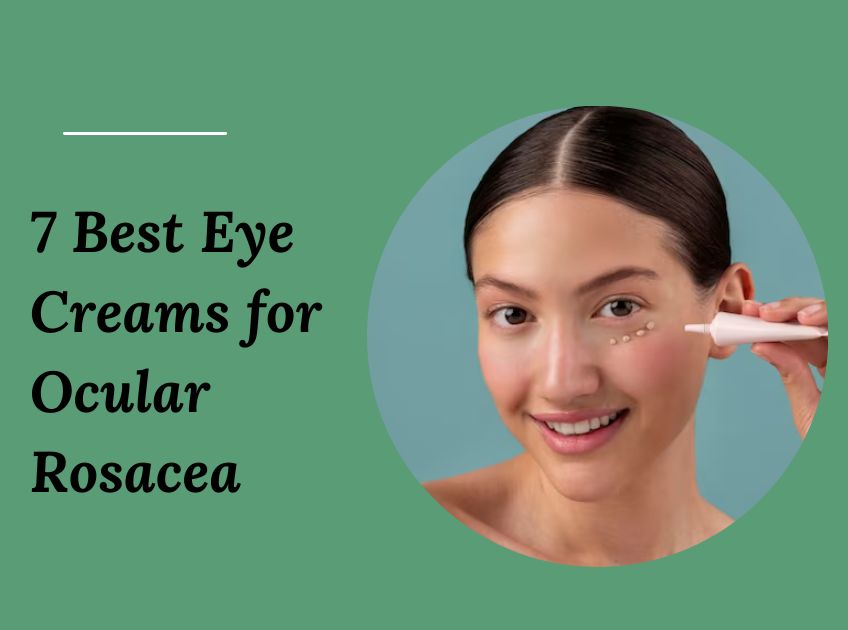 One of the challenging skin conditions, Rosacea, can trigger Ocular Rosacea too. It leads to uncomfortable symptoms like sensitivity to light, itching, burning, and dull and dehydrated skin around the eyes.
Fortunately, like Rosacea, there are different ways to treat and manage ocular Rosacea. One of the most effective and the best way to treat it is using an eye cream formulated to control the symptoms.
The best eye cream for ocular Rosacea should increase skin hydration and soothe the eye area. Also, it should have soothing ingredients that calm irritated skin. We have listed the 7 best eye creams for ocular Rosacea to provide instant relief from invigorating symptoms.
Check them out!
7 Best Eye Creams for Ocular Rosacea
1. Dermatologist Approved: EltaMD Renew Eye Gel
Helps treat ocular Rosacea most effectively, treating dehydrated eyes and also removes under eyes puffiness
Addresses multiple eye concerns and makes eye soothing and calming
The infusion of moisturizing and firming components like peptides and hyaluronic acid is an added benefit
The presence of Vitamin C helps reduce discoloration and protect from environmental stress
Helps relieve symptoms of ocular Rosacea
What We Don't Like: It may feel slightly greasy on the skin.
[ Read: Baebody Eye Gel for Under and Around Eyes Review ]
2. Soothing and Hydrating: DERMA-E Hydrating Eye Cream
Helps combat irritated, tight, and dry eyes due to ocular Rosacea
It is an amazingly soothing, and hydrating cream with skin-loving ingredients
It is suitable for sensitive and vulnerable eyes, making them calm and soothing
Infused with natural components that stay safe and gentle on the thin and delicate skin around the eyes
Consists of hyaluronic acid, Vitamin C, and green tea extracts
What We Don't Like: If you have sensitive eyes, a patch test is recommended
[ Read: 7 Effective Home Remedies To Treat Eye Infections ]
3. Multi-Purpose: CeraVe Eye Repair Cream
Manages different issues like redness, dryness, itching, and more that happen due to ocular Rosacea
Promotes healthy skin barrier with different ceramides present in the cream
It hydrates the skin and combats harsh external factors
Also contains hyaluronic acid that deeply hydrates the skin, along with Niacinamide and Marine/Botanical Complex
It is ophthalmologist-tested and safe
What We Don't Like: It may initially feel slightly greasy and heavy on the skin.
[ Read: 7 Best Home Remedies for Itchy Eyes ]
4. Plant Based: PROcure Rosacare Medicated Redness Reduction CC Face Cream
It is infused with botanical extracts like organic Calendula, Arnica Montana, Epsom Salt, Aloe vera, Coconut Oil, and Olive Oil
It is a potent, lightweight hydrogel packed with hyaluronic acid, allantoin, vitamin E, cucumber extract, and licorice root extract for ultra hydration
Manages the signs and symptoms of ocular Rosacea and provides huge relief from reddened skin
There are no Mineral Oil, Phthalates, Alcohol, Fragrances, Petrolatum, or Parabens
What We Don't Like: A patch test is recommended for sensitive skin.
5. Organic Ingredients: E70 Rosacea Solve – Redness Relief Cream
It reduces redness due to ocular Rosacea and provides deep nourishment and moisturization to the skin
The presence of organic ingredients like Aloe Vera, Almond Oil, and Licorice Chamomile Extracts make it highly soothing and calming
If offers anti-inflammatory benefits due to the presence of the botanical compound Bisabolol
Also, it contains a superfood with over 70 vitamins, minerals, and naturally sourced proteins.
What We Don't Like: It may make the skin oily.
[ Read: 10 Best Foods for Healthy Eyes ]
6. Deep Nourishment: Green Leaf Naturals Manuka Honey Cream for Natural Moisturizing
It offers multiple benefits and addresses different skin issues with its powerful blend of organic ingredients
It helps maintain skin pH and delivers anti-inflammatory benefits to the skin
Retains skin moisture and provides deep nourishment o the dehydrated skin to fight off ocular Rosacea
It is made with highly effective, plant-based ingredients and is free of paraben
What We Don't Like: It may cause allergic reactions to certain skin types; therefore, a patch test is recommended.
[ Read: Essential Oils For Eye Stye ]
7. Effective and Affordable: Neutrogena Hydro Boost Eye-Gel Cream
It nourishes the soft and delicate areas around the eyes, making them soft, smooth, and firm
Enriched with skin-loving ingredients like hyaluronic acid, it locks the skin's moisture for over 24 hours
The gel formula absorbs easily into the skin without clogging pores; thus suitable for acne-prone skin too
Hyaluronic acid is the active ingredient, and it is free of fragrances, dyes, and oils
What We Don't Like: The quantity of cream is less than other eye creams.
Conclusion
These are the best eye creams for ocular Rosacea. Use any of them and give a soothing effect to the eyes and manage the ocular Rosacea's symptoms.
You Might Also Like: